We may earn money or products from the companies mentioned in this post. At no extra cost to you, I only recommend products I have experience with. As an Amazon Associate, I earn from qualifying purchases.
Ah fall, when the temperatures cool in most of the United States and pumpkin spice everything is released into the wild. Unless of course you live in Florida like I do and the temps are still warm and it's still hurricane season. There are hundreds of places to visit in the fall in the US, but these 46 are truly some of the best things you can go to this time of year. From beaches to cities to national parks, here are all the things you need to know to plan your trip. These aren't just places you can visit in the fall, they're amazing places to visit no matter what time of year it is. Check them out and start planning your trip now.
I've picked my favorites throughout the country and organized them by region. In some of these regions, (okay, let's be honest, the New England and Northeast) you can easily move from one state to the next and road trip through multiple lovely small towns. In parts of the western United States, you'll find it's a perfect time to visit without crowds.
New England
The best fall vacations are often found in New England. The leaves change color and the weather is cool, making it the perfect time to explore everything the region has to offer. From Boston to Maine, there are plenty of activities and attractions to keep you busy. Here are some of the best places to visit in New England during the fall.
Maine
The east coast of Maine is one of the best places to visit in the fall. The leaves start changing color in early October and the peak season is around mid-October. During this time, the leaves are a beautiful red, orange, and yellow. You can also find great seafood in Maine, as it's known for its lobster. Maine offers some really cool festivals like the Hallowell Scarecrow Festival or the Blueberry Festival where you can watch lumberjacks chop wood!
1. Acadia National Park
I'm in love with our National Parks. It truly is America's best idea. What a wonderful way to enjoy massive amounts of nature and that crisp New England air than to visit Acadia National Park during the fall. The park has been voted as having some of the best hiking trails in America and there are scenic views at every turn. When in Acadia National Park, make sure to hike up Cadillac Mountain because it will give you amazing views of Frenchman Bay, Sand Beach, Otter Cliffs, Jordan Pond Cove, Great Head Cliffs (at sunset), Echo Lake (at sunrise), and Thunder Hole.
2. Bar Harbor Maine
Start in oceanside Bar Harbor for your quintessential small-town stay. Enjoy fresh lobster and quaint strolls through the town. It's a perfect base for visiting Acadia. Early September is a good time to visit since temps are in the low 70s. However, peak season is usually mid-October.
Keep in mind, that Bar Harbor is also a cruise port and as everyone wants to see the stunning array of colors, it can get busier here.
The Bar Harbor Inn is an iconic hotel overlooking the harbor, with that perfect Maine oceanside view. the inn reminds me of all the perfect New England destinations you might see in the movies.
New Hampshire
The best fall vacations are the ones where you can still enjoy the outdoors without sweltering in the heat. New Hampshire is the perfect place to do just that. The Granite State has crisp autumn days perfect for hiking and stunning foliage that will make your Instagram followers jealous. Not to mention, there are plenty of cideries and breweries popping up all over the state for you to enjoy after a long day of exploring.
3. White Mountains
The best early fall vacations start with hitting the White Mountains of New Hampshire for hikes with changing leaves as far as the eye can see. To get a taste of New England during its most beautiful season, take the scenic Kancamagus Highway on a weekend drive through North Conway to Mt. Washington Observatory and explore trails through Franconia Notch State Park.
4. Castle in the Clouds
With so many things to see and do, it's hard to choose only one place but we recommend checking out Castle in the Clouds in Dover-Foxcroft, also known as The Most Beautiful Place on Earth. Get there before October 23rd when it closes for winter.
Vermont
Vermont is easily home to the best fall foliage and a short drive from New Hampshire.
5. Mount Mansfield
Those pictures you see of the perfect fall foliage? You know the ones where the landscape looks as if it's on fire with golds and reds? Those are often taken in Vermont's Mount Mansfield. It's about a 3-hour drive from the Castle in the Clouds in New Hampshire, making Vermont and New Hampshire a perfect combination of all things fall.
The leaves start changing color in early September and peak around October. There are many activities to do such as apple picking, visiting farmers' markets, and hiking.
6. Stowe
If you want to get out of the city, head over to Stowe for some excellent views of the mountains or head down Route 100 for some scenic bike rides on country roads. Along the way, stop in Waterbury to do a Ben & Jerry's Factory Tour and sample their famous ice cream flavors.
7. Lake Champlain & Burlington
A little further north and to the west is Lake Champlain, which shares a border with New York. Stay in Burlington along the lake. Burlington has plenty of restaurants, cafes, and shops for all your needs. Head over to the lakefront area where there are great walking trails along with plenty of beaches and picnic areas. After spending all day exploring Burlington take an evening boat tour around Lake Champlain that includes information about how Lake Champlain connects two countries: Canada and America.
There's a legend in Lake Champlain of its very own loch ness monster, named Champ. You can read all about Champ here.
Massachusetts
Massachusetts is home to a different kind of adventure. Sure you'll get all the fall splendor here. But for this fall getaway, Massachusetts is home to a lot of haunted history. Imagine doing ghost tours in Salem or Boston.
8. Salem
Speaking of Salem, they offer a host of activities, not just haunted ghost tours, during the fall season. Whether it's fishing on the coast, apple picking at an orchard, pumpkin carving in an old-fashioned hay maze, or taking a selfie with a ghost on Salem's famed Haunted tour (book early!), there are so many ways to have fun. Make sure you book accommodation well ahead as places get booked up fast during peak season! While you can visit Salem year round, the fall season becomes a popular time to visit thanks to its tragic history of witch trials.
My favorite is this Salem night walking tour, where you'll walk with a licensed guide through the lamplit streets learning the legends and true tales of witchcraft and sites related to the Salem Witch Trials.
9. House of the Seven Gables
Be sure to visit the House of the Seven Gables if you're a fan as well. They offer a lot of events throughout the year including a women's history tour, Hawthorne's shadow, and Passages of the Past audio tour.
Connecticut
Connecticut was one of my favorite places to visit during the fall. Crunchy leaves strewn along the streets, apple picking, and strolls through ivy league schools and small towns made this a perfect place to visit in the fall.
10. Gilmore Girls Tour
My daughter and I are fans of the show Gilmore Girls, about the mother and daughter that live in a small town in Connecticut. When we visited, we made it a point to visit locations that inspired the popular series. Washington, Connecticut was the inspiration for the fictional Stars Hollow. A little more hilly than the television set, you can still imagine Lorelei walking the small town square. the Culture Trip has a brilliant DIY tour of Connecticut full of charming towns for a delightful fall road trip.
11. Yale
Continuing on our Gilmore Girls inspired vacation, we also strolled through Yale. did you know that you can take a guided tour of the university even if you're not a student? Since it's an open campus, we opted to do a self-tour. We visited the Rare Book and Manuscript Library, took pictures on the grounds, and even managed to dine in one of the dining halls. I'm not sure if that is still allowed post-COVID-19, and I did not find if dining is available to visitors on the Yale Visiting website, so I would call ahead if that's something you wish to do.
Rhode Island
12. Newport
Rhode Island has Newport mansions open for tours in October. There are also many delicious restaurants with outdoor seating that offer delicious seasonal dishes such as squash soup or pumpkin pie for dessert.
Northeast
New York City
13. Central Park
First up, the city. I have a picture in mind of Meg Ryan and Billy Crystal walking through the most brilliant golden and red leaves in Central Park from the movie When Harry Met Sally. Do you know the reference? That's what I imagine NYC to look like in the fall.
I have visited NYC and Central Park towards the end of fall and can only imagine what the whole park looks like at peak season. Take a carriage ride through the park or better yet, my favorite, a bike tour of Central Park during this time of year is spectacular since you see so much of the park, and aren't sweating to death in the summer heat.
14. Fall Festivals
Fall is a perfect time to take advantage of one of the many festivals the Big Apple has to offer. Attend the NYC Labor Day Parade, Cider Week, Brookly Bagel Fest, the Brooklyn Book Festival, and New York Tims Food festival, and of course the Macy's Thanksgiving Day parade. these are just some of the fun festivals and parades to do in NYC in the fall.
Hotel Recommendation: Stay in the Hotel Hayden in the Flower District in Chelsea. Great central location to the above fall finds.
New York State
One of the best places to visit in the fall is New York State. The leaves start changing color in early October and the views are breathtaking. Plus, there are so many fun things to do in New York in the fall like go apple picking, visit a pumpkin patch, or go on a hayride.
15. Hudson Valley
Go apple picking at Apple Ridge Orchards in the Hudson Vally for an amazing time. Just 30 minutes from the big city, you can pick your own fruit, attend a Spookley the Pumpkin movie night, enjoy fresh cider donuts, cider pressing demonstrations, live music and they sell hot food too (like caramel apples).
Another popular place to visit is the Harriman State Park which has beautiful trails that overlook Hudson River Valley. You can even rent kayaks and rowboats if you want to explore it up close. Along with walking the trails, hiking up Bear Mountain is also a great activity in the area. This is a great place to check out some glamping as they have furnished canvas wall tents available.
Mid-Atlantic
When it comes to autumnal beauty, the Mid-Atlantic states know how to deliver. From Pennsylvania to Virginia, there are plenty of spots worth exploring come fall. Mid-October is your best bet for peak colors.
Pennsylvania
16. Poconos Mountains
Here are just a few of our favorites –Pine Creek Gorge: Located in Pennsylvania's Pocono Mountains, this is an area that offers some of the best leaf peeping in America. It features three waterfalls and hiking trails on 1,000 acres of land with stunning views year-round.
17. Laurel Hill State Park
Head south to Laurel Hill State Park which boasts amazing outdoor activities like swimming, fishing, and camping right alongside historical sites such as the Spruce Run Furnace Complex
Maryland
18. Catoctin Mountain
If you're looking for some history with your outdoorsy adventure then explore Catoctin Mountain Park. Part of the National Parks system, Catoctin Mountain in Maryland offers trails for hiking along with an interesting and diverse history. From Native American's quarries to a charcoal and iron industry, along with historic structures from our nation's first Jobs Cors and the civilian conservation Corps. It's said that you can view Pennsylvania from the Blue Ridge Summit Overlook.
Virginia
19. Shenandoah National Park
Another place not to miss is Shenandoah National Park which was established in 1935 and covers a whopping 217,600 acres. You'll find endless things to do including boating on Lake Anna, taking a horseback ride through Skyline Drive, or watching wildlife on the famous Appalachian Trail.
20. Buffalo Mountain Nature Preserve
If you're looking for something really off the beaten path then try Buffalo Mountain Nature Preserve where you can go backpacking without any sort of reservations.
Accommodation Recommendation: Stay in a mountain cabin near the National Park for 24-hour mountain views.
West Virginia
West Virginia is perhaps one of my favorite places to visit in the fall. The state is home to several national parks, including the New River Gorge National Park, which is a great place to go hiking and admire the foliage. Other top destinations include Seneca Rocks, Blackwater Falls State Park, and Monongahela National Forest. Picking up some pumpkins at the Pumpkin Festival at Falling Waters or spending an afternoon apple picking are other great ways to spend time in West Virginia during this season.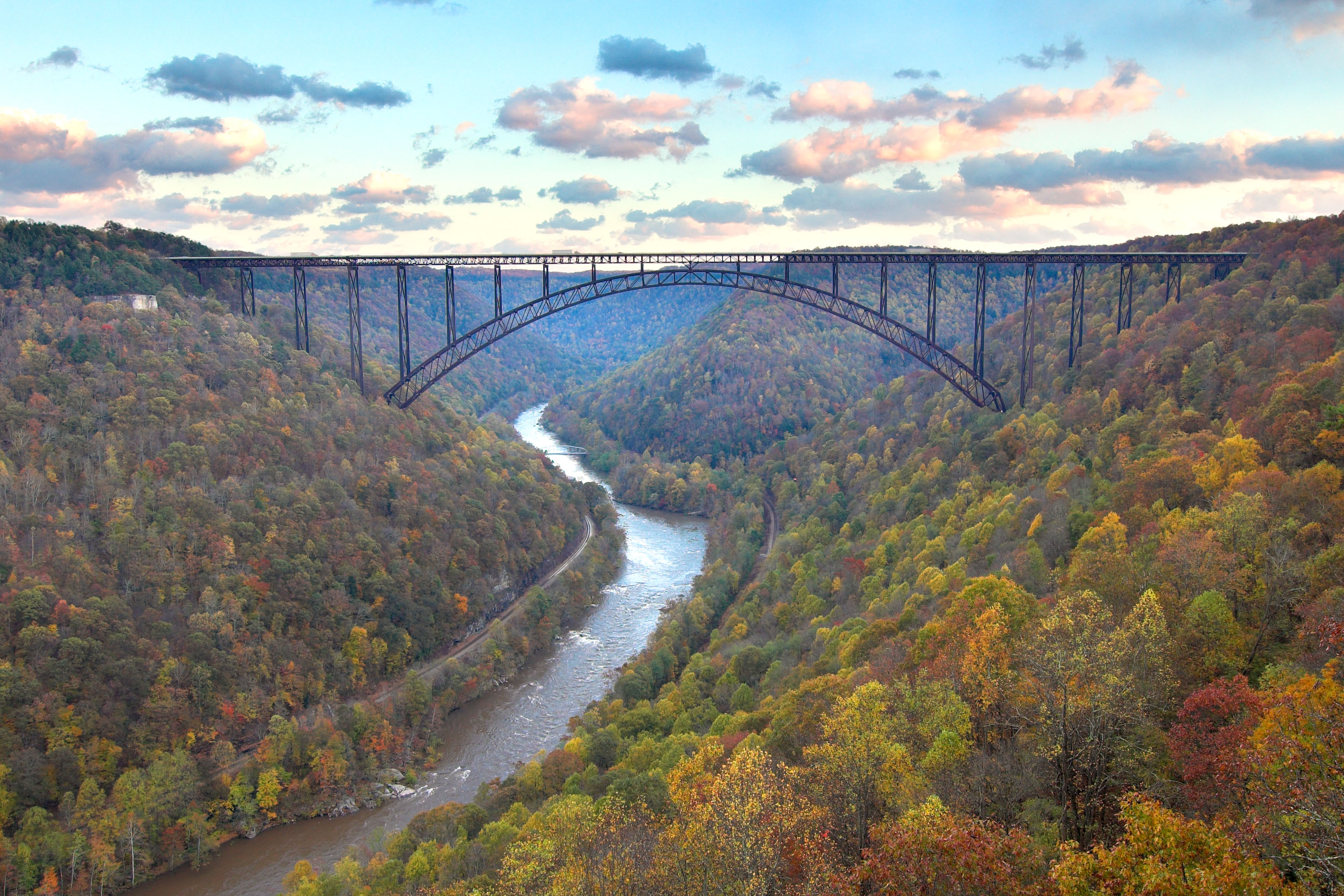 21. New River Gorge National Park
New River Gorge is home to the iconic bridge spanning the river, and in fall, makes for some spectacular photos. Through October you can still traverse the river as it is a popular whitewater rafting location. Rock climbing is also popular here.
South
When it comes to fall foliage, the South really knows how to put on a show. From the Great Smoky Mountains to the Blue Ridge Parkway, there are plenty of places to see stunning leaves in all shades of red, orange, and yellow. And if you're looking for a more urban fall experience, Atlanta and Charlotte offer great options for leaf peeping, pumpkin picking, and all things autumn.
North Carolina
22. Blue Ridge Parkway
Blue Ridge Parkway is your best bet for a scenic drive to see the colors. Stretching from Virginia to Tennessee, this drive is registered as one of the nation's official scenic byways. The Blue Ridge Mountains span North Carolina and Tennessee. Popular places to stay along the parkway include the charming town of Asheville. Here you'll find many artisans have flocked to this area, and it's a fine place to pick up hand-crafted furniture.
23. Pisgah National Forest
North Carolina is also home to Pisgah National Forest. I rave about the National Parks so often, that I forget to mention the National Forests can be just as spectacular, and sometimes more accessible.
Tennesse
Nashville is a great place to visit in the fall because of all the live music. The city comes alive with energy and there are always events going on.
24. Smoky Mountains
Great Smoky Mountains National Park is the perfect place to visit in the fall. It's not too cold, not too hot, but just right. Plus, this national park requires no entry fee. It's made for driving through and stopping at any overlook to witness the Smokies turning a beautiful mix of yellows and golds.
25. Chattanooga
Chattanooga is another great option, especially if you love hiking and being outdoors. The city has a lot of history and there are several different museums to visit. visit Top of the Rock for views of 7 states, blooming in color. Or head beneath the surface to see Ruby Falls and tour the caves. I can never remember which ones are stalactites and which ones are stalagmites. Comment if you know!
Georgia
There's no better place to experience the fall season than Georgia. The state is home to a number of stunning fall foliage spots, from the Chattahoochee-Oconee National Forest to Amicalola Falls State Park. Plus, there are plenty of great cities to explore, like Atlanta and Savannah. The cooler temperatures in fall make it bearable to stroll through these cities too.
26. Helen
If you're looking for a fall experience that includes Oktoberfest, Helen is your girl. The town of Helen, Georgia is modeled after the charming bavarian towns of Germany, complete with Bavarian-style architecture. And holding true to their German roots, each fall finds an Oktoberfest complete with beer, brats, costumes, and the music of tubas and accordions.
Helen is in the northeastern Georgia region and close to many of the north Georgia mountain attractions, like the aforementioned Amicalola Falls state park.
Many of the suggestions for Helen at Christmas time apply here too.
Alabama
While Alabama also has some scenic destinations in the northern part of the state to witness the colors, I think it's the perfect time to head to southern Alabama to get some of those last warm sunshine rays.
27. Gulf Shores
Gulf Shores is a popular spot year-round, however, in the fall it's not nearly as busy as when the kids are off from school. This makes it one of the best places to visit in the fall thanks to the crowd level. While visiting Gulf Shores, I found I had the beaches and attractions nearly to myself. The weather is still warm enough to head to the beach, and the gulf waters are always warmer than the Atlantic Ocean waters in nearby states. If you're still looking for fall-themed activities, check out the theme park at OWA for their fall festival and trick-or-treating in late October.
Florida
Fall can be a lot of fun in Florida because we still have warm weather, but a plethora of things to do that theme parks such as Disney's Food and Wine Festival and Universal's Halloween Horror Nights. Fall season runs the spectrum here with everything from fall festivals to the all-out horror with Universal Studios. You can't beat the best at making monsters, however. So this is the place to be if you want a scare.
28. Halloween Horror Nights
An institution for over 25 years, Halloween Horror nights runs from September to October and is a separately ticketed event. The park is filled with haunted houses, roaming scare actors, and decorations to bring you nightmares. This may not be the fall vacation that gives you the best place to see the changing leaves. However, it is the best designed collection of haunted houses you'll come across nationwide.
Louisiana
Just like the rest of the south, Louisiana is a great place to enjoy moderate temperatures during the fall season. Plus, there are tons of great festivals and events happening all over the state. Here are some of our favorite places to visit in Louisiana during the fall
29. Lafayette
I'm heading to Lafayette this fall and I am super excited to take part in some of the area's fall festivals. The Festival Acadiens et Creoles is held the second weekend in October showing off the area's Acadian and Creole history, with genuine Cajun and Creole food, music, and culture. You can imagine having a great time singing, dancing, and eating your way through Lafayette!
Midwest
I feel like the Midwest often gets overlooked by those that don't live there in favor of the Northeast and New England states. because of this, you may find that the Midwest offers the same great color and experiences with fewer crowds. These friendly places to visit in the fall may also be easier to reach.
Michigan
My home state of Michigan has plenty to do in the fall. In fact, many residents go "up north" for a color tour each year.
30. The Upper Peninsula
I seriously don't know why more people don't put the UP on their list of must-visit places, especially in the fall. The area is home to Pictures Rocks National Lakeshore, which is stunning year-round, and even more so with the trees exploding in color. One of the best ways to get an up close and personal view of the Pictured Rocks I'd recommend is kayaking. This being the north, however, the water will be cold on Lake Superior, so come prepared. Ferry tours are another option.
Also in the UP, are dozens of waterfalls and state parks. I suggest a road trip stopping at many of the waterfalls and small diners in search of the perfect meat pie.
31. Lake Michigan
Many locations along Lake Michigan are great spots for a fall vacation. In fact, you could travel the entire Lake Michigan region, visiting many of the small resort towns along the way. While Lake Michigan is often thought of as a summer months vacation spot, you'll find fewer crowds in fall in places like Traverse City.
Hotel Recommendation: Stay in the Great Wolf Lodge Traverse City – it's fun for the whole family, has that lodge look perfect for fall, and allows the kids one last splash at their indoor waterpark.
Wisconsin
Wisconsin too is a hidden gem for places to visit in the fall. Continuing either by touring the Upper Peninsula of Michigan or circumnavigating Lake Michigan, you'll happen upon plenty of fall things to do in Wisconsin.
32. Wisconsin Waterfalls
One of Wisconsin's best-kept secrets is its waterfalls. The state is home to more than 200 waterfalls, and many of them are at their most spectacular in the autumn months when the leaves are changing color.
Check out the following list of some of Wisconsin's top falls:
1. Cascade Falls
2. Devil's Lake State Park Falls
3. The Chute Falls
4. Stony Creek Falls
33. Oktoberfest
Wisconsin is known for its beer culture, so it stands to reason you'll find plenty of Oktoberfest celebrations throughout the state. My favorite would be the New Glarus Oktoberfest in New Glarus, Wisconsin. Home to the beer of the same name, even though New Glarus is better known as Little Switzerland, they put on plenty of fun. You can find more Oktoberfests in Wisconsin here. Dob't be fooled by the name, many of these happen in late September
34. Door County
Another popular spot in Door County – which offers 150 miles of shoreline – is Green Bay which has gorgeous views on clear days during peak leaf season. And fall also being football season, you might as well head to a game for the Green Bay Packers. Even if you're not a Pack fan, you'll find some of the most enthusiastic fans in the league.
West
The West is home to some of the most beautiful scenery in the country. From the Rocky Mountains to the Pacific Coast, there are endless opportunities for exploration.
In the fall, the leaves change color and create a stunning backdrop for all of your outdoor adventures. hiking, biking, and camping are all great ways to take advantage of the scenery.
South Dakota
35. Black Hills
Much of South Dakota is covered by those amber waves of grain. However, in the black hills, the mountainsides are full of so many evergreen pine trees they appear black, hence the name. That doesn't mean there aren't trees that put on a fall show. Take in the views from Needles Highway – As one of the oldest highways in America, Needles Highway offers stunning views of Custer State Park's high peaks during all seasons. The black hills that give this region its name stand out brilliantly against the orange and yellow hues of autumn as you wind your way through it on an unpaved road.
Enjoy the view from Harney Peak – Harney Peak, which has been called the grandest view of the Black Hills region, features breathtaking panoramas year round. However, seeing it at sunset or sunrise with a golden glow may be what makes this spot especially memorable in the fall.
36. Custer State Park
By far one of my favorite destinations in the last few years, Custer State Park is an enormous state park, where the buffalo roam. And at the end of September, you can witness the buffalo roundup. Every year the cowboys and cowgirls drive the herd into corrals. this is only done once a year, as generally the buffalo are allowed the freedom to roam the park. However, once a year, they round them up to check the health of the animal. You can only imagine the spectacular and impressive sight to witness nearly 1300 buffalo in one place. There are viewing centers and breakfast and lunch are served for a fee.
Colorado
Fall in Colorado is an interesting shoulder season. Not yet winter to attract the skiers, and no longer the warm summer to attract the hikers. Yet the weather is still perfect for hiking amongst the fall foliage.
37. Estes Park and Rocky Mountain National Park
Estes Park at the Rocky Mountain National Park is as good as it gets when it comes to outdoor experiences. Considered the base camp for Rocky Mountain NP, its 300 miles of trails in the park provide views for every skill level. Estes Park is even home to the US Trailing Running Conference, so if you want to try out your trail running skills this would be the place. Keep in mind, that you are over 7000 feet in elevation here, so if you are not used to that elevation, make sure you're prepared for the change. Elevation sickness is possible and you don't want to get sick when you're trying out a trial run for the fits time.
Hotel Recommendation – The Historic Crags Lodge
Wyoming
Wyoming is one of the best places to visit in the fall. The scenery is beautiful, with the leaves changing color and the mountains being covered in snow. There are also plenty of activities to do, such as hiking, camping, and fishing. Plus, Wyoming is a great place to see wildlife. You can spot elk, deer, moose, coyotes, bison, antelope, prairie dogs and more! Two of our nation's National Parks stand out in Wyoming as well for their fall offerings.
Plus, there's a variety of outdoor activities you can enjoy in Wyoming over the fall season. If you like kayaking and canoeing, you'll find several rivers where you can go out on water excursions like Swan River rafting. Or if you prefer biking, head to Copper Mountain Bike Park – perfect for riding downhill trails and rolling hills through pine forests on your two-wheeled steed.
38. Yellowstone National Park
Possibly the United States' most visited national park, Yellowstone can get crowded during the summer months. And this year was no exception, flood closures aside. Fortunately, many of the roads within Yellowstone are open to visitors.
Of course, a visit to the natural beauty of Old Faithful is required. Also, keep your ears open for elk bugling. In late September and early October, the male elk call to the females and may compete with other males by fighting with their antlers.
39. Grand Teton National Park
The other treasure in Wyoming is Grand Teton National Park. These majestic mountains are often found in idyllic pictures reflected in the glacial lakes. Keep in mind here that many roads and services close in winter, so plan to visit by October for peak color. As these glacier-carved mountains are home to many evergreen pines, don't expect the explosion of color that you might see elsewhere. However, those cool crisp fall days are perfect for bug-free hiking, sharp blue skies, and smooth calm waters.
Hotel Recommendation: Headwaters Lodge and Cabins just outside of Yellowstone and not far to Grand Teton.
California
Yes, California gets its own category. The state really fits into two distinct areas when it comes to places to visit in the fall. Either you have the delightful weather and National parks to the North, or warm sunny getaways still available in Sothern California.
40. Wine Country
Northern California seems to be the place to visit in the fall. From wine tasting in Sonoma, fewer crowds in Yosemite (no reservation required), and strolling the cute town of Lake Tahoe, you can easily turn these places to visit in fall into a full vacation getaway.
Fly into San Francisco, rent a convertible, and stop at all the food stands and local farms on your way to wine country. Fall between August to October is the perfect time for exploring California's wine country. Just think of the beautiful golds in the vineyards this time of year as it is harvest season. And, who knows? You might just get lucky and score an invitation to some of the world-famous vineyards' exclusive tours. From Napa Valley to Sonoma County, each area offers excellent opportunities for tasting wines from different regions. Besides wine tasting, other fun activities include visiting old barns, corn mazes, and pumpkin patches.
41. Yosemite and Sequoia National Parks
After visiting the wine country regions, head east to Yosemite. If you want to get to even another national park, check out how to go from Sequoia National Park to Yosemite National Park. Just reverse it if you're starting in Sonoma and Napa Valley first.
Yosemite, another popular park is better in the fall as peak tourist season ends and peak fall season begins. You will still need a reservation if you're visiting before September 30th, however. That said, it is easier to get into the park's campgrounds come September and may be the best time to visit. Another thing to note is that the water levels are usually lower this time of year so you may not see the full effects of Yosemite, Vernal, or Bridalveil Falls. However, Yosemite does get pretty warm in the summer, so hiking in the fall is much more enjoyable.
Pro tip: Rent a campervan to see even more!
Pacific Northwest
There's no better way to celebrate the changing of seasons than by visiting wine country (not just found in California). The Pacific Northwest is home to some of the best vineyards in the country, and there's no shortage of breathtaking views. From Oregon to Washington, you'll find yourself surrounded by beautiful foliage and stunning scenery. And of course, there's the wine. Whether you're a fan of reds or whites, you'll find plenty of delicious options to choose from.
Oregon
There's something about Oregon in the fall that just feels magical. Maybe it's the colorful leaves or the crisp air. Either way, this state is definitely worth a visit during autumn.
42. Portland
Portland is also a great place to visit in the fall. The weather is perfect for exploring all of the city's different neighborhoods and the downtown area. And, of course, you can't miss out on all of the Halloween fun! There are so many ghost tours and haunted houses to explore that it would be hard not to find something that interests you. If you want more family-friendly activities, then check out one of Portland's pumpkin patches or fairs – they're tons of fun.
Portland Japanese Garden – Located in downtown Portland, this beautiful garden was designed by Makoto Hagiwara. In addition to displaying the beauty of autumn colors and foliage, it also contains four ponds with Koi fish and an authentic teahouse.
43. Wine Country
There's no better place to celebrate the changing leaves than in Oregon wine country. With over 700 wineries to choose from, you'll be spoiled for choice when it comes to finding the perfect spot to enjoy a glass of red. Whether you're looking for a breathtaking view or a cozy fireside tasting, you'll find it all here. And don't forget to pair your wine with some of the region's delicious food – from fresh oysters to truffle fries, there's something for everyone.
44. Columbia River Gorge
If you're looking for a place to see some amazing fall foliage, the Columbia River Gorge is definitely worth a visit. The gorge offers spectacular sights of leaves changing colors on both sides of the water, with cliffs rising up high into the sky on either side. Some of my favorite hikes near Portland include Eagle Creek Park (one mile long), Vista House (a five-mile round trip hike), and Dog Mountain (an eight-mile round trip hike).
Washington
One of the best places to visit in the fall is Washington state. The leaves start to change color in mid-September and peak around mid-October.
45. Mount Rainier National Park
A must-see during your fall visit to Washington is Mount Rainier National Park. The park is blanketed in colorful foliage and there are plenty of photo ops waiting for you. Washington is a nature lover's paradise. Here are just a few of the many things you can do in the park come autumn: Hike through groves of trees filled with cottonwood and quaking aspen; watch deer grazing along the shores of Reflection Lakes; learn about America's third tallest mountain at Paradise Valley Visitor Center; or explore the tunnels inside the Rock Dome.
46. Leavenworth & Wenatchee
Another great spot for leaf peeping is Leavenworth, a quaint Bavarian village located in the Cascade Mountains. And if you happen to be near Wenatchee at the end of September, don't miss the chance to enjoy our annual Apple Festival. Enjoy an afternoon at beautiful Riverside Park with thousands of your closest friends while sipping on some locally brewed ciders and sampling fresh-pressed apple cider donuts. There are also plenty of fun kid-friendly activities including live music, pony rides, carnival games and more! You can also find many apple orchards nearby that offer tons of activities including hayrides, petting zoos, U-pick apples, cider donuts, and more!