We may earn money or products from the companies mentioned in this post. At no extra cost to you, I only recommend products I have experience with. As an Amazon Associate I earn from qualifying purchases.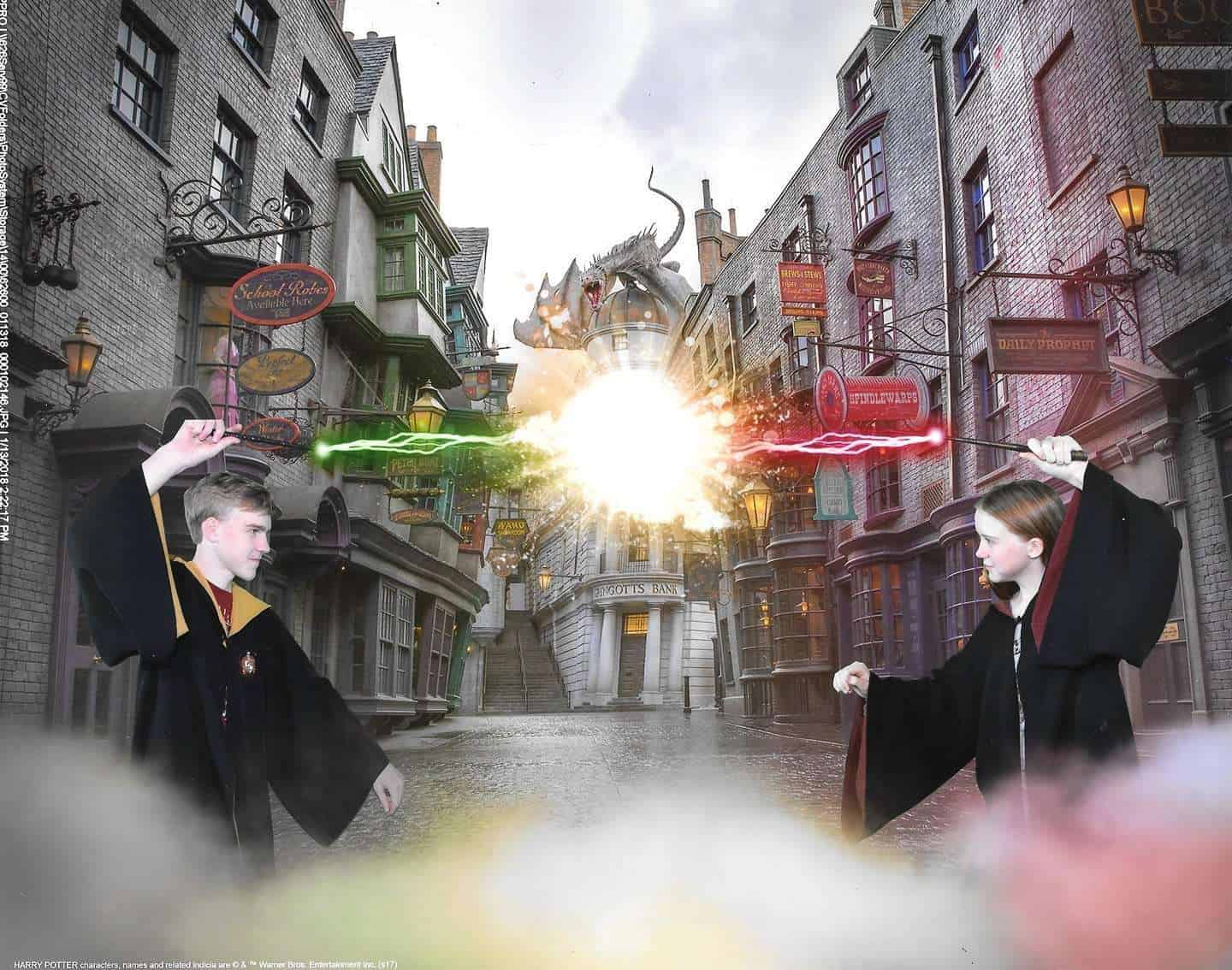 There's a hidden spot in Diagon Alley at Universal Studio's Wizarding World of Harry Potter. It's called Shutterbutton's Top-Notch Shots and it's where you can get your very own moving pictures.
If you've ever seen or read the Harry Potter series of books, you'll know that wizard photos move. Now you can recreate that experience for your kids or yourself!
Shutterbutton's
Upon entering Diagon Alley, Shutterbutton's is about halfway up the alley, on the left, next to Madame Malkin's Robes shop. This hidden gem is almost never crowded. The shop is small, but always well-staffed with helpful witches and wizards.
To get your very own moving pictures, you'll enter one of two rooms and stand in front of a green screen. The witch or wizard will direct you where to look, where to stand, and how to react. He or she will take a series of movements and photos for you. Of course, if you haven't dressed the part, Shutterbutton's has spare robes for you to borrow.
IMPORTANT – Do Not Wear Green – Taking photos in front of a green screen means that any green items will not show up and appear as the imposed background. Sorry, Slytherins. You'll have to borrow another house's robes.
After capturing your moving pictures, you could embark on an epic battle with your family members. Okay, I actually mean a posed still photo in front of the green screen. This time it places you, wands ready, in Diagon Alley facing each other.
Once capturing your moving pictures is complete, you'll see a preview of some of the images on the DVD. NOTE: You'll only see about 4 of the 12 different scenes taken.
Pricing
Pricing for the DVD is not cheap. However, it is free to try, to see some of your moving photos. If you do the experience, you can come back later in the day to purchase. at the time of this publication, the prices were as follows:
$89.95 for the Moving Pictures DVD
$35 per print
The nice thing about this, however, is that you get it both digitally and with a DVD in hand. See ours below!
Moving Pictures
Want More Harry Potter at Universal Studios? Discover where to find all the Butterbeer locations here!
Join the newsletter
Subscribe to get our latest content by email.