We may earn money or products from the companies mentioned in this post. At no extra cost to you, I only recommend products I have experience with. As an Amazon Associate, I earn from qualifying purchases.
We just came back from a staycation with two other families. The entire family had such a good time, visiting, laughing, with our great friends and getting to know each other really well. While we did a large rental home resort nearby, it did get me to thinking about what other destinations would make a good fit for multiple families or multigenerational vacations. For ease of getting everyone to one location, I stuck to destinations in the United States. Here are seven of the best multifamily vacation destinations in the United States that you can take with your own family.
What Makes a Great Multifamily Vacation
First, let's look at what makes a great multifamily vacation destination.
Because we're considering all ages, the vacation needs to be easily accessible. Flying to remote parts of the world, or country, may not work for Grandma and Grandpa. Consider destinations that are an easy drive from home or a short enough flight that everyone can handle.
Secondly, make sure there's a mix of activities for all ages and skill levels. Older kids, teens, and young adults may want thrilling adventures, while parents and younger children may need some low-key activities and quiet time. The perfect vacation is one that includes the whole group but that doesn't mean that the entire group has to be doing the same thing every moment. It is all about the quality time spent together.
Finally, choose a destination where you can get a large multifamily vacation home with full kitchens or a hotel that accommodates the whole family with common areas.
Related: How to Survive a Multifamily Vacation
Adirondacks, NY
The Adirondacks region of New York State highlights the upstate New York region with rolling mountains, diverse waters, and plenty of family-friendly activities. In fact, the Adirondacks are the perfect place for family reunions.
Here you can visit wineries while taking a scenic drive or hit the many hiking and kayaking trails before returning to camp. Lake Placid is often the top vacation spot, but consider spending your time in Lake George for a mix of history and scenic trails.
Recommended Activities:
Where to Stay:
Here it's a good idea to rent a large home where everyone has enough space to spread out.
Orlando, FL
There's no doubt that Orlando is one of the best multi-family vacation destinations. The theme park mecca, Orlando is home to Walt Disney World, Universal Studios Orlando, water parks, and SeaWorld. LEGOLAND Florida is a short drive away. Nearly everyone has Orlando as one of their vacation goals, am I right?
Using a certified Disney travel agent is a great way for large groups to go through the planning stage. There is a lot to consider and why not have someone else do it for you?. Plus, don't forget a travel agent does not cost you extra.
Besides theme parks, there is a lot more to do in the Orlando area. Check out Outdoor activities in Orlando, and Things to do in Orlando that are not theme parks.
Check out the Orlando area Vacation Homes. These luxury villas are perfect for your group vacation.
These are some of the Best Hotels in Orlando.
Or search all the hotel sites in one search here.
Dude Ranches
A dude ranch vacation has the right amount of adventure and relaxation for every member of the family. Think horseback riding, roping cows, group campfires, hiking, fishing, and sometimes even whitewater rafting. While you might stay in separate cabins, a dude ranch vacation is often small enough that you'll still spend plenty of time with family. One of the best things is that most of these are all-inclusive resorts.
We like the Mountain Sky Guest Ranch in Montana, just a 40-minute drive to Yellowstone. It has room for 80 people and plenty of activity.
Also check out R Lazy S Ranch in Jackson Hole, Wyoming with the Grand Tetons and Snake Rivers as your playground.
San Diego, CA
San Diego has a lot of attractions, yet still maintains a laid-back vibe, thanks to its proximity to the ocean. Everyone will enjoy visits to the San Diego Zoo, LEGOLAND, Sea World, or even surf lessons at the beach.
Where to stay:
I like this 2 bedroom home that sleeps 6 and has boogie boards for use. It's minutes to the beaches and downtown.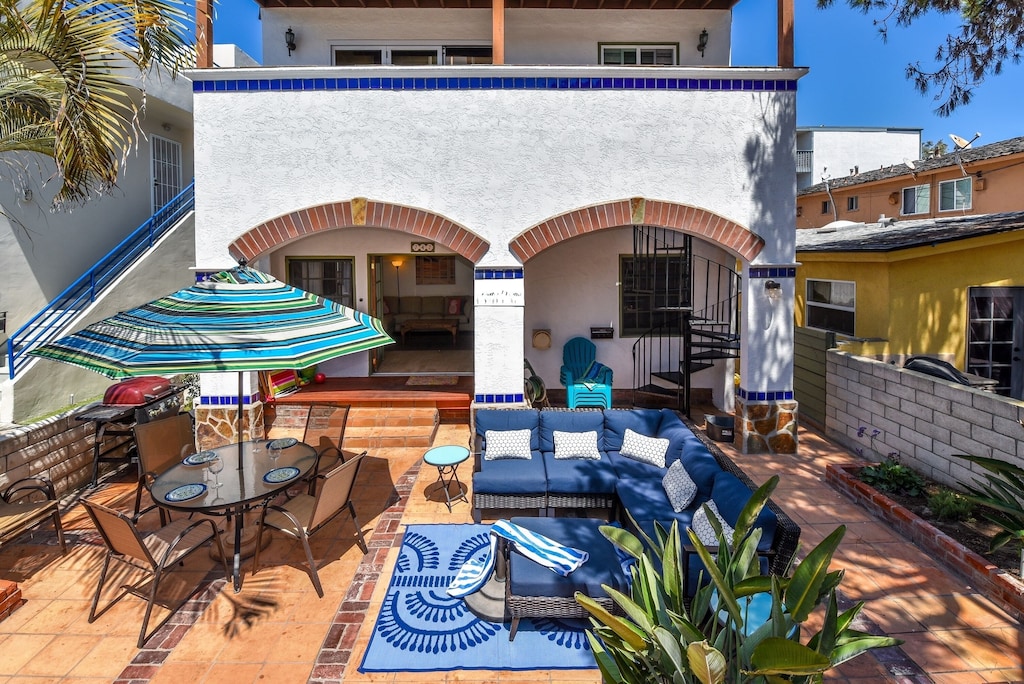 This modern beach oasis has an outdoor kitchen, has stunning views, and sleeps 8.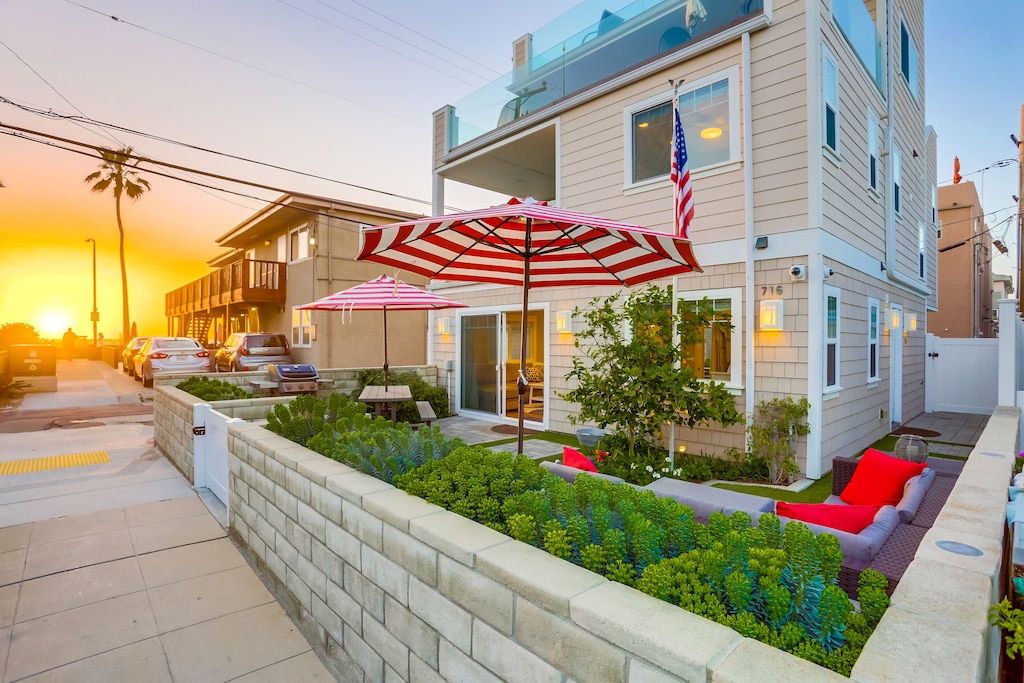 What to do:
In San Diego, if you're flying in, you may want to consider a car rental as everything is spaced out. Check all the car rental sites at once using Discover Car Rental here.
Florida Panhandle
The Florida Panhandle offers beautiful beaches, with fewer crowds. The WaterColor Inn in Santa Rosa Beach is my favorite for one of the best multifamily vacation destinations.
Here they have golf courses, beaches, miles of hiking and biking trails, fishing, a pool, canoeing, kids' clubs and more. As it is a hotel, families will stay in separate rooms. But as there's so much to do here, you'll likely be off exploring in different combinations of family groups and age groups. Meet up for dinner each evening at one of the delightful seaside restaurants nearby.
Gatlinburg & Knoxville, TN
Combine some of the best theme parks, add a bit of cheesy kid-friendly attractions and throw in a stunning mountain backdrop and you have the Gatlinburg and Knoxville Tennessee area.
Here you can visit Dollywood in Pigeon Forge, Ripley's Aquarium of the Smokies, and my favorite, Great Smoky Mountain National Park.
I think the Great Smoky Mountain National Park is wonderful for all ages, as you can drive through most of the park for exquisite scenic views and opt for easy 1 mile hikes, to more strenuous 4 hour or more hikes.
Where to Stay:
Related: How to Camp when you don't own camping equipment.
Grand Canyon National Park
The Grand Canyon National Park is celebrating 100 years as a National Park this year. Of course, the area is much older than that. The quintessential family vacation destination however still offers a lot more than just a roadside attraction.
What to do:
Be sure to stop in one of the visitor's centers with the national parks and pick up your National Park passport and get it stamped.
Where to stay:
Bonus: Cruising
Cruise ships are another fantastic way to spend a vacation with multiple families. This multigenerational vacation comes with good food and is a great option for that all-inclusive type of faction. The kids can head to the kids club while the adults lounge poolside or in the hot tubs with drinks. When you book, be sure to book together so that the cruise line knows to sit all the families at one table.
What are your thoughts for your next family trip? Have you vacationed with multiple families or multi-generations before? What are your tips for the best multifamily vacation destinations?