We may earn money or products from the companies mentioned in this post. At no extra cost to you, I only recommend products I have experience with. As an Amazon Associate, I earn from qualifying purchases.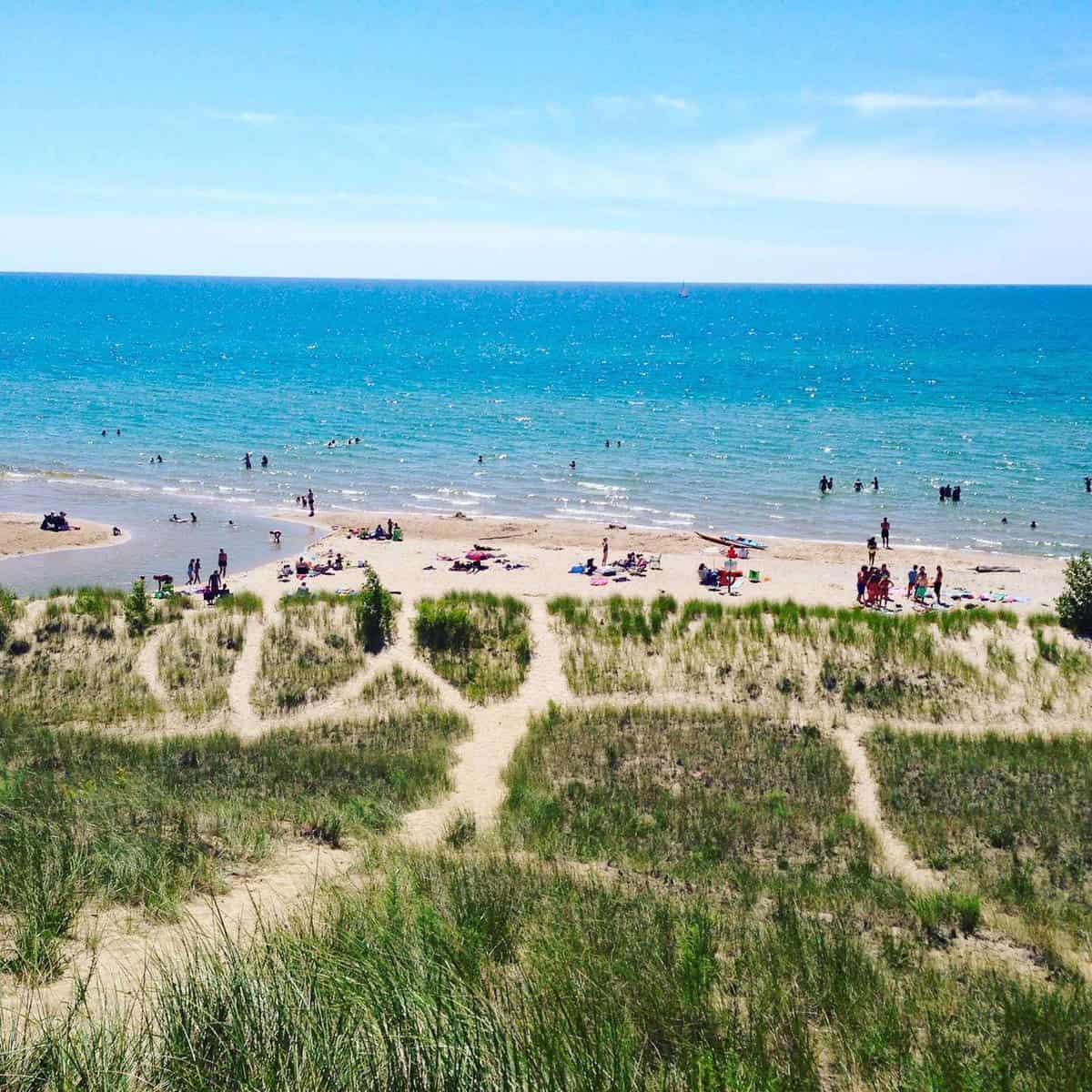 We're getting close to spring break here. While most people flock to my current home state of Florida, the kids and I are trekking on a rare spring trip to my original home of Muskegon, Michigan. We often visit in the summer, when the cold is tolerable to us thin-blooded southerners. Yet this trip will still get us out and about on some hikes and nature trails.
I never quite looked at my hometown as a tourist destination until I started doing touristy things there myself. It is truly one of those hidden natural wonder gems in Michigan. In all honesty, many people I encounter wouldn't even consider Michigan a vacation destination and that in itself is a hidden gem!
1. The Beach
For me, the beaches of Lake Michigan are my number one attraction. The Western Michigan side of the Big Lake offers smooth, golden sugar sand and miles upon miles of space along the shore. Behind the beaches are immense sand dunes that are fun to climb when you want to tire out the kiddos!
Check out Airbnb for some great beachside cottages. Use my referral link and get up to $50 off your first stay.
2. Water sports
Of course, the Great Lake state is going to excel at water sports. In addition to being next to the 5th largest freshwater lake in the world, the Muskegon area has several inland lakes and rivers. Any day in the summer you can find folks enjoying boating, water skiing, kayaking, paddle boarding out on the waters.
We used Guy's Ultimate Kayaking the last time we were in town with great success. Super friendly, clean, and knowledgeable rental.
3. Winter Sports
I'm not much of a winter sports person, however, I have taken advantage of Muskegon's Winter Sports Complex. Home to an 850-foot luge track, (and an Olympic Luge medalist!) the Muskegon Sports Complex also houses a large outdoor skating rink for both recreational and hockey use, hills for tubing (also think sand dunes for snow tubing), and a cross country ski and ice skating trail. If winter sports aren't your thing, you can also ride the luge in the summer using roller sleds. I've done both and they are worth it!
New in 2020, go ziplining through the park.
4. Festivals
Once upon a time, it was said you can find a beer tent every weekend in MusKEGon. The city goes beyond that now with a variety of festivals throughout the year. There's Bike Time, the Irish Music Festival, Parties in the Park, Unity Music Festival and so much more. While nearby Grand Rapids is known for their craft beer scene, Muskegon has something to offer as well with Pigeon Hill, Unruly, Fetch and Bardic Wells Breweries. Be sure to check the CVB for a list of events.
5. Lighthouses
While most people think of the East Coast when it comes to lighthouses, Michigan actually offers the most of any state. There are 3 within Muskegon county and 2 you can go inside and visit. At Pere Marquette Beach you'll find 2 of the lighthouses and a popular activity is to walk the pier to one of them. The other, smaller lighthouse only recently opened to visitors within the last few years and offers a little historical insight into the area. Just north of these is White River Light in Whitehall.
Related: Visiting the Amazing Muskegon Museums.
Bonus: Michigan's Adventure
If all that wasn't enough to bring you to Muskegon, check out the largest amusement park in the state at Michigan's Adventure.
Where to Stay
If you're looking at outdoor adventures in Muskegon, it only makes sense to camp. Check out these RV Rentals in Michigan to take full advantage of the Great Outdoors.
What about you? Have you visited the Great Lake State? What are your favorite outdoor things to do there?