We may earn money or products from the companies mentioned in this post. At no extra cost to you, I only recommend products I have experience with. As an Amazon Associate, I earn from qualifying purchases.
We've lived in Florida for nearly two decades now. I've been to the Everglades, live near plenty of lakes and rivers, but I have never been on an airboat Everglades tour. That changed a few weeks ago when we got the extraordinary opportunity to tour the Everglades with Everglades Holiday Park Airboat Tours.
First, let me give you a little bit of background on the Everglades.
The Everglades
The Everglade eco-system stretches much further than what the Everglade National Park covers (which in itself is still a lot of land.)  The southern tip of Florida encompasses Everglades National Park, Big Cypress National Park, National Wildlife Preserve and a region known as Sawgrass Plains. The swampy ecosystem itself actually extends as far north as Orlando and our hometown of Clermont.
What most people recognize as The Everglades is the river of grass that occupies much of this area. Within this area you'll see a variety of flora and fauna unique to this region. Side note – it amazes me that I live in an area that is sub-tropical and consists of all these diverse systems. Yet within the same country there are snowy mountains and dense forests. I'm not the only one blown away by this sometimes, am I?
The wide riverways and canals in the Everglades were actually created by The Army Corps of Engineers through a system of dams and dikes to help control waterflow and prevent further flooding of populated areas. These canals are what airboat operators, fisherman and outdoor adventurers use today to navigate through the rivers of grass.
The Airboat
Our tour with Everglades Holiday Park began in a covered airboat. This is not what you might picture of a typical airboat, but still operated the same with a driver up top and a large fan motor pushing us through the waters. Tours left approximately every 15 minutes and each boat could seat around 25 people. While I don't mind getting wet – like I said, subtropics mean rain – it was nice traveling in a covered airboat in order to protect my cameras. The airboats have life vests if you feel you need one and I'd say young children that listen well are safe to ride with an adult on the end seat.
The Everglades Tour lasted approximately 1 hour. During that time our guide provided an immense amount of knowledge about the history, the plants and wildlife. It was clear he knew his stuff and had a passion for what he did.
He let us know that due to the higher winds that day and the rain, we may not see many of the main attraction: alligators. I'm sure many tourists take these trips expecting to see hundreds of gators, which is unrealistic. As they are solitary animals, seeing more than one in incredible, in my opinion.
We did see two that day. A young one, approximately 3 feet long and a fully grown adult. Our guide did an excellent job of making sure both sides of the boat had plenty of time to view the gators.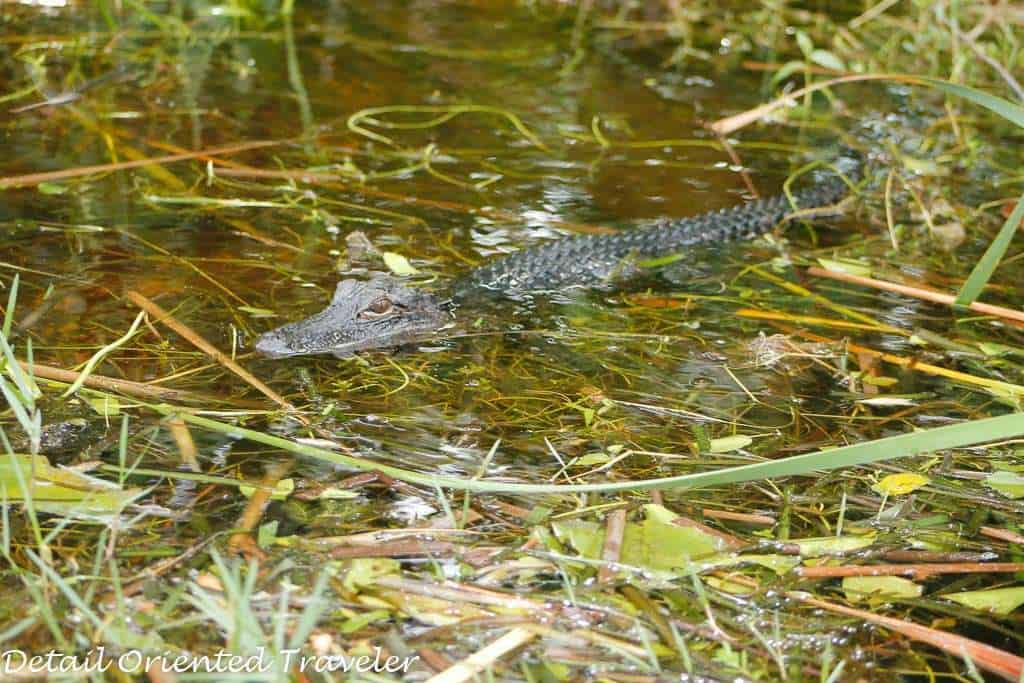 For me, the best part of the trip was not seeing the alligators, but speeding through the canals. I had a blast each time our guide kicked up the speed and swayed us from side to side.  While I learned a lot on this tour, I'd do it again just to hydroplane through the marshy waters.
[clickToTweet tweet="An Everglades Tour is not one you'll soon forget." quote="An Everglades Tour is not one you'll soon forget."]
Personal Note: Our Everglades Airboat Tour took place before the horrific tragedy at Walt Disney World where the family lost their child to an alligator. I deeply sympathize with that family as we've been on the same beach many times and I cannot imagine the utter heartbreak they are feeling. It's important to always be aware of your surroundings, especially where wild animals are known to be present. I don't take seeing alligators in the wild or in captivity lightly. However, they are as much a part of our culture here as I imagine lions are a part of the culture in southern African nations. As such, I would recommend that tours that include wildlife continue as education and preservation of their environment is important.
The Everglades Holiday Park is about 30-60 minutes from most of the popular destinations in South Florida. I'd say it's a good half day adventure, making of it what you want. They also feature a live gator show and Jon boat rentals for fishing. The Everglades Airboat Tours go rain or shine. Keep in mind, Florida in the summer is rainy season. But that also means your chances for wildlife viewing are better.
While slightly touristy in nature, I still think this is a great way to experience authentic Florida.