We may earn money or products from the companies mentioned in this post. At no extra cost to you, I only recommend products I have experience with. As an Amazon Associate, I earn from qualifying purchases.
If you've ever dreamed of soaring off into outer space, or if you're looking for a day trip from Orlando or Disney, consider visiting Titusville, Florida.
Titusville has been home to the Kennedy Space Center and launch sites for well over 50 years. Also, you'll even find a National Seashore nearby.
Yet there is so much more.
We recently spent time in the Titusville area and think it's the perfect place to escape for a few days or add on to your existing Orlando vacation.
Kennedy Space Center Visitor's Complex and BK Adventures provided activities for this trip. All opinions are my own.
Before I go into spending a perfect day in Titusville, Florida, I'll give you a few facts about the area. You can also jump to the itinerary section below.
Where is Titusville, Florida?
Titusville is located on the eastern side of Florida, just north of the famed Cocoa Beach. It's almost directly east of Orlando. It's part of the Space Coast of Florida, aptly named because of the Kennedy Space Center.
The Space Coast also includes Cape Canaveral, Cocoa Beach, Melbourne, and Port Canaveral where many of the cruise ships port.
How Far is Titusville from Orlando?
Titusville is about 40 miles from Orlando. It is 45-50 minutes on a good traffic day.
How Far is Titusville from Disney?
Titusville is about 57 miles or about an hour from Walt Disney World.
Are there any beaches in Titusville
Titusville is technically on the Indian River, so you won't be on the ocean. However, nearby is the Canaveral National Seashore.
While most people refer to the entire area as Titusville, this also includes Merritt Island where you'll find Kennedy Space Center and the Canaveral National Seashore. If you want a place to stay close to KSC, search Merritt Island.
What is Titusville, Florida known for?
Titusville, Florida is known as the home to Kennedy Space Center. It's family-friendly and full of places to kayak, bike trails, hiking trails, and wildlife viewing. There is a downtown district to eat and watch a play.
The Best Titusville, Florida Itinerary
You can easily do the best of Titusville, Florida in a day. It will be a long day, so I recommend staying two nights if you can to get the most out of the area.
Breakfast
Start breakfast off at Sunrise Bread Company. This locally owned two-story shop has a full selection of bagels, cinnamon rolls, muffins, and scones. Everything is baked fresh in-house. You could grab a coffee and fresh-baked goodies to enjoy both at breakfast and later in the day.
The Sunrise Bread Company is located in downtown Titusville at 315 S. Hopkins Ave.
Visiting Kennedy Space Center
Next up, head to the main attraction in Titusville, Florida.
The Kennedy Space Center Visitor Complex had humble beginnings in the late 1960s with self-guided car tours followed by a full-scale visitor's center.
Once the 90s hit and it was clear that Disney was only getting bigger and KSC was also the main Florida attraction, the 42-acre area underwent a major overhaul to the official Visitor Complex we know today.
While that might sound massive, I think you can visit just about everything you want to see at Kennedy Space Center in one visit.
Hours
Currently the hours are from 10 am to 4 pm.
Attractions, Exhibits, and Covid measures
The Kennedy Space Center Visitor Complex currently requires masks throughout your visit, except when eating. Hand sanitizer is in plentiful supply and increased cleaning in high guest contact areas.
The complex has plenty of outdoor space and attractions. In fact, one of the most impressive attractions is the Rocket Garden, with authentic rockets. While these life-size giants may not have flown in space (in the beginning it was a one-and-done process) it's impressive to stroll through. Each rocket has plaques for information about missions and stats.
Additionally, we enjoyed the Heroes and Legends exhibit which takes you through several core influences that inspired man's quest to the moon. Right next door is the Astronaut Hall of Fame.
By far, the attraction I enjoyed the most and took me by surprise was the Space Shuttle Atlantis.
Initially, you're greeted with a replica of the space shuttle Atlantis and the large rocket booster, outside of this attraction. After you enter the complex, you get a short film on the history of NASA's development for a reusable spaceship.
After a stunning surround screen presentation of a space shuttle launch, you're then presented with the actual Atlantis Space Shuttle. It's extraordinary and takes your breath away. If you've ever wondered about everything and anything that goes into launching humans into space, including space toilets, this is the must-see attraction at KSC.
We did more at the complex, including Planet Play and Journey to Mars.
Overall, our visit exceeded my expectations and I consider it a must-do attraction when you're in Florida.
Kennedy Space Center Tickets
Currently, daily admission is $57 for adults and $47 for children ages 3-11.
Viator has some extraordinary add-on experiences, especially if you need transportation from Orlando. You can check them out here.
Lunch
Because we didn't want to waste any time while visiting the Kennedy Space Center, we ate lunch at the on-site Orbit Cafe. The menu includes burgers, pizza, chicken tenders, salads, and mac & cheese. The food was satisfactory.
Additionally, you could pack in your own lunch.
Hike or Visit the Seashore
Since we were able to see everything we wanted to see by around 2 or 3 pm, we could head out and explore more of the natural side of Titusville, Florida.
The Merritt Island National Wildlife Refuge is a wildlife habitat. Currently, the visitors center is closed, however, you can enter and hike the trails.
Canaveral National Seashore stretches along the barrier islands containing nearly 58,000 acres. Inside is 24 miles of pristine beaches.
Both areas are a direct result of the NASA space program. To both protect the wildlife and prohibit development near the shuttle launches, the refuge and seashore establish additional boundaries surrounding Kennedy Space Center.
If you're looking for something quick to do, Sams House at Pine Island offers an easy trail through a marshy tropical forest along with a history of the area. While we did this on the following day, it is close enough to the space center to stop on your way to dinner.
Dinner
Head to an early dinner at Playalinda Brewing company. The Hardware store location is located in downtown Titusville, whereas the Brix Project is located on the main roads with a full kitchen and menu. We visited the Brix Project which had a delicious mix of burgers, shareables, flatbreads, and of course, locally brewed beers.
Sunset and Bioluminescence Kayak
If you're heading out on a sunset tour, you may need to skip dinner to get there on time. Otherwise, eat and skip ahead to the bioluminescence kayaking tour.
We booked a tour with BK Adventures.
Our first half of the three-plus-hour kayaking tour is a sunset trip around a protected island they call bird island. If you've never kayaked before, the two guides will teach you how to paddle and lead you at both the front and back of your group so no one gets lost.
Our guides with BK Adventures were incredibly knowledgeable. In fact, I'm not sure how one of our guides could talk for as long as he did!
Secondly, I have never seen so many pelicans in my life. Bird Island did not disappoint with the number of birds that we could view from the water. As it's protected, no one may go on the island, so it is a true sanctuary for the birds.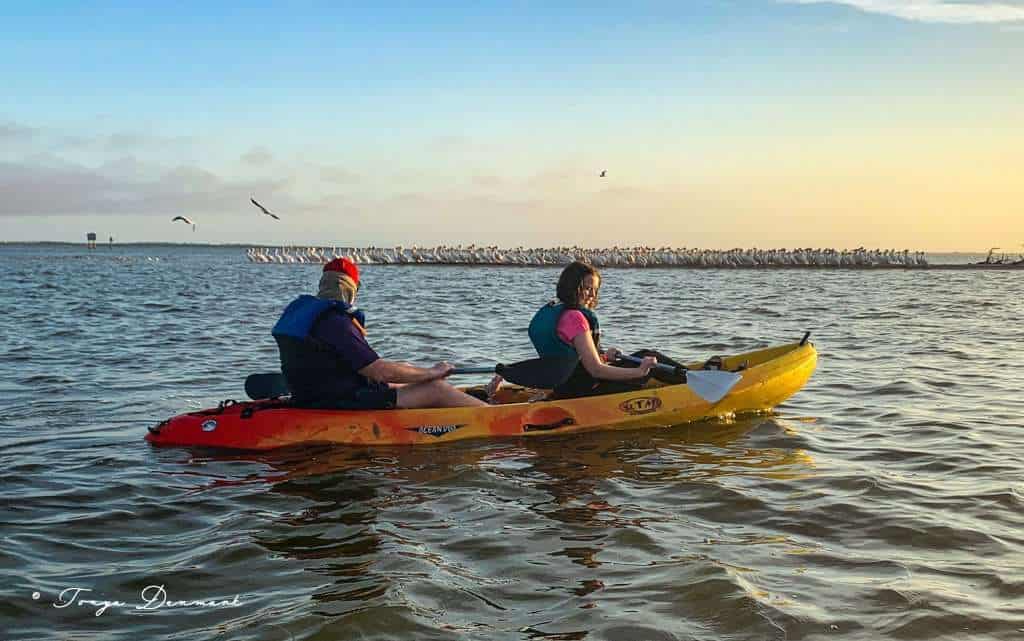 After a break back on the mainland, we then hit the canal to do our bioluminescence tour. Again, your guides are there, and you have small bubble lights to find each other, as well as flashlights attached to your vest in case you need to see something clearly.
We were lucky to have a clear night. We did this tour in early February when the moon jellies are "glowing". In the warmer months, plankton light up the waters. We went when it was just about a new moon and I've never seen a darker sky. Since it was clear, I was constantly looking up into the Milky Way. What a perfect correlation to a day spent at the Space Center.
Doing a night kayak tour is truly a once-in-a-lifetime event and I highly recommend the guides at BK Adventures for their safety measures and infinite knowledge of the area.
Related: What to bring with you on a Kayak.
Where to Stay
Hotels
Priceline has some great deals on brand-name hotels near and in Titusville. Pop in your dates to see some of their deal-breakers as well.
Campgrounds
If you want to camp, Jetty Park and the Canaveral National Seashore are the perfect locations to get away from it all, yet still see a launch if you time it right.
Canaveral is backcountry camping for a true outdoors experience.
Jetty Park is a full-service campground with limited sites. Book well in advance here.
Airbnb
We stayed in a charming Airbnb only 10 minutes from Kennedy Space Center. It was the perfect location. You can see that one, plus a few others I researched here.
How to get to Titusville from Disney
Get tickets to Kennedy Space Center and transportation from the following locations in Orlando, near Walt Disney World and Universal Studios.
Lake Buena Vista Resort Village & Spa, 8113 Resort Village Dr, Orlando, FL 32821, USA
WildSide Texas BBQ, 7725 W Irlo Bronson Meml Hwy, Kissimmee, FL 34747, USA
Walt Disney World Swan, Bay Lake, FL 34747, USA
Firehouse Subs Lake Buena Vista, 12515 FL-535 Ste 515, Orlando, FL 32836, USA
Universal Orlando Resort, 6000 Universal Blvd, Orlando, FL 32819, USA
Rosen Inn International, 7600 International Dr, Orlando, FL 32819, USA
Señor Frog's | Orlando, 8747 International Dr #103, Orlando, FL 32819, USA
If you're visiting the Orlando area, I highly recommend adding in an easy day trip to Titusville, Florida. Or if you're looking for something different to do in Florida, give Titusville a try. We certainly had an out-of-this-world good time on our trip.