We may earn money or products from the companies mentioned in this post. At no extra cost to you, I only recommend products I have experience with. As an Amazon Associate, I earn from qualifying purchases.
Do you ever wonder what to gift someone who travels a lot? I've found that some of the most thoughtful gifts are ones are personalized travel gifts. Others are more practical. If you know someone who loves to travel but is constantly on the go and doesn't have time to buy gifts for themselves, we've got something special for them! To help make their holidays a little more special this year, we put together a list of some of our favorite travel gift ideas perfect for globetrotters like them.
I've partnered with Etsy to create this post. While probably not the first place you think of for travel gift ideas, I've found over the years they have the best travel gifts. Because they are small-business focused, the sellers on Etsy know that your travel memories are sacred. I've never had a bad experience shopping on Etsy and I know it's the perfect place to find the perfect gift.
Want to jump straight to their holiday season gift guides? You can find a load of travel gift ideas in the Etsy Holiday Gift Guide here.
Want to jump to travel gifts for teenagers? I have a whole list just for them here.
My Wizarding World of Harry Potter Faves are here.
Gifts just for moms? Find those here.
Personalized Travel Journal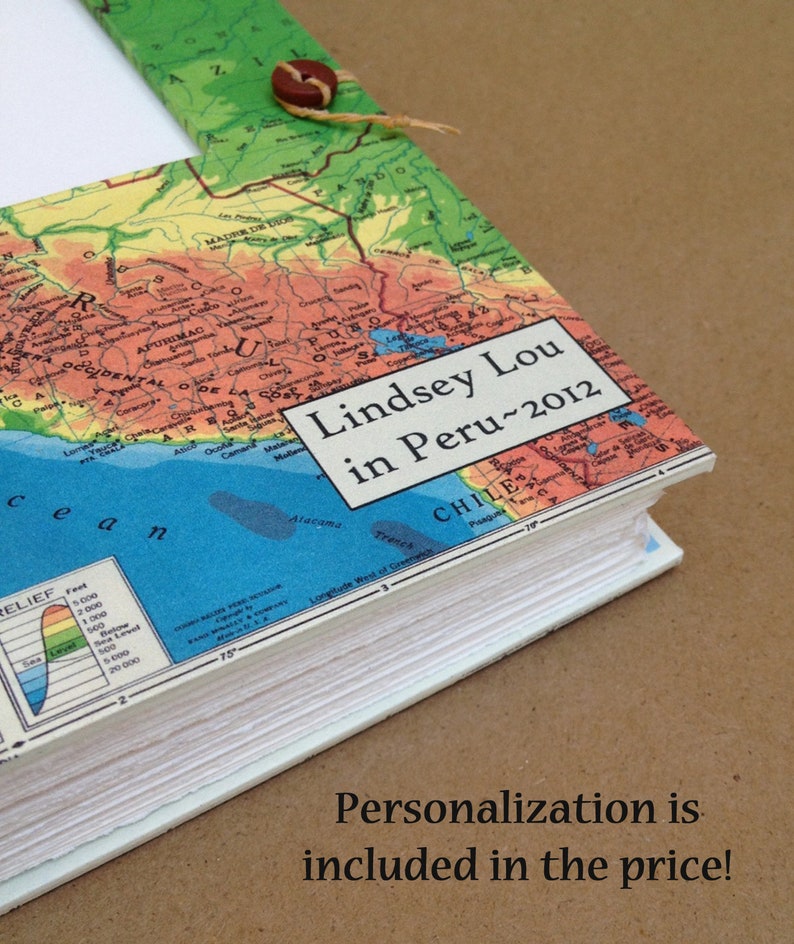 A journal is one of my favorite gifts. This travel journal is handmade and the cover can be personalized with a name, place, or date. It's small enough to take along on your trip so you never forget any of those important details while traveling abroad or on road trips.
A travel journal is a great gift idea because it's personal, thoughtful, and practical. This one has pages to draw or write on, space for addresses and phone numbers, and even pockets for travel mementos. It also comes in different colors!
Customized Map Pillow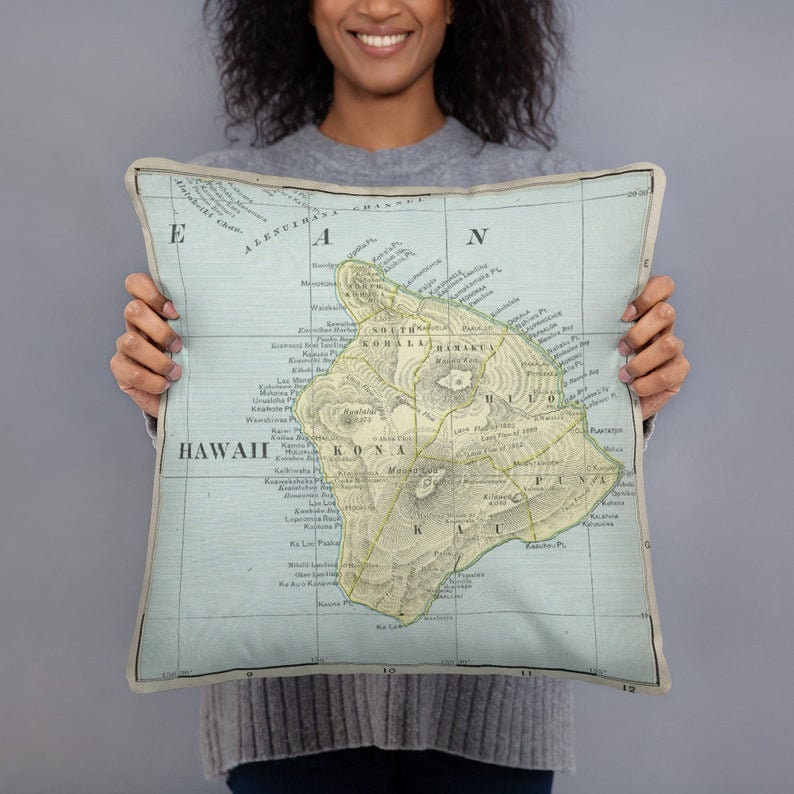 Have a travel lover in your life that just can't get out to travel as much as she likes? (Ahem, that's me!) One of the best gifts I've found is this decorative map pillow with a location of your choosing.
This customized map pillow will add some charm to your home decor, and remind you of where you've been on your favorite travels. It's a unique personalized to the location of your choosing! the seller states there are zero limited to creating this unique gift for your favorite traveler.
Buy it on Etsy for $33.50
Shampoo Bars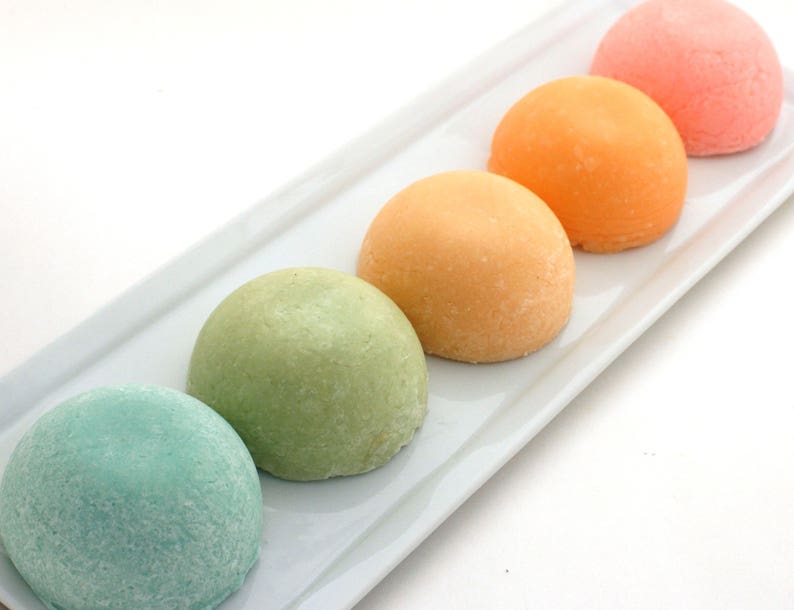 I always travel with shampoo bars. They are so small and lightweight, but they pack a punch when it comes to cleaning hair. I've tried lots of different brands, but my favorite is Get Lathered on Etsy. Their shampoo bars smell amazing and last a long time.
Bonus for a frequent flyer. These are solid bars and not liquid, so they don't count in the small amount of liquids that you can pack in your carry-on. These are some of the most useful travel gifts to give to someone who travels a lot.
Buy a Shampoo and Conditioner Bar Set on Etsy for $24.95
Travel Pillows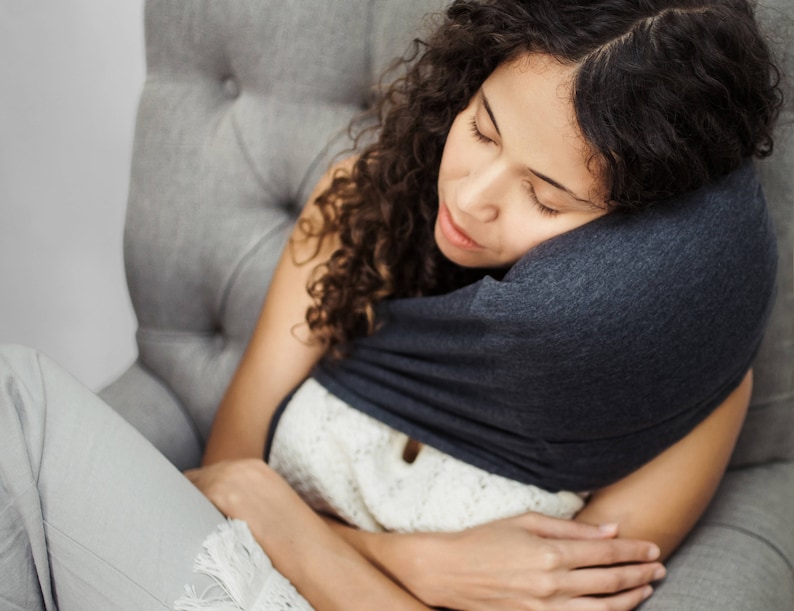 I'm not a huge fan of traditional travel pillows. I think they push my neck forward and are bulky to carry, even if they are inflatable. That's why I am in love with the 40 winks travel pillow. It's a memory foam pillow that is travel-sized and comes with its own travel case. It features:
SIDE SUPPORT – Tie or tuck soft cotton straps: around body – cradle elbow in, or tie to armrest to create resistance needed for full support of head and neck.
HYPOALLERGENIC PILLOW – The softness of this real pillow rests where you need it to: either side of head or behind. Made with the perfect loft to comfortably fill in the space from shoulder to cheek.
LIGHTWEIGHT – Weighs 9.6 oz.
BREATHABLE COTTON – Cotton jersey fabric in Charcoal / heather grey color to disguise make-up or spills. Washable, removable pillowcase. Protective cotton drawstring carry bag included.
•INCLUDES – 2 Organic lavender sachets that can be added inside the pillowcase. Known to induce a sense of rest and relaxation, this lavender helps add that extra element to zone into and out with.
So if you need a perfect travel gift for someone who often takes long flights, this will be a hit. Even frequent travelers who love to hit the road instead, this works on the road too.
Travel Ornaments
I purchase ornaments from every place I visit. It's a great way to remember your trip after you've come home, especially if someone got it for you as a gift. This travel ornament is handmade and customizable.
I have two that I'm in love with from Etsy. Avid adventurers will appreciate the directional signpost travel ornament highlighting the places they've traveled to this year.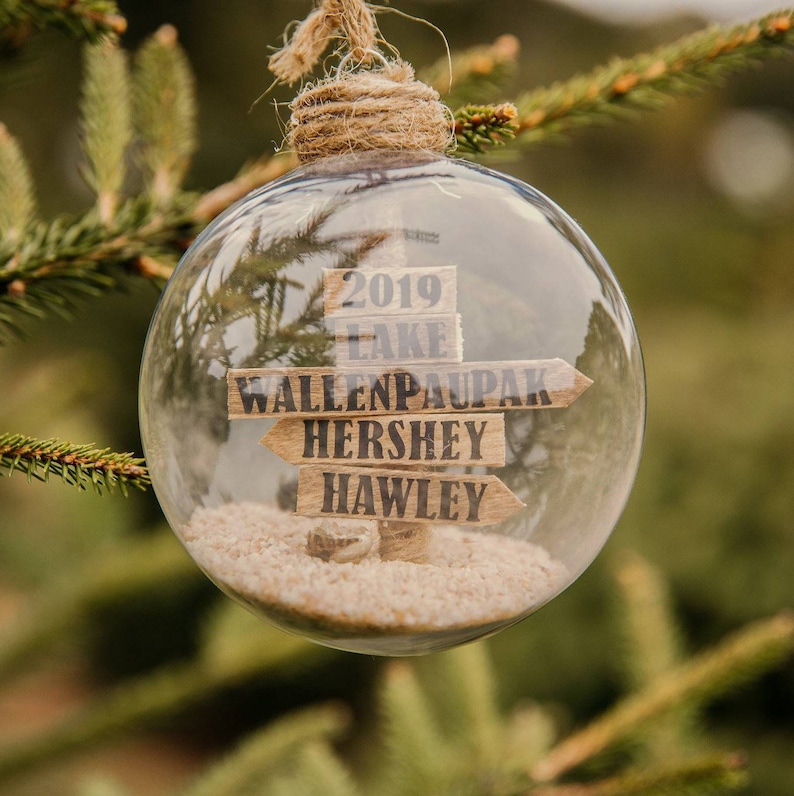 Buy this one on Etsy for $44.99
And just like the custom map pillow, an ornament with your favorite place is a unique gift for travel lovers in your family.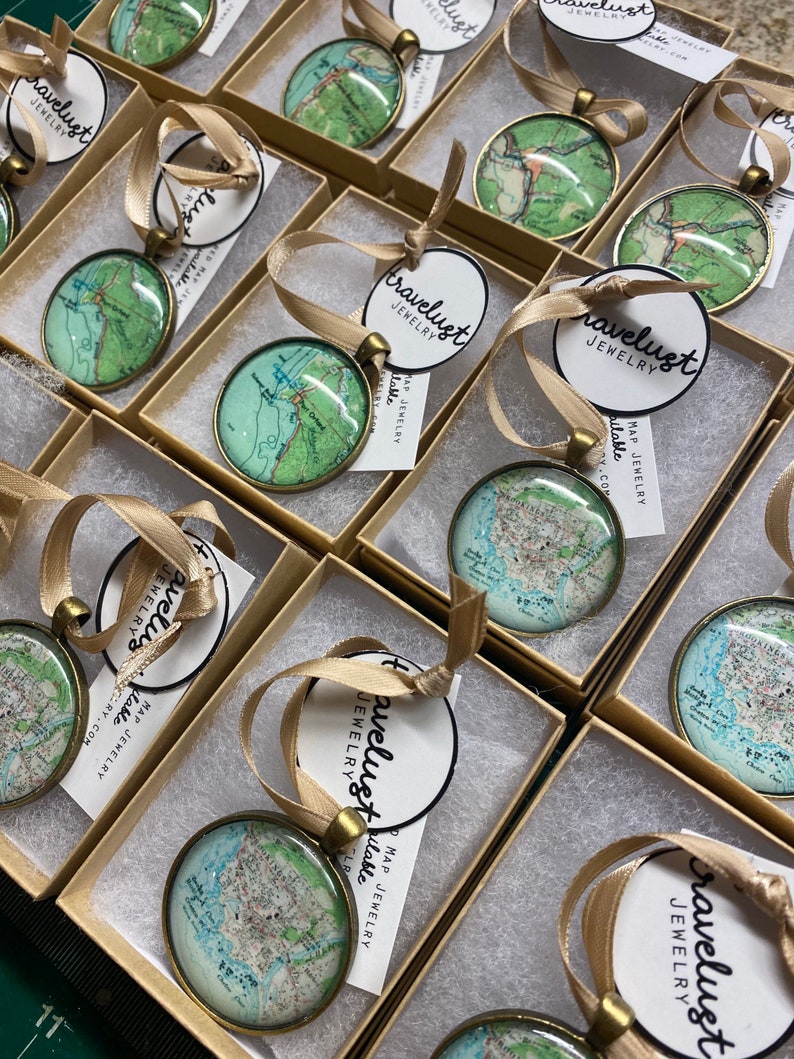 Personalized Travel Map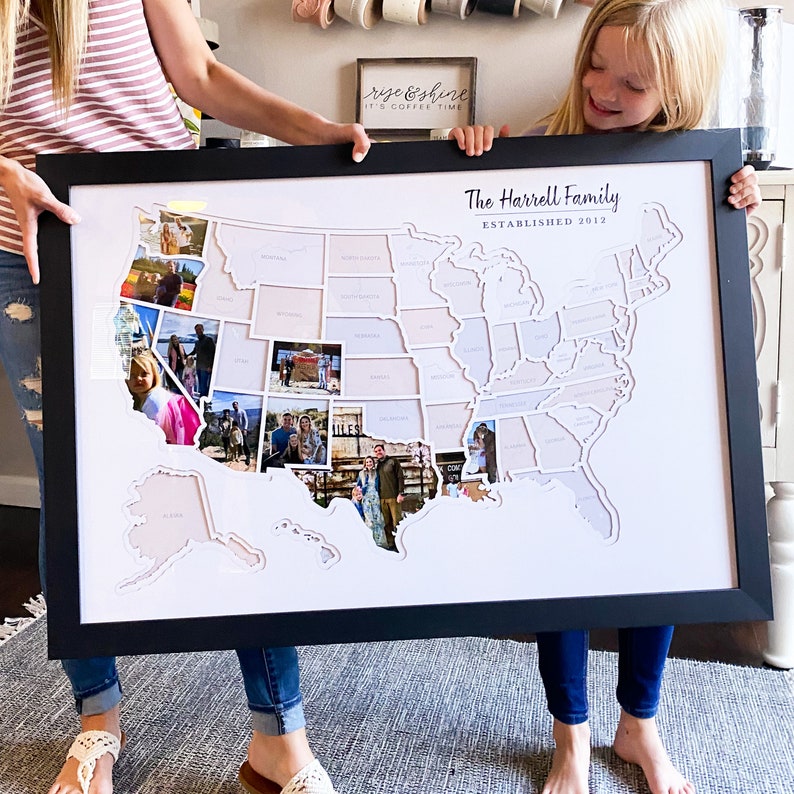 A large world map or a canvas world map is a popular way to record your travel memories. This travel map comes in many different colors and can be personalized with a name or place of choice. It's an easy way to add travel memories to your home decor without breaking the bank.
And did I mention you can get it customized with your own travel photos? The possibilities here are endless: places visited, road trips taken, etc… it's all up to you as to how your map looks.
Buy it on Etsy starting at $89.
Travel Stickers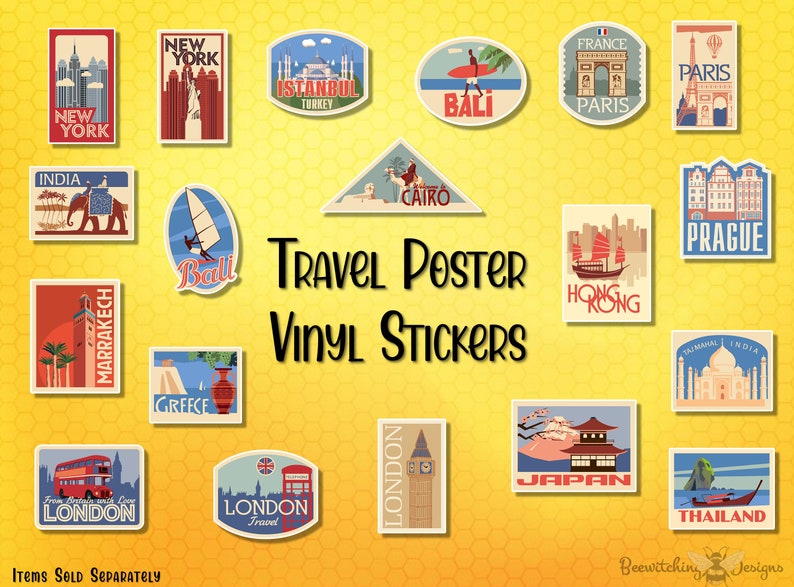 These travel stickers are perfect for the avid traveler who loves to document their trips. They're a great way to jazz up your water bottle, journal, or suitcase. Plus, they come in a variety of colors and styles so you can find the perfect one for each travel lover on your list!
Bring a little bit of that vacation home with you. These travel stickers are perfect for the avid traveler who loves to document their adventures.
Credit Cards Sleeves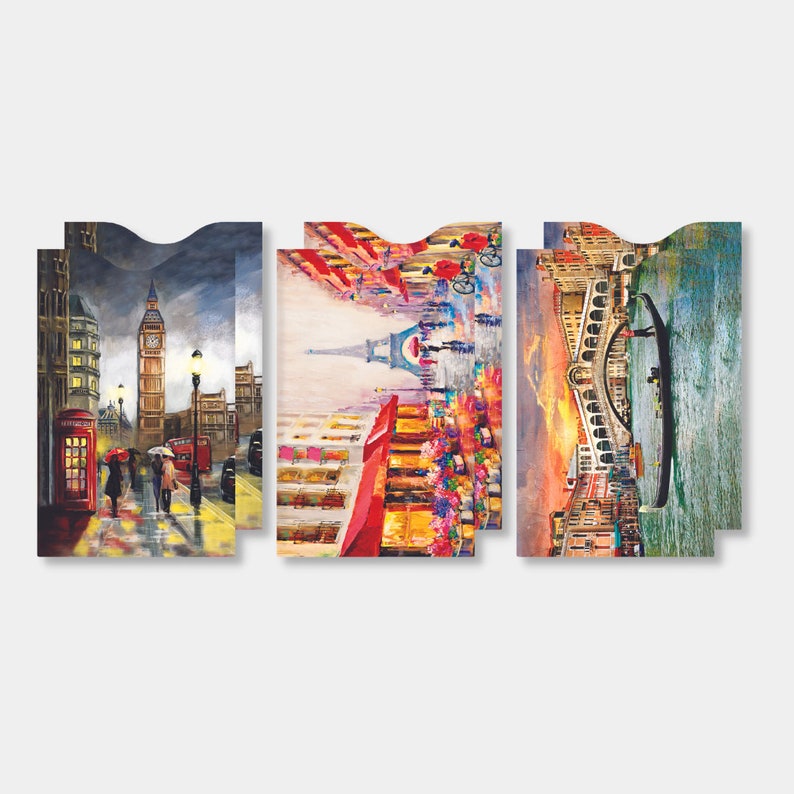 Credit Card sleeves are useful travel gifts necessities for people who travel a lot. They are perfect for protecting credit cards from getting demagnetized and also preventing cards from being skimmed by thieves using RFID readers.
If you're someone who travels a lot, then get yourself one of these credit card sleeves. They're one. of the best ways for keeping your cards safe and secure from thieves.
Add these to your gift lists here for only $10.95.
Packing Cubes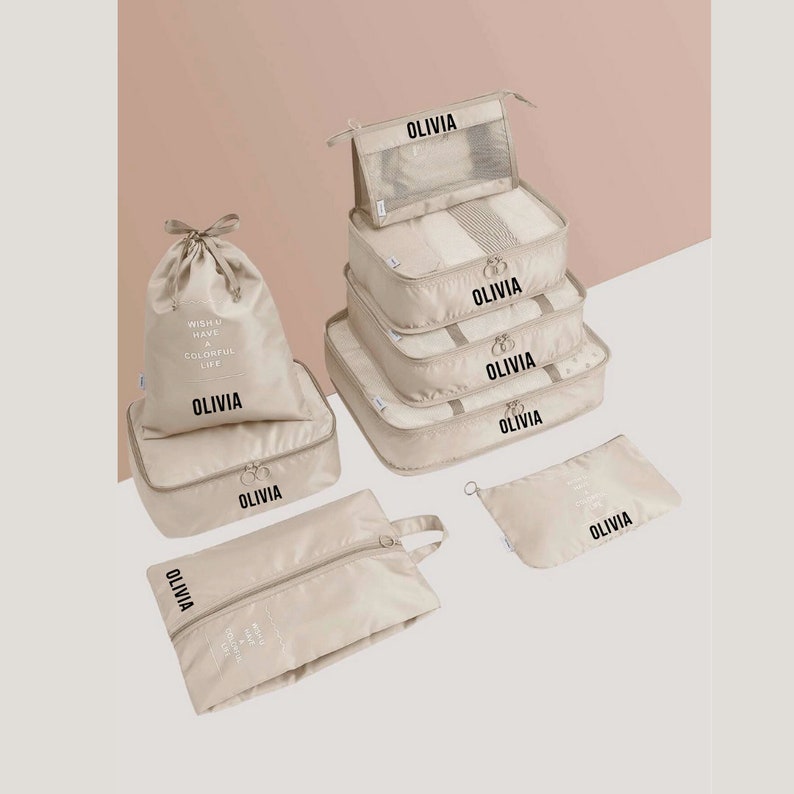 If the traveler in your life is always packing and unpacking their suitcase, then they will love these packing cubes! They make packing and organizing a breeze. There are different sizes to choose from, so you can find the perfect set for your travel buddy.
I recommend getting a set for each family member with their name. It's a great idea for quickly finding items when unpacking.
Buy it on Etsy with names for $44.95
Sunglasses Case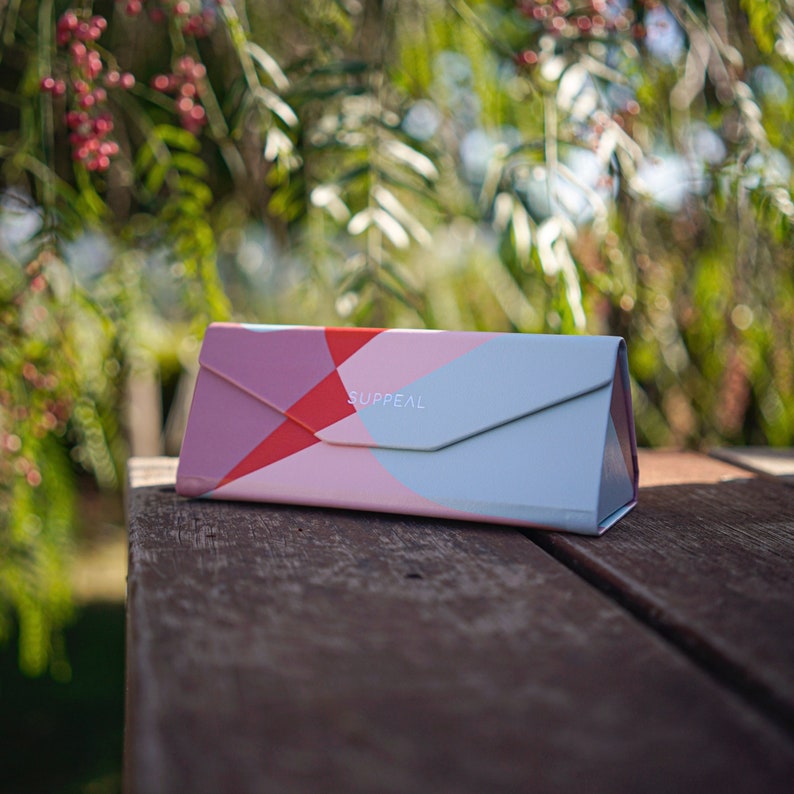 I'm always losing my sunglasses, so I love having a good sunglasses case to protect them while I travel. This one on Etsy is a compact design, yet sturdy for protection, and features a colorful print that will brighten up any travel outfit. This would be an ideal gift for someone who has everything.
Buy it on Etsy for $12.95 available in a lot of different colors and patterns.
Survival Kit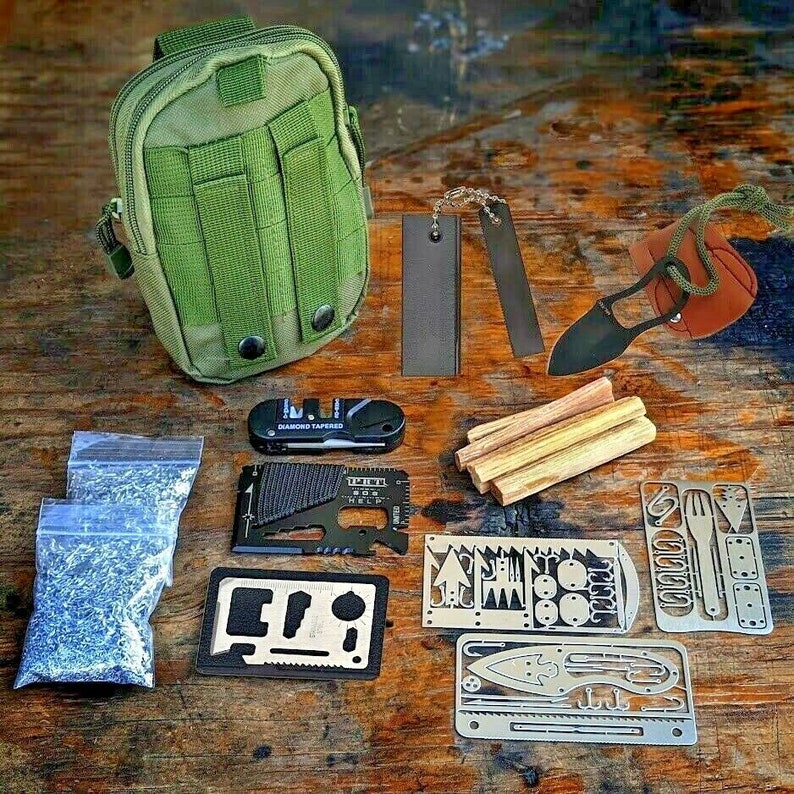 If your loved one loves spending time outdoors, then why not get them some hiking gear? This gear survival kit has everything you need to start a fire. If you are spending some time in the great outdoors or camping in the national parks, the survival kit will help you start a fire as well as loads of additional tools. Plus, it comes in a handy pack and sells for only $27.
Hiking Trail Print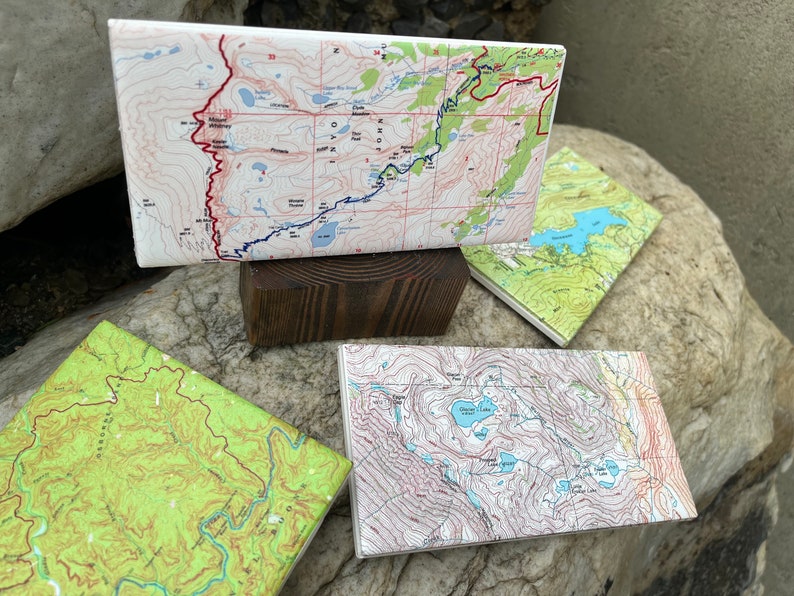 This is a beautiful and unique gift for the hiker in your family. The personalized custom trail map is a topographic print on tile with a wood stand. As for travel gift ideas, I think this one is perfect and unique. Your hiker will love to look longingly at this print on his or her desk while dreaming of getting out and conquering that next hike.
Hiking Poles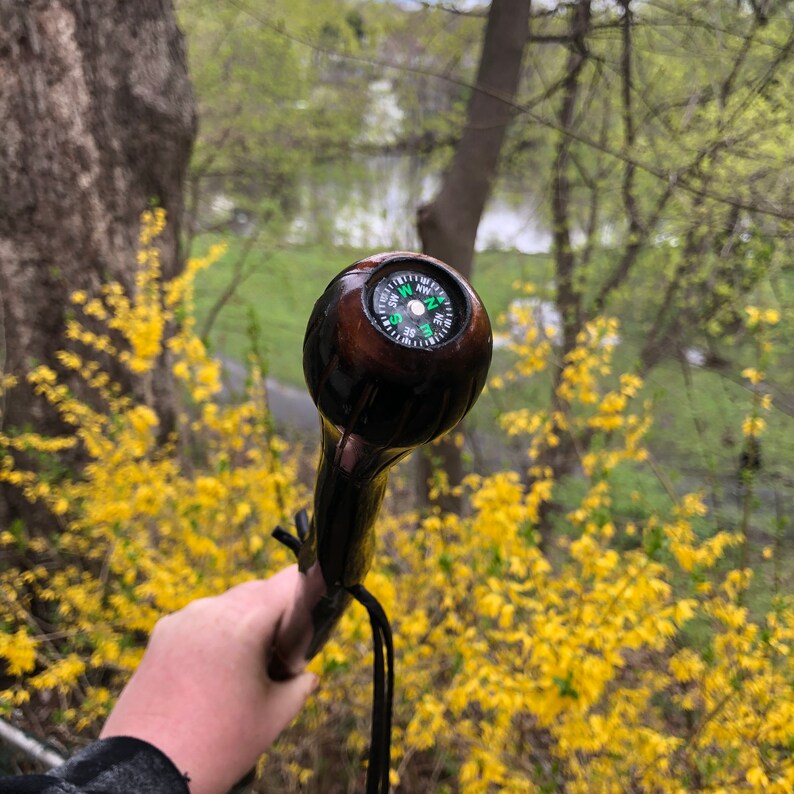 Hiking poles are a great travel gift for people who love to hike. They're perfect for keeping you safe on the trails. This one is perfect because it comes with a compass in the ergonomic handle. Never lose your sense of direction again, especially as phones do not always have a good signal when out on the trail.
Hanging Travel Toiletry Bags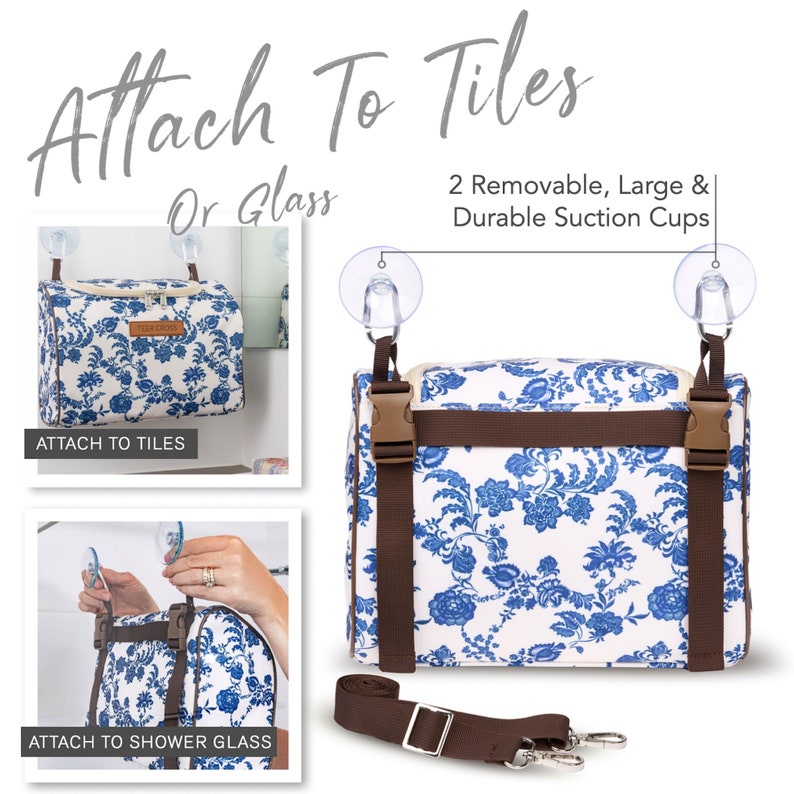 These hanging toiletry bags are super convenient because they allow travelers to see all of their travel supplies without opening several different bags while packing/unpacking luggage. You don't always have much space in a hotel bathroom or on the road. This hanging toiletry bag can be attached directly to the mirror. What a great idea!
Plus, these can be personalized making them an excellent gift option for someone special who has to spend a lit of time in a hotel room.
These look like they ship super fast too from Etsy and only $20.95.
Travel Towel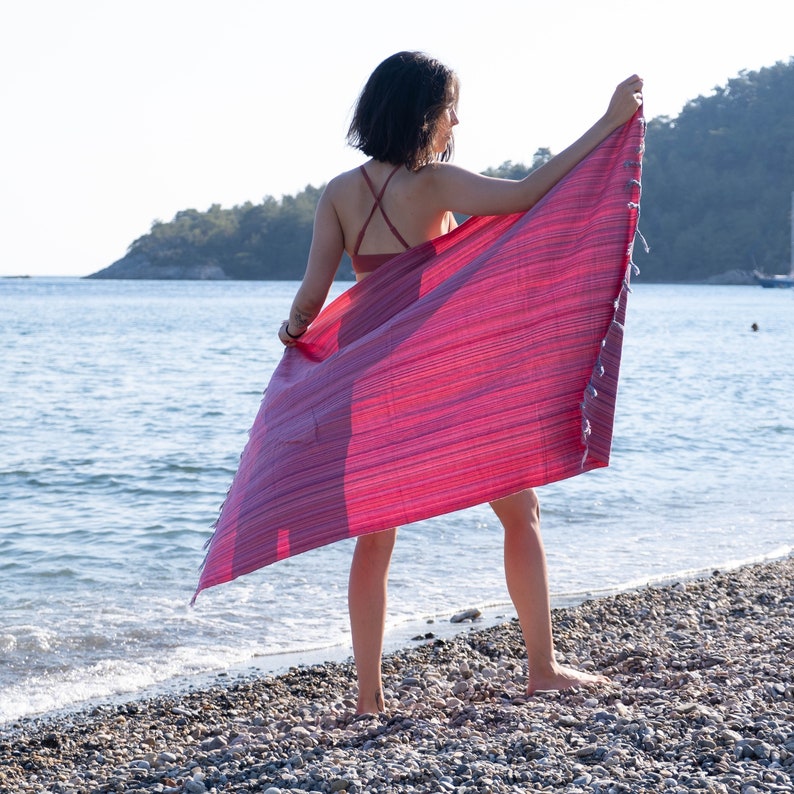 Travel towels are not something you'd normally think of for travel gift ideas. However Turkish towels are great to keep in the car for that spur-of-the-moment trip to the beach. They're also perfect for travel because they're lightweight, absorbent, and quick-drying. This travel towel is a great option because it comes in different colors and has a built-in loop to hang it up. I read reviews that stated that travelers used this on long-haul flights too as a blanket.
You'll be hooked on Turkish towels after buying this for only $14.41.
Etsy Gift Cards
If you can't decide among these unique travel gifts what to get your travel lover, give the gift of Etsy. How do Etsy gift cards work, you ask? Super easy.
To buy an Etsy gift card, just go here and select the gift amount and whether you want it emailed to you or the recipient.
Etsy gift cards work on all the shops listed on Etsy, so a recipient could even use it among many of these gift items listed here.
To use an Etsy gift card, the recipient simply goes here to add the gift card to their account. They do need to create an account and be logged in. Once they go to checkout they can choose to apply their gift card to the overall purchase. I've done this before with no problems and it's my personal favorite way to shop.
How Does Etsy Shipping Work
If you've never shopped here before, you may wonder how long does it take to get something from Etsy?
It truly all depends. nowhere you are and where the seller is. Someone listed in the same state as you should only take a few days. Across the world is another story! Fortunately, each listing gives you an estimate as to when the item should arrive.

I've had good luck with all my Etsy sellers and the time frame has been accurate.
So there you have it! My top 15 + travel gift ideas for people who love to travel. Whether your loved one is just starting out on their travels or has been exploring the world for years, these gifts will be sure to please. Did I miss anything? What's your favorite travel gift?
Have any other ideas for personalized travel gifts? Share them in the comments below! I'd love to hear your thoughts!