We may earn money or products from the companies mentioned in this post. At no extra cost to you, I only recommend products I have experience with. As an Amazon Associate, I earn from qualifying purchases.
When we're not traveling, we're dreaming of travel. One of the ways we love to dream about travel is to look through our travel pictures. This means, of course, that we have to get our travel pictures off our mobile devices, hard drives, phones, and camera sd cards and on to display them for all to see. What do you do with your travel photos, or how do you display your travel photos?
Have you ever been at a loss as to what to do with travel pictures? I've included some DIY and some done-for-you options, so if you don't feel extra crafty, don't sweat it! Learn how to display your travel photos with these traditional, fun, or innovative ideas.
Sources for Printing Your Travel Photos
If we're going to talk about how to display your travel photos, we need to start with printing. We'll cover some other ways without printing below, but for now, assume we need to get those digital photos off your phone or your camera.
Printing Services
Traditionally, one of the easier ways to get physical copies of your photos is by using printing services at places such as Walgreens or CVS Photo. I like that for most prints, you have a same-day option. So if we're feeling super motivated, waiting on delivery won't stop us!
Snapfish and Shutterfly have also been around for a long time and often have great deals. It's worth comparing prices for prints across a few of these, and then pick one and stick with it. The last thing you want to do is try to remember who you uploaded your photos with. While these sites are usually popular to create photo books and photo albums, you can opt for full-size photos for displays.
Printers
Another good idea, and best if you want to print single photos on a whim, is to invest in a decent photo printer. I like working with Hp Printers because of their HP instant ink program. Enroll for a small monthly charge, based on how many pages you print, and always have ink on hand. It's cheaper than buying ink. The HP Envy works well with Bluetooth and your phone. Reviews seem pretty great about printing photos as well.
The HP Sprocket Select Photo Printer is possibly the best thing I've seen to bring with you on the go. Full-color photos and Bluetooth allow you to print images on the go. It's only 3.5 by 5 inches long, so it's perfect to keep in your purse or camera bag. I like the idea of using this printer to use as thank you cards when you're traveling as well.
Scanners
Do you have old photos sitting in photo storage boxes? Or what about negatives or slides? An easy way to share those with your family members is to invest in a negative scanner.
The Kodak Slide n Scan is super easy to use and can scan 35mm, 126, 110 film negatives and slides to 22mp resolution digital images. It's a great option to save old prints and family photos to digital storage, an external hard drive, flash drives, or even Google drive. From there, you can print your favorite family vacation memories.
If your photo collection isn't in negative form, but you have lots of photos from days gone by, a photo scanner might be the best option. The Plustek Photo scanner scans photos in seconds. I like this over a traditional printer flatbed scanner as you can continue to feed photos into it. That way if you have a large amount of precious memories to save, you're not constantly stopping to replace what is on the flatbed.
Wall Tiles
Have you seen Mixtiles yet? These are easy 8×8 "tiles" that you select from their app, and at $13 each, turn into wall art. You can do borderless, black or white frames. I think these will lend well with gallery wall ideas below.
Chatbooks is another one that has easy peel & stick gallery wall tiles. If you want slightly bigger than Mixtiles, Chatbooks wall tiles are 10×10.
Travel Pictures Gallery Wall Ideas
Now that you have your photos printed, how do you display them? Gallery walls are perhaps the most popular of the choices.
Below you can see some of the ideas for collages and gallery walls. Pinterest is a great source for gallery wall ideas if you need further inspiration.
Personally, I like the clean frame look to better show off your travel photos. I would recommend a simple white or black frame with a white mat. You can choose to mix up sizes or keep them all the same size. I do think this is where Mixtiles or Chatbooks appeal to me more. However, I have friends that do amazing gallery walls. in their homes, it's just not as easy for me.
These are a couple that I love.
Canvas Prints
If you do or don't do a gallery wall, canvas prints might be the way to do it. Snapfish has a host of canvas wall art options.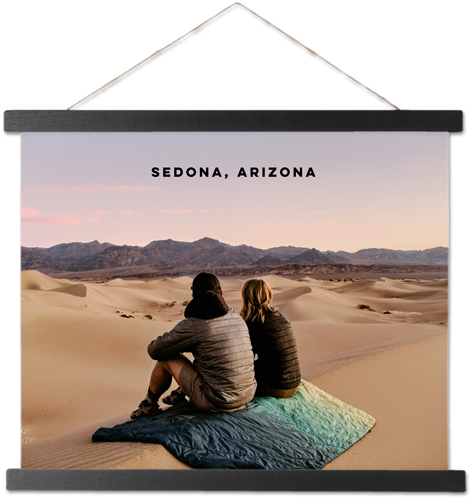 Pallet Sign Wood Photo
If you have a rustic look, go for this pallet sign to immortalize your favorite travel photo.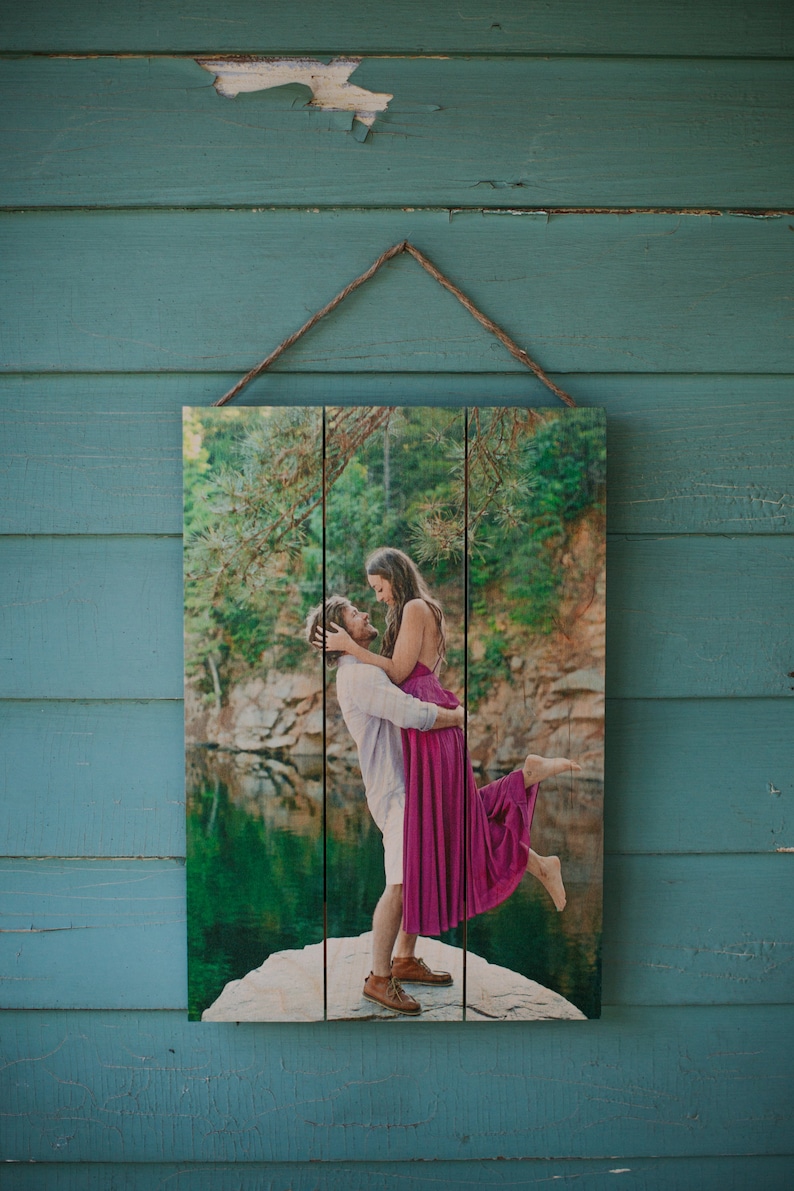 Personalized Photo Mug
You've seen those photo mugs where you can put pictures of your kids. They always look a little, well, basic, to me. However I did find this photo mug, that would be great in your kitchen or on the go. I like that it looks a little more artistic.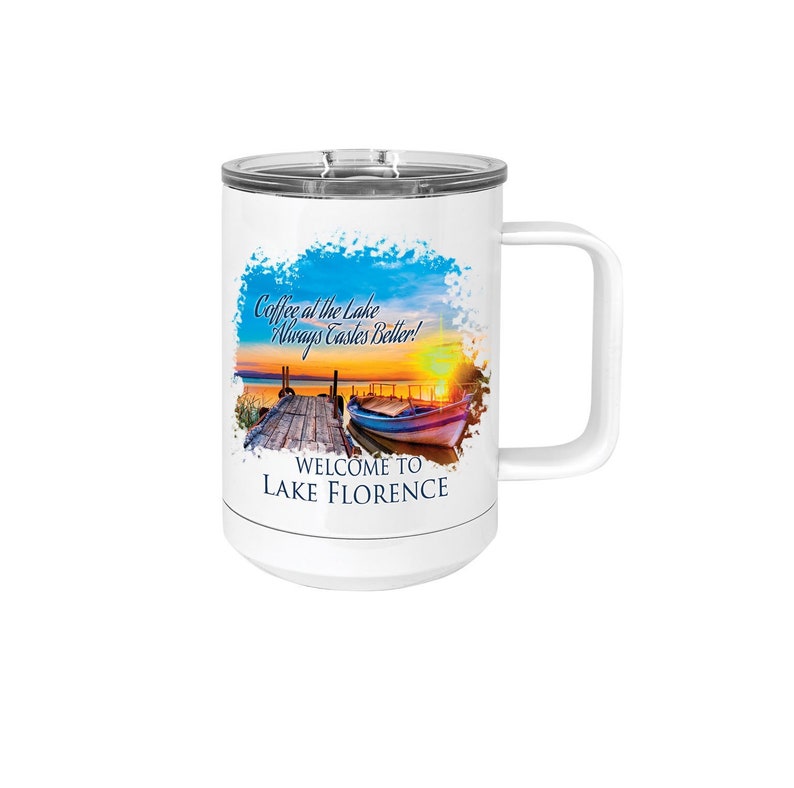 Personalized Travel Blanket
A photo blanket is another great way to show off your favorite travels. Imagine a cushy plush blanket draped over your sofa or one of your chairs in your living room, filled with stunning photos of your favorite trips. I don't know about you, but this would definitely get me dreaming of my favorite places as I doze off under the blanket. And if it's a vacation in Maine, this doubles as a cozy reminder of that trip.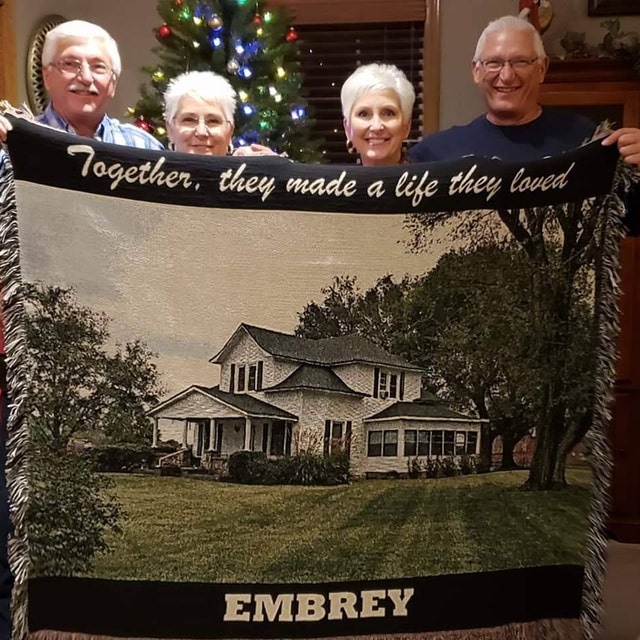 On a Map
One of the ways I love how to display your travel photos is to incorporate them with a map.
I've seen this done in a variety of ways. It can be with postcards or Polaroid-style images glued near a map.
Get a 50 States photo map collage. What I like about this particular one is that it has inner borders that help contain all the state cutouts and make it easier to cut and place your state photos. Plus, it even comes with a map maker tool that you can print the photos just as you need them!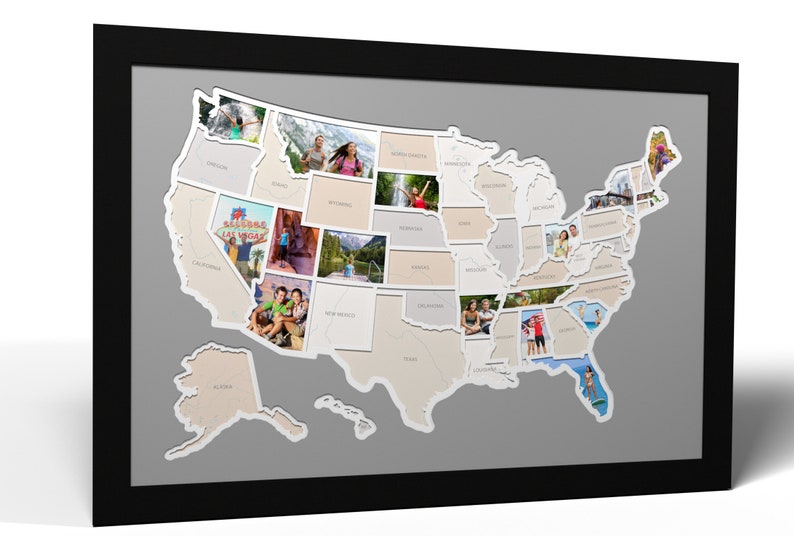 I also like these individual state prints from Minted that include either an outline of the state or your photos within the whole state.
Wall Calendar
Do you have a wall calendar in your home? I know in the age of digital, we may not need a wall calendar, but I always like the at a glance option of looking month to month. Of course, you can fully personalize a calendar to include your travel photos or feature places you'll travel that month.
See personalized calendars at Shutterfly.
Digital Frame
You could go for a digital frame to display your photos, but I want something as simple as possible. That's why I would choose a Google Nest Hub or a Google Nest Hub Max. I use Google Photos to back up my photos on my phone (even though it's an iPhone, more bang for the buck.) So it's easy to get those photos to display on a Google Nest Hub. Plus you get all the smart home features with a Google Nest hub. Go for the Google Nest Hub Max to use to make video calls. Buy at Staples and get Free Shipping or Free Pick up.
Vision Board
Use your travel pictures for a vision board. If you have a favorite place you've traveled, again and again, put these photos in your vision board. Having a vision board inspires the whole family that we will travel again. Set aside some time this weekend to put your travel pictures in your travel vision board.
Paint Your Photos
If you're feeling extra crafty you can take one of your favorite photos and attempt to recreate it in a watercolor form. Of course, again, someone on Etsy can do it for you.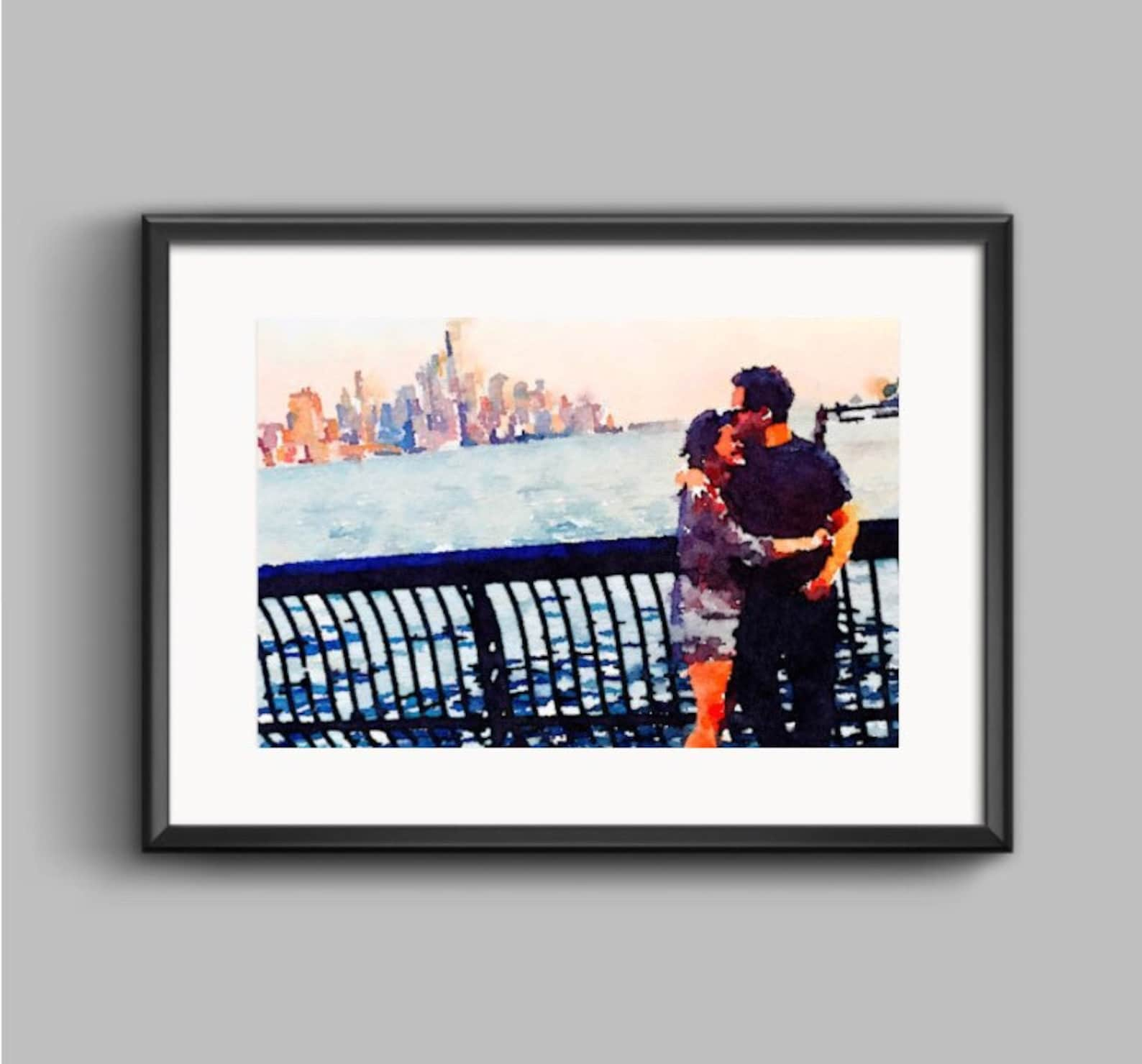 Ceramic Tiles
Make a big statement with ceramic tiles. This one is 12″ x 12″ but they come in all sizes. Check them out at Image Snap.
Do you have a favorite way to display your travel photos? Let me know in the comments.
Save this for later.