We may earn money or products from the companies mentioned in this post. At no extra cost to you, I only recommend products I have experience with. As an Amazon Associate, I earn from qualifying purchases.
The first thing you may ask when you look at this post is what is the difference between a travel planner and a travel journal. For the most part, it's in the name. A travel journal is where you record memories of your travels, whereas a travel planner helps you plan and keep your travels organized.
You may also wonder if you do need a paper journal or a paper planner. And that is truly a personal preference. I use both paper and apps to plan my travels ( you can see my list by clicking here.) Yet there's something lovely about sitting down with a cocktail and recording the best moments of your day. And I do love planning travel, and having a travel planner I can keep coming back to makes my heart happy.
I've scoured Etsy and Amazon sites to bring you the best travel planners to start planning your trips, as well as travel journals to record your memories. There are a few instances where these items intersect.
Travel Planners
Let's start with the planners, as you typically are planning travel before you can write about what happened.
Petite Planner

Erin Condren Petite Planner Travel Journal Gold – $14
from:
Erin Condren
The Petite Planner travel planner/journal is simple, yet contains everything you need to plan the perfect trip. I like how there's a 7-day trip itinerary, and then 2 pages dedicated to each day. It includes space to record favorite moments of the day, making it a good all in one travel planner and journal. This is the first one I've used that I come back to gauge all the rest.
Wander Always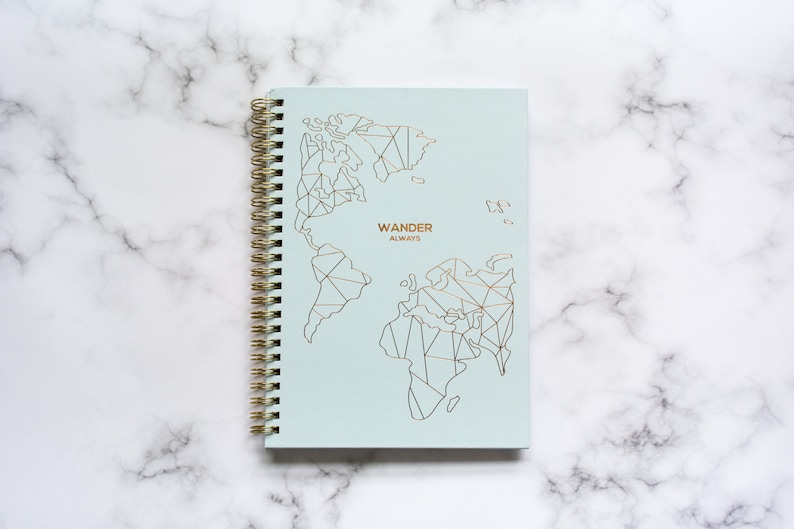 This beautiful Wander Always travel planner also includes space to journal. Plan for your budget, things to do, packing lists, and important details. There are 5 pages for every trip to track your experiences. It's a nice spiral-bound hardcover book.
Camping Travel Planner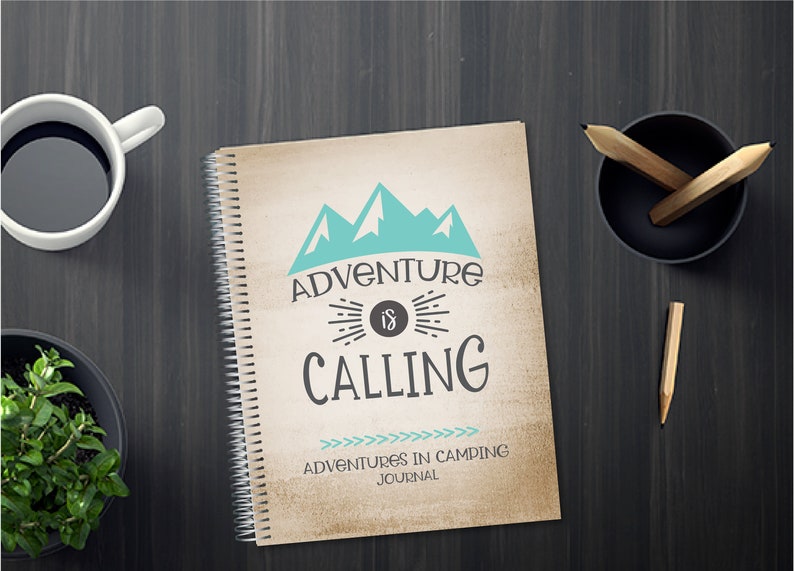 For all you campers out there, this Camping Journal is for you. Space for your camper info and campground booking with amenities keeps all your camping adventure plans handy. And it has a mileage log! It looks like they've thought of everything.
Travel Checklist Planner
This is a nice, simple, and clean design. I like that it's small enough to fit in a carry on or your daily bag. Has a monthly undated calendar and space to add in important vitals, as well as trip information.
Printables
The amazing creators at Etsy also have printables that you can create your own planner, or fit into your existing system.
What to include in your Travel Planner
If you want to create your own personalized travel planner, Here are a few things to consider including.
Flight Info
Rental Car Info
Accommodations Info
Attractions Tickets
Any other Reservation Info
Phone Numbers
Emergency Contacts
Packing Lists
Medications
Places to Visit
Trip Itinerary
Weather Forecast
Meal or Restaurant Plan
Expenses & Budget
Travel Journals
Here's where it can get fun. There are all types of travel journals out there, and I'm sure some of these are perfect for you or the travel lover on your list. A travel journal differs from a planner because it's all about what you've deen or done. it's not the nitty-gritty details (even though I love those.) but the emotions, feelings, and sights that are important to make travel memories.
Note, that a lot of the planners above do have built in journals as well. But if you're just looking for something to write in, these do more than fit the bill.
Travel Journals for Kids
Let's start here. The kids need journals just as much as the adults, but why not make it fun. These are two of my favorites. The Go Adventure Journal skews a bit younger, and the Ultimate Travel Adventure for Kids is packed with activities.
50 State Travel Journal
I like that there are travel journals are specifically for the United States and crossing off bucket lists like visiting each state. This 50 States Traveled Journal has room for each state with prompts for what you did, where you went, what you ate, the best moments, etc. The Unique States of America is a good companion book with this list.
Activity Travel Journal
The I Was Here journal is more a list of things to do that are different from what you might do at home. Not a day to day recording per se, but more of life's interesting moments. This one would be great for adults who don't want to spend a lot of time writing, or kids and teens that are looking for something unique.
Simple Journals
Sometimes we just need a space to write what happened without any fancy prompts or activities. I like this Page a Day Artisan notebook that very simply lets you put in the date, the location, and the weather.
Travel Journal Prompts
Many times when we sit down to record our travels, we get overwhelmed with the number of adventures we had. What do we write? The following are a couple of Travel Journal Prompts to help you fill in your journals. I chose prompts that are specific to what you're doing and feeling at the time of your journey.
What was the weather today and how did it reflect what you did?
What new or amazing foods did you try? Do you have a favorite?
Describe your favorite view of the day.
What are some facts you learned about a place you visited?
Did you book adorable accommodations? What does it look like?
Did you meet anyone interesting today?
What is the best thing you bought on this trip?
What did the items cost? (this is fun to look back on as the price of items change)
Did you see any wildlife?
Document any new words or phrases you learned. (Yes, this works in your own country too!)
Draw
Document senses. Any new smells, sounds, or feelings of the day?
Other Cute Travel Journal Accessories
I'm not much of a creative when it comes to creating my travel journals. I don't do bullet journals because I don't enjoy how long it takes. However, that doesn't mean I don't enjoy all the cute travel accessories that can go in your travel journals. Here are a few ideas on how to decorate a travel journal. Starting with the following:
Colored Pencils
I like to be able to erase things as they change. However, instead of using regular pencils for this, I color code. yet some colored pencils don't erase. I'm really happy with the standard Crayola erasable pencils.
Instant Camera
Want your photos for your journal faster? One way to add to your journal is by using an instant camera such as the Fujifilm Instax Camera. My teenage daughter loves bringing hers with her on trips so that she can use the photos to remember key moments in her journal.
While I haven't tried it out yet, I'm also loving the slimmer Kodak Printomatic Instant Print Camera. for only $49.99 this is a great deal on a fun camera.
Portable Photo Printer
Want higher quality photos for your travel journal, but don't want to wait until you get home? The HP Sprocket portable photo printer prints directly from your smartphone. The photos are 2 x 3 inches, perfect for journaling. The printer is lightweight, about the size of a phone, and easy to carry with you, or pack in your suitcase.
What are your thoughts? Do you have a travel journal that you love?
If you're not into pen and paper, you may want to check out my list of Travel Planning Apps as well.
Save for later!