We may earn money or products from the companies mentioned in this post. At no extra cost to you, I only recommend products I have experience with. As an Amazon Associate, I earn from qualifying purchases.
The next time you are looking for something unique, authentic, family fun, in Central Florida, look to Wekiva Island. This hidden gem in Seminole County is located on the Wekiva River with authentic Floridian nature all around.

I visited Wekiva Island as media for their Winter Wonderland event. Their Winter Wonderland happens from Thanksgiving to January 1. They offer a wide range of family fun events throughout the entire month. This includes crafts, movies, character visits such as the Grinch and Buddy the Elf, as well as see-it-to-believe-it snow flurries and a snowy sledding hill.
About Wekiva Island

It's hard to nail down my favorite thing about Wekiva Island. It's not an attraction per se, but they have plenty of things to see and do during their events as well as throughout the year.
It's not a restaurant per se but there is a food truck serving a wide range of foods from everything from hot dogs to lobster.
It's not a bar per se but it is everything you would expect from a "locals" bar with all of your favorite local people with a full selection of on-tap beer and even on tap wine.
It's not a country store per se but it is an event venue where you can sit around wooden tables playing wooden games and listening to live music.
It's not just a kayak rental per se it is a place to rent your kayaks and paddleboards for the entire day rather than just by the hour.
Wekiva Island is all of these things. It is the type of place that I wished I lived closer to so that I could visit often and become one of those locals at the bar.
Know Before You Go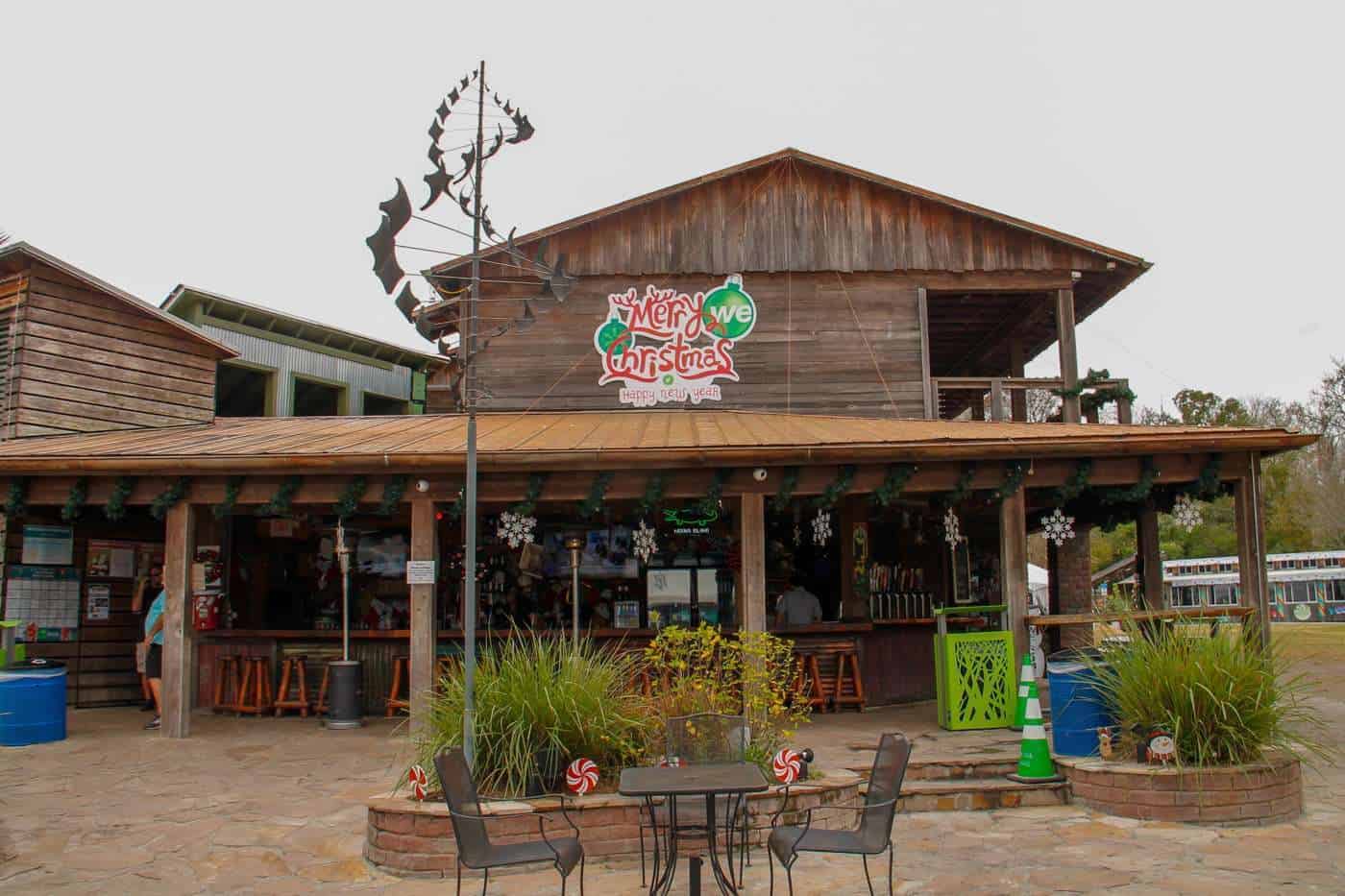 Here are a few things to know about Wekiva Island.

Location:
1014 Miami Springs Dr, Longwood, FL 32779
Hours:
Wekiva Island is open Sunday to Thursday from 8 am to 9 pm. Friday and Saturday 8 am to 11 pm.
Cabana Rentals – From their website:
Rent one of our river-banas for the day and enjoy a private retreat area on the river. The smaller covered cabana is 12'x11' in size and comes equipped with a comfortable couch and rocking chair. Cabinets and ice chests are available to house and secure any food and non-alcoholic beverage items you bring for the day. A river-front front porch, adorned with comfortable Adirondack chairs, allows you to relax and watch the activities on the water. We have several different sizes to choose from. They sell out on the weekends from March to September, so it is highly recommended you book early!
Wekiva Island or the Wekiva River does not allow alcohol from outside. We do have a bar with beer and wine for sale. Any alcohol consumed at Wekiva Island must be purchased at Wekiva Island. FL Statute 562.02
For the Cabana renter, you have a minimum of two parking spots near the Cabana for parking access.
Wekiva Island is not a pet-friendly establishment. (Service dogs must be leashed with their vest on at all times.)
Cabanas rent from 9 a.m. to 5 p.m. daily.
Without a Paddle Cafe
The Food Truck/Cafe has an extensive menu. Find the Without a Paddle Cafe Menu here.
Event Calendar
Wekiva Island has events throughout the year, with Winter Wonderland being their premiere yearly event. However, no matter what time of year, you'll likely find live music, an arts event, and a brew fest. Check out their events here, or sign up for their newsletter.
Want More Family Friendly Outdoor Activities in Orlando?