We may earn money or products from the companies mentioned in this post. At no extra cost to you, I only recommend products I have experience with. As an Amazon Associate, I earn from qualifying purchases.
It's wintertime, which means it's best to bundle up and get cozy. Camping is the best way to do that, so we've rounded up some of our favorite spots in America for camping during the coldest months of the year! From coast to coast, these are 11 of our top picks for best places for winter camping.
Turns out, winter camping in the great outdoors is best for those who want an escape from the hustle and bustle of daily life. Camping doesn't have to be limited to summertime – it's a great way to experience our favorite spots in America any season! So don your best coat and hat, grab some hot cocoa, snuggle into your winter-rated sleeping bag, and get ready for one cozy adventure.
Winter Camping in State and National Parks
No matter where you are in the United States, you'll find a wealth of information in your very own state. State parks generally have all the information you need, from regulations to campsite availability and pictures of what the park looks like in winter.
If you're looking for a more isolated camping experience, consider a national forest. National forests encompass millions of acres across America, so there's sure to be one near you. Not only are they large, but they offer camping opportunities for every type of camper.
National parks are an excellent bet to camp in wintertime. If plans change or conditions worsen during your trip, there's usually a local visitor center that can provide accurate information about weather and trail conditions inside the park boundaries. Many visitors centers will also have books and maps available for purchase, which can make planning your winter trip much easier.
Remember, you don't need to own your own camping equipment to camp in the winter. RV Rentals or cabins are an excellent option.
Lincoln, New Hampshire
Camping is best along the Kancamagus Highway, a scenic drive that runs between Conway and Lincoln in Northern New Hampshire close to Jackson.
There are several different campgrounds available including White Mountain National Forest which offers 103 campsites with 20 of those being walk-in sites for tents only. Some of these spots can be reserved ahead of time but most are first come first serve so arrive early as they fill up fast! The best part about this park besides the camping? It's perfect for hiking – there are trails throughout the area leading visitors through beautiful scenery including waterfalls and wildlife viewing areas!
For a campground that may not be as rustic as White Mountain, check out Lost River Valley Campground for their variety of cabins, RV sites, and Tent only sites.
Utica, Illinois
One hour from Chicago you'll find Starved Rock State Park, an Illinois favorite.
Winter camping really shines thanks to its stunning scenery and unique rock formations. Visitors can best explore these rocks by either taking a winter hike or going on a boat as there are four different lakes within the park to choose from. In addition, Starved Rock State Park offers over 200 campsites all of which have electrical hook-ups making it easy for those who want an extra dose of comfort while camping during the winter months!
Provo, Utah
Provo Utah is in the heart of some of the best skiing offered. Everything you could ever need (and more) is right here including ski lifts, restaurants, a tubing hill with access to sleds, snowshoeing, cross-country skiing, downhill skiing, and more!
The Provo River Resort is minutes away from all the asking you need, or you can stay cozied up in your cabin and watch the snow accumulate on the mountains. It's a great place to unplug, yet still have all the comforts of home.
Sundance ski areas are about 10 minutes from the Provo River Resort.
Shenandoah National Park, Virginia
Shenandoah National Park is best known for its hiking trails but winter camping here really becomes special. Not only are the views of waterfalls breathtaking during this time of year, but there's also a chance to spot wildlife including black bears which tend to come out after dark. Plus with over 250 miles worth of trails visitors spend endless days exploring these gorgeous mountains without ever getting bored!
With that said though make sure you get your reservation in early as spots do fill up fast particularly between December and March when temperatures remain below freezing.
Thousand Islands, New York
Located along New York's border on Lake Ontario Thousand Islands offers plenty of options when it comes to winter camping. Where else could you find an island campground complete with heated yurts and cabins overlooking the St. Lawrence River? In addition, there are plenty of activities to keep visitors busy including kayaking, fishing, swimming (in designated areas), and biking – making it perfect for those who want a little bit of everything while on their winter camping trip!
In particular, I'd check the New York State Parks website for Wellesly Island State Park as they had winter availability.
So whether you're looking to explore waterfalls, ski resorts, or simply take in some beautiful scenery while relaxing by a campfire Thousand Islands is the perfect destination!
Alabama and Florida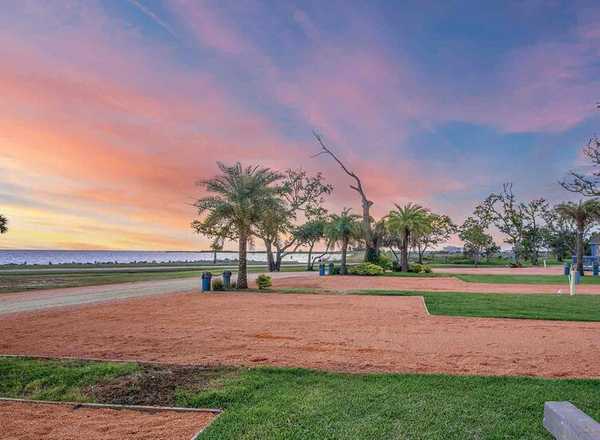 Gulf Islands National Seashore, best known for its beaches, during winter months campers find solitude in other parts of this park. With over 160 miles worth of trails to explore ranging from easy nature walks to more difficult backpacking trips visitors are sure to find the right hike for them. Plus with campsites located along both coasts as well as inland there's no shortage of places to up shop and relax while taking in all that this beautiful park has to offer!
Also take a look at Dockside RV Resort in Coden, Alabama. It's one of the only oceanfront campgrounds in Alabama.
West Virginia
For those looking for a winter camping trip that's a little more off the beaten path consider Blackwater Falls State Park in West Virginia. Known for its waterfalls which can be seen from several different points throughout the park, the park is also great for winter camping! With over 78 miles of trails to explore as well as two heated group shelters (which can accommodate up to 25 people each), there's plenty of space to spread out and relax while taking in all that nature has to offer. Plus with temperatures often dropping below freezing at night campers will appreciate the fact that this park offers electric hook-ups at all of its campsites!
Joshua Tree National Park
Winter is also a great time for camping at Joshua Tree National Park. The desert landscape and wildlife include everything from coyotes to lizards and jackrabbits. Plus with the Joshua trees putting on a gorgeous show of yellow blossoms this time of year it's easy to see why so many people flock here during the winter months!
With over 800 miles worth of trails, there's plenty of space for visitors to stretch out and explore. Although many trails are best suited for hiking it's also possible to find several miles worth of mountain biking trails as well!
So whether you're looking to take in all that nature has to offer or simply want a break from the hustle and bustle of city life, winter camping at Joshua Tree National Park is the perfect way to relax and rejuvenate!
If you can't stay directly in Joshua Tree, nearby Lake Hemet Campground is surrounded by the San Jacinto Mountains and despite being in southern California, does get some of those snowy feels! Check out their pictures here.
Dry Tortugas National Park
Camping in the Florida Keys when winter temperatures are more tolerable than in the summer months. Dry Tortugas National Park is best known for its gorgeous views, pristine beaches, and historic lighthouses but did you know that it's also perfect for winter camping?
With over 70 miles of trails to explore (including one trails best described as "rugged"), there are plenty of places for visitors to relax while taking in the beauty around them. Plus with campsites located throughout the park, it's possible to find some peace and quiet even on busy weekends! Just imagine staring at the starry skies on your own stretch of sandy beach.
So whether you're looking for a winter getaway or just want an escape from everyday life, camping at Dry Tortugas National Park is one of the best winter camping spots in North America.
It can be difficult to get a spot on Dry Tortugas for camping. If you can't get directly to the island, check out the campgrounds here at Key Largo.
Rocky Mountain National Park
Winter camping in Rocky Mountain National Park is a popular spot for its snow-capped peaks and beautiful views.
With over 450 miles of trails to explore, a thriving wildlife population, and a wide range of activities this park is well worth the trip no matter when you visit! Plus with winter temperatures that often drop below freezing at night, it's best to have access to electric hookups in order to keep warm and comfortable!
So if you're looking for a winter camping trip that's packed full of activities, beautiful views, and plenty of space to relax then look no further than Rocky Mountain National Park!
If you don't stay inside the park, check out River Run RV Resort nearby.
Santa Fe National Forest
The hot springs in Santa Fe New Mexico are a great place to relax after a day of winter camping.
Camping in the Santa Fe National Forest offers beautiful landscapes, a diverse wildlife population, and close proximity to Santa Fe, New Mexico. With over 800 miles of trails to explore there's plenty of space for visitors to find their perfect spot. Look for a spot near Jemez Falls or Jemez Springs in the Santa Fe National Forest Campgrounds.
Just be sure to visit one of the many hot springs in the area to relax and rejuvenate after a day spent camping in the cold!
Gear for Winter Camping
And remember, always be prepared before heading out to camp in the winter months. This is a list of camping gear that's best for cold nights, even in warmer climates.
Winter camping doesn't have to be about bundling up in layers upon layers of clothing, eating canned food out of a tin cup, and suffering through cold nights. With the right destination, it's possible to find solitude while still enjoying all that nature has to offer!
It's best to test out any new gear before heading out on a winter trip. Make sure everything is in good working order and that you know how to use all of your equipment properly.
Four Season Tents
If you're not camping in an RV or cabin, which are incredible options for this time of year, you can still tent camp during the winter season. Four-season tents are rated for cold weather camping and will keep you warm, dry, and comfortable even in the harshest conditions.
Shop REI for 4 Season Tents Here
Sleeping Bag
A good quality sleeping bag is a must for winter camping trips. Look for one that is rated for cold weather camping and make sure to bring along a liner if you tend to get cold easily.
Search REI for Sleeping Bags, by Temperature rating.
Sleeping Pad
A good sleeping pad will help keep you insulated from the cold ground and can turn a less-than-comfortable night outside into one that's comfortable enough to get plenty of rest.
Camp Stove or Grill
A camp stove or grill is best for winter trips because it allows you to prepare hot meals without having to start a fire inside your tent! There are a variety of different camp stoves to choose from, so find the best one for your needs.
Fire Starter Kits
Even in colder temperatures, it's possible to start a fire with a little bit of patience and the right tools. Make sure you have a reliable fire starter with you on your winter camping trip!
Emergency Blanket
An emergency blanket is best for winter camping trips because it reflects back 80% of your body heat, keeping you warm even when the temperature drops!
Sleeping Bag Liner
A sleeping bag liner will help keep your body clean and give you extra warmth. It's best to bring one along on winter camping trips because it can be used as a blanket, sheet, or pillowcase! This is especially useful if you're renting equipment from an outfitter.
Pack Cover
When packing up wet gear after a winter camping trip it's best to pack your gear in a heavy-duty waterproof bag. This will help keep everything dry and clean until you're ready to go back out again!
Rainfly for Tent
A rain fly with a four-season tent helps protect against wind, snow, and other harsh weather conditions while still allowing you to see the night sky. If your tent doesn't come with one, you'll need to purchase it separately.
Proper Clothing & Footwear
When winter camping dress in layers so you can easily adjust your clothing based on the environment around you and how active you're being at any given time. If possible, wear synthetic materials as your base layer that will wick away moisture while still keeping you warm when wet! It's also a good idea to bring along some extra warm socks and a warm hat!
Hot Water Bottle
A hot water bottle will help keep your feet warm after a long day of winter camping. It's best to fill them with boiling water just before you go to sleep so they're ready when it's time for bed!
Mosquito Repellent
Midges, mosquitoes, and other biting insects still show up in warmer climates. Make sure to pack insect repellent or "bug wipes" along on your winter camping trip!
Thermos
A thermos is best for winter camping trips because it can keep hot drinks warm all day long, perfect for those chilly mornings and evenings!
My favorites are the 32 oz Wide Mouth bottles from HydroFlask. I've always had good luck with these and they are perfectly sturdy for camping.
With the right gear, a little bit of know-how, and plenty of patience, winter camping can be a really fun and rewarding experience. Get outside and enjoy everything that nature has to offer!
Camping in winter can be a really fun and rewarding experience, but it's best to take some precautions before heading out into the cold weather. Make sure you have the right gear, know how to use it properly, and dress in layers so you can stay warm and cozy.