We may earn money or products from the companies mentioned in this post. At no extra cost to you, I only recommend products I have experience with. As an Amazon Associate, I earn from qualifying purchases.
If 2020 and the COVID-19 pandemic has taught us anything is that more and more people have learned the benefit of working remotely. If you've been lucky enough to have an employer who's allowed and encouraged you to work from home, or you've set off on your own freelance career, why not take advantage of being location independent and travel more while working remotely?
As a freelancer for nearly ten years, I've done remote work from countless locations. And before you ask, no, I'm not one of those travel bloggers who has set off and lived around the world while freelancing. As a family, we wanted roots in a community for school, social, and sports activities. We do have a home base and mostly, I do most of my work from my home office. However, I will take days or weeks to visit a location and work remotely. Since many companies are seeing the advantage of their staff working from home, I want to encourage you to travel more. In the following article, I'll talk about how to work outside of your home office, what kind of gear you need, as well as traveling safely during the pandemic.
The Right Mindset to Traveling More While Working Remotely
Working from home is new for a lot of parents. It can be challenging to manage schedules, school, housework, etc. Yet, do you truly have to be "at home" to do all these things? The biggest setback most people face is the mindset of having to be in one place. You can get out and see our amazing country and travel while working remotely.
The Right Setting for Working Remotely
The key to travel while working remotely is finding the right setting. You obviously want to travel, but don't head to a place where there's so much to see you won't get any work done. This is not a time for Walt Disney World. Think remote destinations, mountains, beaches, maybe some national parks. Plan for a mix of quiet solitude work and one or two activities a day. This gives you the chance to get out and explore after work is done (or before). On the flip side, low key destinations won't give you FOMO (fear of missing out.)
As for accommodations, I'd go for a home rental. This allows everyone to still have space to do work or school as if you are at home. You'll also have a kitchen for meals and snacks. To get some ideas, check out these articles.
Alternatively, you could go for a home on wheels. If you want to be fully remote and travel full time, you can take your RV, bus, camper, or tiny home and make it functional for a home office space as well.
The Right Gear for Working Remotely
Ready to dive in? You'll need a few things to make traveling while working remotely successful.
First, get the right bag for working remotely. My all-time favorite bag is the Knack Pack Expandable Back Pack. Knack generously gifted one of these to me right before everything shut down. When we finally got to travel again, I discovered this was so much more than just a backpack and I use it almost every week. Key features for working remotely and traveling:
Padded Size Zip Laptop Compartment. I have the Medium Knack Pack and it fits a 15″ laptop. Need bigger, go for the Large Knack Pack to hold a 17″ laptop. I keep my laptop in this bag for any time I need to run out the door.
Loads of compartments for cords, added tech, notebooks, pens, business cards, and so much more. All of which are super padded to keep your stuff safe.
Hidden Water Bottle compartment – which perfectly holds my only reusable travel water bottle.
Expandable Packaging compartment. Depending on the size you could pack 3-4 days worth of clothes. We used this for our overnight stay on the road. It saved us from having to carry in our large suitcase from the car. It was enough for 3 people's pajamas and the next days' clothing. Because it's expandable, I can keep this zipped up when we're not traveling and use it as a regular bag.
I cannot say enough amazing things about how well this backpack has held up as well as its use for work. I grab it to work from friends' homes and pack in swimwear for dips in the pool after. It truly is the perfect bag to travel while working remotely.
Depending on the size and needs of your family, I'd recommend one for each family member. That way everyone has room and space to store their laptops and other gear.
Another key component to travel while working remotely is ensuring you have adequate Wi-Fi. This is another benefit of using a home rental over a hotel. Generally, with a home rental, you're not sharing data with hundreds of other "residents." to be safe, however, check your hotspot usage with your cell carrier or get a back up like a Travel Wifi device.
The Right Timing and How to Set Your Schedule
Timing is where working remotely gets tricky, even if it's just working from home. Add in things you want to do and see from the road and you might never get done what you need to get done. As mentioned above, plan your trip somewhere that won't provide too many distractions. Then plan your schedule accordingly.
I'd recommend working in four to six-hour blocks of time, leaving the rest of the day for exploring and spending with family. If you need to get in a full eight-hour workday for your employer, check to see if this can be done in blocks, or during off-hours. Make sure it's okay to work from 8 am-12 pm and then from 5 pm – 9 pm for example. Or maybe you work from 6 am to 12 pm and get those extra hours on the weekend.
Alternatively, if you want to take advantage of cooler weather in the morning for hikes, you might work from 12 pm to 8 pm. As long as you can prove that you get all your work done, maybe you can opt for a 30-35 hour week instead of the traditional 40. The key is to communicate with your co-workers and management team to cover all bases.
Even as a freelancer with no "boss", it's key to set your schedule. Commit to either projects you can get done, or setting aside a certain amount of hours each day. I did this while we stayed in New York City for two weeks. Because we had a longer than normal amount of time in the city, I was able to work early in the mornings from 7 am – 11 am, and then we set out to explore. If we returned home around 7 pm, I'd squeeze in another hour or two of easy maintenance work.
If you have young children and need childcare during the day while you work, you have a couple of options. Seek out a resort that has an activity program. Get your work done from a scenic balcony while the kids are taken care of.
Another option is alternating vacations with your spouse. For example, plan two weeks away, but each of you only takes a week off. You'll maximize your vacation with afternoon and evening activities, and each parent will get quality one on one time with the kids during the other parent's working hours.
Homeschooling from The Road
Homeschooling these days takes many forms. Whether you've been teaching the kids yourself, or they are doing remote learning through their school, who says it has to be at home. The same principles of working remotely apply to virtual learning as well. Especially if you have older, independent learners, they can do their schoolwork while you're doing your work.
I'm also a strong believer that when children get out into nature and the world, they are still learning. If you are new to homeschooling, remember that explorations such as hiking, visiting museums, historical reenactments, are all learning. These things count towards homeschool. And if your child is virtual learning through their regular school, discuss with them the benefits of them taking a week off.
Traveling Safely
I get it, you may have concerns about safety during this uncertain time. We've traveled now a couple of times and can note that hotels and home rental organizations are taking cleaning and safety precautions seriously. Here are a few ways you can be safe and travel while working remotely.
Take a road trip. You are in control when you're in your own vehicle. Choose where to stop, bring your own food and cleaning supplies, and pack games and activities from home. You can road trip about 5 hours from home and get a new view for a few days.
Book accommodations with generous cancellations policies and updated cleaning measures. Cancellation policies on Airbnb for example range from flexible to strict. Most hotels are now within 24 hours. Know before you book.
Check reviews of home rentals on cleanliness. Look for super hosts who have consistent top ratings in the cleanliness category. The same goes for hotels. Read their corporate cleaning policy updates.
Another option for safety and to stay socially distant from other families is to go camping. Camping in a cabin if you don't own an RV is one option, or you can rent an RV through sites such as Outdoorsy or RVshare.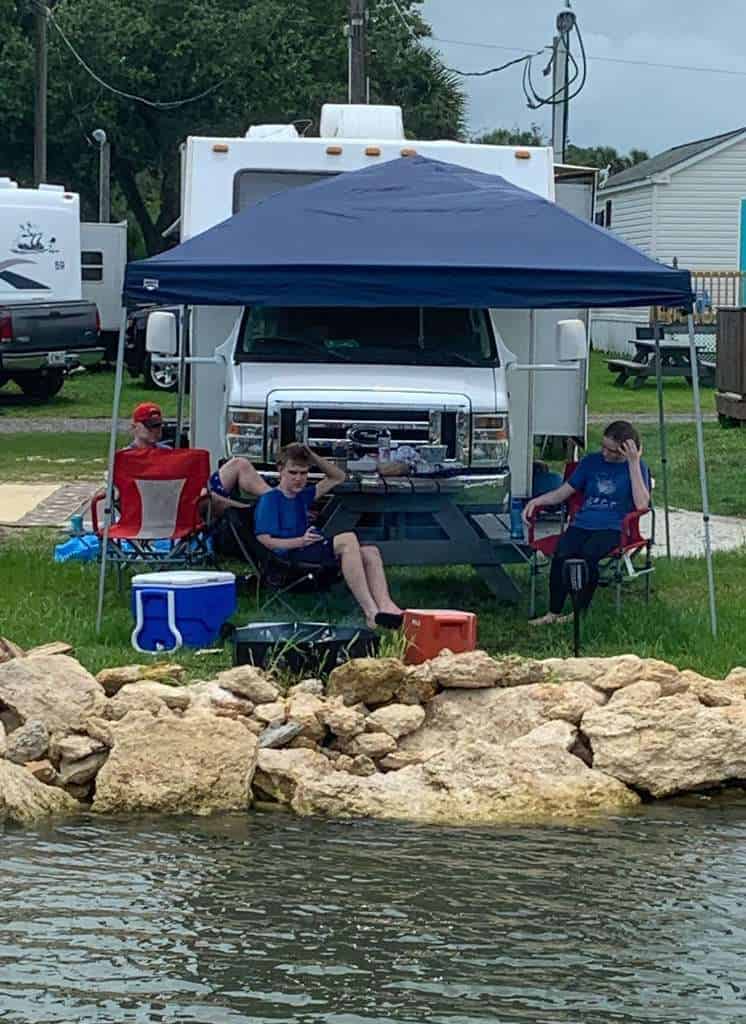 What do you think? Are you ready to travel more while working remotely? Do you have further questions? Feel free to reach out to me on social media or leave a comment below.