We may earn money or products from the companies mentioned in this post. At no extra cost to you, I only recommend products I have experience with. As an Amazon Associate, I earn from qualifying purchases.
It's that time of year that we're looking at gifts for graduates and father's day. I have been wanting to do a roundup of subscription boxes for travelers for some time and I figured this was a perfect time. Whether you're looking for a gift, or just a way to cure your wanderlust, these subscription boxes for travelers are all travel-themed, made for all ages, and ships from the US.
These are the best subscription boxes for travelers because they are all about travel. Whether it be about places, food, or an actual trip, these subscription boxes for travelers will help cure your wanderlust when you're not able to travel.
The Wordy Traveler
The Wordy Traveler is a Luxury Quarterly Book Club that will transport you to the most exotic and romantic places around the globe. Each quarter a new amazing destination is featured with three curated books, a premium ethically sourced tea that evokes the featured region, and custom art print to inspire your inner adventurer!
Special surprises from around the world will be slipped in throughout the year however truly the best part is that each box gives back to help girls and women across the world have access to education!

The Wordy Traveler
from:
Cratejoy
The Beach Box
The Beach Lover's Dream Box – a vacation in a box! Each month, The Beach Box features a new beach around the world that inspires the carefully curated goods in your box. You will find a combination of 5-6 high-quality and fun products centered around the featured beach. Every box also includes a bonus sweet treat to enjoy while you open your box!
Receive 5-6 high-quality beach themed curated products like jewelry, home decor, bath goods, and drinkware.
Every box will include a fun, sweet treat for you to enjoy while you unbox!
The products will temporarily transport you to the relaxing and blissful nature of beautiful beach harbors. We bring you a vacation – in a box!
Perfect for gifting, and for treating yourself.
Each month is carefully curated by a mother/daughter beach connoisseur team with decades of beach experience.

The Beach Box – $38.99
from:
Cratejoy
Life's a Wave BEACH box
Life's A Wave BEACH Box is a monthly subscription box for travelers filled with beach, ocean & sea life themed goodies! Home decor, self-care items, candy, shells, candles, soaps, and so much more! This is the perfect GIFT for yourself, family member, friend, or someone special that not only loves the beach & ocean but loves to help the planet as well.
Handpicked beach & ocean-inspired items
Each month we support an ocean minded non-profit
Life's a Wave Box makes a unique gift for any beach or ocean lover
Each month you will receive 5-8+ goodies
We ship internationally!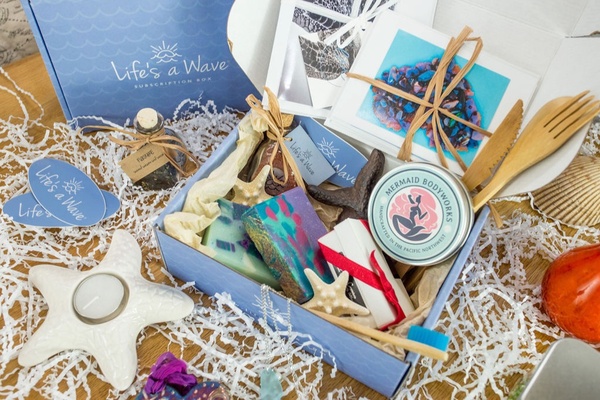 Life's a Wave BEACH box
Universal Yums
I'm obsessed with Universal Yums. Get a box of snacks from a different country every month, plus a beautiful booklet with trivia, recipes, and more. I've just ordered mine and I can't wait to give it a try.
The Happy Glamper
Becoming One with Nature Shouldn't Have To Involve Suffering. The Happy Glamper features a different regional theme in each box, with products from local artisans and luxury glamping gadgets! You can count on 4-6 items in each box for you to Glamp in style. Say yes to every outdoor invitation that comes your way with our tried and true travel essentials!
Glamping Gadgets To Distinguish You From The Commoners
We give you the answer to how your wine glass can possibly fit in the camping chair cup holder
Luxury Travel Essentials- Because who wants puffy eyes around a campfire?
Jewelry, Home Decor + Accessories that are better than the avocado toast you paid $12.99 for at breakfast

The Happy Glamper
Camp Life Crate
Discover products, gear, and community for your next adventure. Each box is curated around a chosen theme and includes 5-7 items that are delivered to your door each season.
Unique gift idea for the camper, glamper, or adventurer in your life!
Some of our featured brands include Camco, Journals Unlimited, Tervis, SeedGeeks, & Primitives by Kathy
Exclusive subscriber community where you can connect with other campers and share tips, recipes, & travel experiences
Shipping included ($10 value)!
Includes 5-7 camping themed items.

Camp Life Crate
from:
Cratejoy
Explore Local Box
Explore Local Box, a new US city every month through premium, locally made, artisan, products, and food! Boxes include products and food items locally produced by small businesses and local artisans from month's city. This box is perfect for travel and adventure lovers!
Locally Made
Explore a New City Each Month
Supports Small Businesses
Perfect for Someone Who Loves to Travel
Fun Facts and a Watercolor Map Included for Each City

Explore Local Box
from:
Cratejoy
Vacation Crate
Vacation Crate is a monthly subscription box that delivers something we all need… vacation! We carefully select each month's 8+ products with our jet-setting subscribers in mind. Each month's box includes products and accessories focused on one destination. Travel with us across the globe and immerse yourself in a new culture every month!
8-10 items per box each month!
A personalized note can be included to create the perfect gift for a friend
All beauty products are full-sized and cruelty-free

Vacation Crate – $36
from:
Cratejoy
Little Passports USA edition
Little Passports is great for the younger kids, ages 3-12. I particularly like this USA edition as it's likely most of us will stay local and do US travel for the foreseeable future. Your child will learn about two states each month through fun and educational puzzles, crafts, and games.
Think Outside Boxes
Think Outside Boxes is a year-long outdoor curriculum delivered monthly, serving a wide range of ages starting at 7. Our program is designed to promote exploration and survival in the great outdoors. Each monthly box covers a new theme from outdoor shelters and night-time discovery to first aid and nutrition. A 2019 Parent's Choice Silver Award Winner!
Designed by outdoor-loving parents who want to get kids away from a screen and outside exploring nature.
Supplement your child's learning with this year-long program. Each box comes with a 24+ page education and activity booklet, resource cards, outdoor challenges, and 3 – 5 pieces of quality gear to add to your child's outdoor pack.
Your first box comes with a lightweight packable daypack your child can use for outdoor adventures. You choose your color!
Free shipping within the U.S. using USPS priority shipping. We ship to Canada for only an extra $5 shipping fee and the Rest of the World for only an extra $10 shipping fee. (All booklets are in English only)

Think Outside Boxes
from:
Cratejoy
World Food Spice Box
The perfect gift for a culinary explorer or to treat yourself to exotic flavors and cooking techniques! These boxes contain all the fresh spices and recipe cards you need to create exotic & exciting food from all over the world. With step by step instructions & fragrant spices, you'll wow your friends and family with incredible culinary skills!
A collectible, laminated recipe card with step by step instructions
Option to send as a gift – including gift card and personal message
Free sample and spice news – in every box!
Impressive menus to create with all the condiments, bread, and side dishes you need to wow your guests (and yourself!)
Wide range of unusual blends and whole spices

World Food Spice Box – $14.50
from:
Cratejoy
Spicery Recipe Kits
Spicery Recipe Kits are a perfect gift for a culinary explorer or treat yourself to simple but exotic flavors! TWO recipe kits with freshly blended spices, portioned out, to create outstanding & unusual meals for 4 people. Add the fresh ingredients, follow the step-by-step instructions & create incredible world food – amaze your friends &family, with minimum effort!
TWO new and exotic recipes to try – every month!
Colorful recipe cards with step-by-step instructions
Option to send as a gift with a gift card & personal message!
Individually measured spice blends and free samples in every box!
Free worldwide shipping!

Spicery Recipe Kits
from:
Cratejoy
HopsHead Beer Club
HopsHead Beer Club is for those travelers who love local beers, and in particular, hoppy beers. Each month, members receive a variety of hoppy beers from two or more breweries, accompanied by our monthly newsletter which details tasting notes, beer and brewery profiles, and recommended food accompaniments. And you'll also be able to reorder your favorites at significant discounts. FREE sturdy Bartenders Bottle Opener with every order!
Award-winning craft beers, curated from over 10,000 U.S. and international breweries since 1994.
Three hoppy beers, such as IPAs, Double IPAs, Imperial IPLs, Session IPLs, hoppy Pale, and Red Ales.
Twelve, 12-oz. craft beers, three bottles of each featured beer, from two or more breweries.
100% Satisfaction Guarantee. A+ Better Business Bureau Rating Since 1994.
Monthly Newsletter with detailed tasting notes, beer profiles, brewery histories, and suggested food pairings.

The HopHeads Beer Club
from:
Cratejoy
Cairn Subscription Box
Cairn is a recurring delivery of outdoor-related products sent to your doorstep! Get introduced to new brands and products, including gear, apparel, nutrition, energy, skincare, and more!
Expertly Curated & Tested Outdoor Products
Up to $50 of retail value in each box
Full-sized products
Automatic entry into monthly Adventure Upgrade giveaways
Access to fresh, best-in-class products
(never overstock or close-outs)
Tinggly
Not a subscription box, per se. But if you choose to give someone one of these each month, I'm sure they'll appreciate it! Tinggly is a gift box giving someone a travel experience. Prices range from $89 on up.
From Tinggly:
One price, hundreds of experiences: One gift buys you an entire collection of amazing experiences for the recipient to choose from. The recipient can then choose the ONE experience they want, and book it with just a couple of clicks. Simple!
Anywhere in the world: Our experiences are available in more than 100 countries right around the world. That's right, more than 100 countries!
No expiration date: Tinggly gift does not have an expiry, so the recipients can book their dream experience at any convenient time.
Special Delivery: you can get Tinggly gift in 2 ways: 1) e-voucher instantly delivered via email, 2) DHL worldwide, or USPS Priority (US market), which takes 2-5 business days to deliver the eco-friendly box.
In both cases, you can ship to yourself and give it in-person, or deliver directly to the gift recipient.
P.S. did you know that Tinggly offsets its shipping CO2 emission? 
Every gift cleans the Planet Earth: A part of Tinggly profit goes to sustainable projects to remove polluting plastics from the environment. With the help of our partners, one Tinggly gift not only removes 33lbs (15kg) of plastics but also offsets 200% of CO2 emissions produced during the chosen experience. On top of that, all Tinggly gift boxes are made of 100% recycled materials and are eco-friendly.
Subscription Boxes for Travelers
What do you think friends? Did I miss any subscription boxes for travelers that you've tried? I'd love to hear your thoughts and get even more suggestions to add to this list!