We may earn money or products from the companies mentioned in this post. At no extra cost to you, I only recommend products I have experience with. As an Amazon Associate, I earn from qualifying purchases.
We love finding those hidden gems, authentic restaurants, and unique shops when we travel. That's just what we found when we stumbled upon the Grand Central District of St. Petersburg, Florida.
Located just west of the downtown St. Pete area, the Grand Central District felt less crowded and more local. Hubby and I really enjoyed strolling the streets, coffee in hand, admiring the different and varied murals.
A little background on the Grand Central District. The area is mostly on Central Ave between 16th and 31st and of course, spills over into the side streets. It's part of the Main Street Approach of America, a unique preservation-based tool to revitalize downtown neighborhoods. Whether you know it or not, you've probably stumbled upon one of these Main Streets in America as there are more than 1500. I love this authentic preservation. If you to find more Authentic Main Streets in Florida, go here.
What to do in the Grand Central District of St. Petersburg, FL
We visited the area twice during our stay in St. Pete but didn't get to see as much the second time as we were caught in a torrential downpour. Of course, as Floridian's, that didn't stop us but that doesn't mean we want to sit outside in the rain either!
Related: What to do during a Hurricane.
Creative Soul Coffee
Our first stop of the day was Creative Soul Coffee at 2425 Central Ave. this eclectic shop is part coffee shop, part art studio and an overall cool place to hang out. The coffee was better-than Starbucks-good and the barista knew what he was doing. Plenty of plush comfy chairs lined the other half of the shop where local art adorned the walls. If you're looking for local St. Petersburg, this is it.
Nitally's
For lunch, we stopped at Nitally's at 2462 Central Ave and I simply fell in love with this place. Named for the owners, Nit from Thailand and Ally from Mexico. They combined their cultures and fused Thai and Mexican flavors into exotic flavorful dishes. Since I'm a big fan of Pad Thai I ordered the Chipotle Thai and Wally had the Panang Mole. For me, the dish had all the chipotle flavors and the texture of traditional Thai food. I couldn't imagine a better dish and dream of it often! Wally had the Panang Mole and enjoyed himself as well. I also had a delightful "bubble" Boba Cream Pineapple drink. Often nicknamed bubble cream for the big "bubbles of tapioca. Oddly good.
Key West Bar
Later in the day we stopped for a snack and drink at the Old Key West Bar & Grill at 2451 Central Ave. It was a quiet afternoon, but the owner did tell us about Bingo night and how much fun it gets. We didn't have the kids with us and he cautioned that it's not always family-friendly. And if you're adverse to naked women, you may want to avoid some of the paintings on the wall. It definitely had that laid back Key West and slightly kitschy feel and we could see how this would be a fun place with live music.
Haslam's
This by far was the coolest place we stumbled upon. Haslam's Bookstore at 2025 Central Ave has been a fixture in St. Pete since 1933. Today it is over 30,000 square feet with used and new books. I swear every time I turned a corner there was a new room full of books. We took the kids here and spent over an hour just browsing. This truly is one of those phenomenal hidden Florida gems full of so much history you can smell it. (I love the smell of books, don't you?)
Murals of St. Pete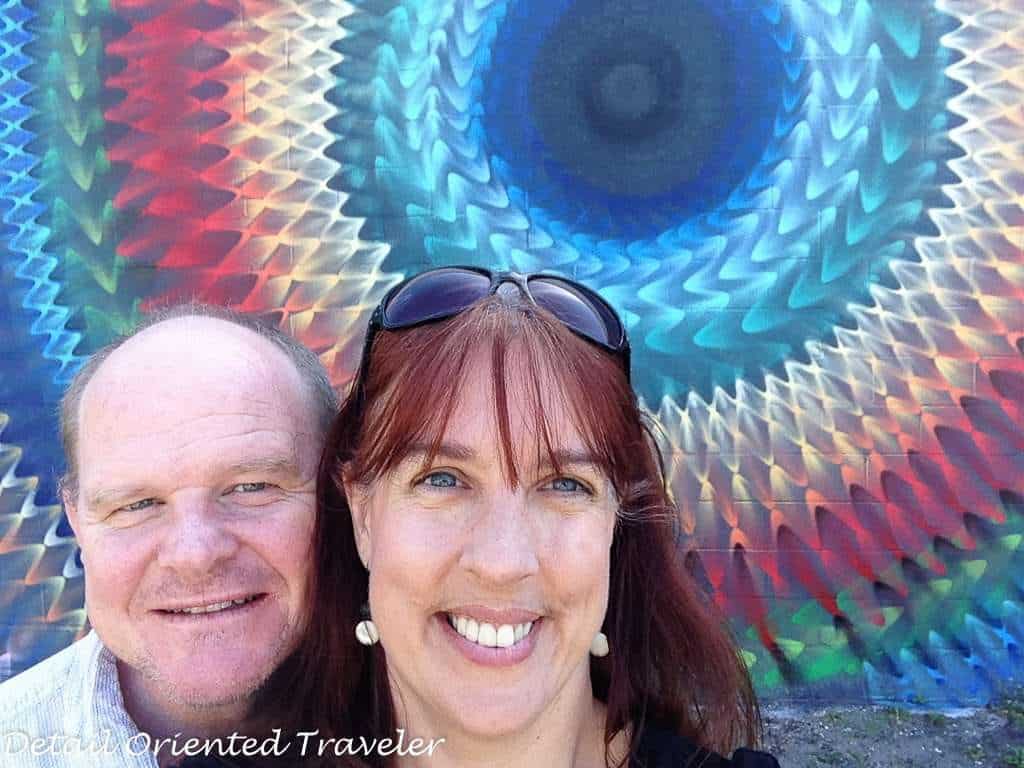 While we walked around this area, we were treated to some of the murals of St. Pete. While more of them are in the downtown area, the ones we found were true treasures.
There were several more places we would have loved to explore in the Grand Central District, but we just didn't have the time or weather to do it. There are plenty of outdoor patios, local craft breweries, antiques, record stores and more.

What about you? Have you been to this area? What are your favorite places there?