We may earn money or products from the companies mentioned in this post. At no extra cost to you, I only recommend products I have experience with. As an Amazon Associate, I earn from qualifying purchases.
It's that time of year for gift guides. We all have them, we all look at them! There's always gift guides for kids… so why not the best gifts for kids who love travel? If you have kids like mine, they love to go on adventures both with the family and on their own. The following are my personal recommendations as well as suggestions from other family travel bloggers for the perfect gifts for kids on the go.
Save it for later. Pin here!
Journal & Wanderlust Stickers
Journaling is great for young travelers to record their adventures. What I like more is adding stickers to the journal. Redbubble is my favorite place to get travel related and fun stickers to adorn journals and make them personal. They have some pretty great journals too.
I'm also in love with these photo stickers from Social Print Studio, which would make a great gift to journal after the trip.
Personal Luggage
What kid doesn't love to see his or her name on their personal belongings? I not only love personalized luggage as a gift but also as a gift package. Want to give a trip, luggage is a great way to wrap it up! This design from Etsy is one of my favorites, and if my kids were smaller I'd go for it.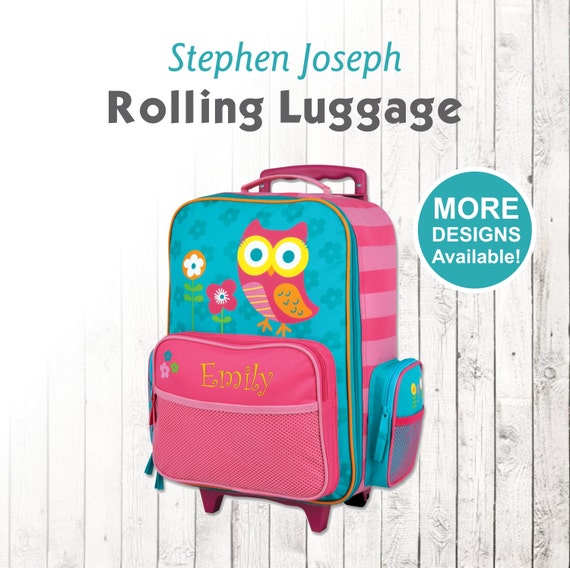 Drawing Books
If you have kids that love to draw, or even if they don't Dover Doodle Books are a great way to keep them occupied but starting them off with a scene they can finish or doodle. There are Junior and Older versions and a variety of subjects from animals to superheroes to things that go.

Kindle Unlimited or Audible
If you're traveling, chances are there's a lot of downtime. My young travelers love to read on the road, but I hesitate to get them a bunch of books to carry around. Instead, I buy them a subscription to Kindle Unlimited, sometimes just for the duration, we're traveling. This way they can read from thousands of books and only have to carry their kindle. And if they don't have a kindle, remember there's a Kindle app for most tablets. You can even try it for free.
If the kids are too young to read just yet… or even if they like audiobooks, Audible is another great subscription service. On road trips, I like to turn on a classic that we can all enjoy. I'm so excited that Harry Potter is available on Audible. Even though we've read it, it's something we'd all enjoy in the car!

Tees
For that surly teenager that loves travel, but doesn't want to admit he's with his family, I adore this tee!

So, what do you think? What's been the best gifts for kids you've given or received? Share below in the comments!