We may earn money or products from the companies mentioned in this post. At no extra cost to you, I only recommend products I have experience with. As an Amazon Associate, I earn from qualifying purchases.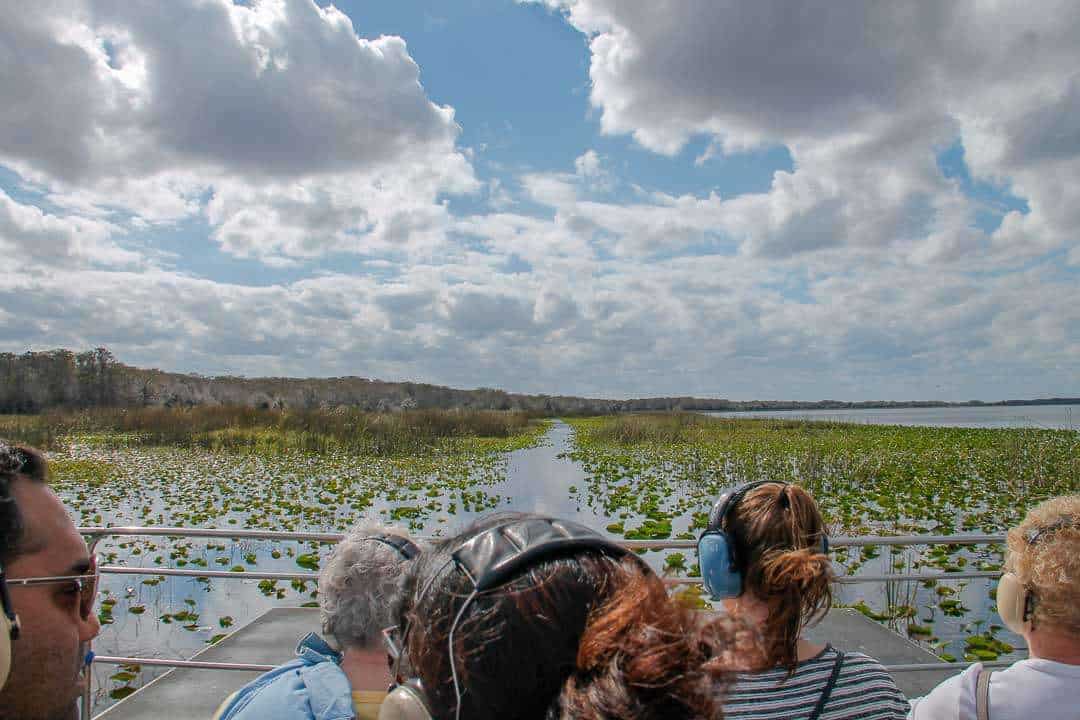 At the headwaters of the Florida Everglades lies a wild kingdom filled with alligators, lemurs, sloths, zebras and even a zedonk (more on that in a bit.) This is a wild and authentic Florida attraction that you won't get anywhere else. Yet, it's still near Orlando and the major theme parks. Wild Florida Airboats & Wildlife Park is an amazing and authentic Florida attraction that should be on your bucket list.
If you're searching for an airboat ride near Orlando, Wild Florida is the place to go. Not only do you get a fun, safe, and fantastic tour, admission includes the wildlife park.
Wild Florida Airboats & Wildlife Park provided us with admission to the attraction, however, all opinions are my own.
Location
Wild Florida is located in Kenansville, Florida, which is about a 45-minute drive from Walt Disney World or the Orlando Airport.
Driving there, I definitely felt as if we were out in the middle of nowhere. Which, of course, if you think about it, is what you want when seeking out the real Florida. However, all the roads are easy and clearly marked.
If you're visiting Orlando and don't have a car, Wild Florida does have a hotel pick up option for an added cost.
Wild Florida Airboat Rides
We've done a few airboat rides and I can honestly say, the Wild Florida airboat ride was the best we've done.
We took the hour-long airboat ride, and it was well worth the cost. The airboats are exactly what you'd picture an airboat to be. Each seats approximately 12 people, plus the driver.
The airboat ride itself is incredibly smooth.
An airboat is essentially that, it glides on top of the water through the force of air in the back fan. This allows the boat to glide over water, grassy and marshy waters, making it perfect for some swampy areas of Florida.
During our ride, the driver stops for alligators. I'm sure it's because they do this on a regular basis, but they seem to have an innate sense for finding the gators. We saw four alligators during our hour-long ride.
When the boat is stopped, guests are allowed to stand to take pictures and get better views.
And by views, we even saw a gator get spooked and splash under the water. My heart stopped. Then I realized we didn't get it on film!
Our driver was very knowledgable about the alligators and their behavior. He willingly shared info with us every time we stopped.
In addition to the gators, we saw cormorants, ospreys, anhingas, egrets, a bald eagle and more. I'm not a bird person, so I can't identify them all.
And cows.
Yes, we saw cows at and in the water's edge.
This area has long been cow country, and the rancher's fields are right on the lake. As the water isn't that deep, the cows often wade into the water.
Our guide has yet to see an alligator take down one of these guys, so don't worry.
See some highlights of our ride here!
Wildlife & Nature Park
Included in your airboat tour is admission to the wildlife park.
The wildlife park features an alligator show but has so much more. Wild Florida Airboats & Wildlife Park has a full array of animals to see. They are kept in natural enclosures.
It's easy to navigate through the different regions of animals. Plan for at least another hour here.
In addition to viewing the animals, there are a petting zoo, a bird feeding aviary, and shows. If you want to watch the shows, add another hour or so to your visit.
We enjoyed the alligator feeding show. The host adds chicken parts to a cable and suspends it over the water. The gators come and try to snap it up. Because it's above them, and their eyes on the side, we were surprised to see how often the alligators miss. However, you still see how powerful they are when they find their target!
Speaking of exotic, do you know what you get when you cross a zebra and a donkey? Either a zonkey or a zedonk. A zebra and a horse? A zorse. The Wild Florida Airboats & Wildlife Park have two!
Animal Encounters
While we didn't participate in these, Wild Florida Airboats & Wildlife Park offer different animal encounters that you can add on to your visit. These include:
Sloth Encounter
Gator Encounter
Porcupine Encounter
Lemur Encounter
Albino Gator Encounter
Wild Florida Safari Park
IN addition to the airboats and wildlife park, in late 2019, Wild Florida opened its drive-through Safari Park.
This is a slow, self-guided, drive-through park to better see the animals in a natural environment.
Wild Florida did invite us back as media to preview the new park. We saw plenty of animals and I imagine this area is only going to get better.
With nearly 20 different species, the Safari Park insists that you. stay in your car. And no feeding, touching or petting the animals. As you may need to. stop for animals in the road, it's hard to determine how long you'd be in the Safari Park, but I'd say you're there for at least 30 minutes.
After the drive-through portion, you are invited to visit the resident giraffe and feed him lettuce.
Wild Florida Airboats & Wildlife Park Times and Admission
Wild Florida is open Monday through Saturday from 9 a.m. to 6 p.m.
Their earliest available airboat tour time is 9 a.m. and our last airboat tour of the day leaves at 4:30 p.m.
To enter just the Wildlife Park, admission is $10 for adults/$8 for children 12 and under.
Half Hour Airboat Rides are $29 for adults/$26 for children 12 and under
Hour Airboat Rides are $49.50 adult/ $41 for children 12 and under.
Drive Through Safari Park $29 per Adult / $20 per Child – Ages 13 and up are adults.
Remember that the Wildlife Park admission is included with your Airboat Ride Ticket and Safari Park Ticket.
Reservations are highly recommended and you can purchase in advance by clicking the links above.
You might also like these other things to do in Orlando that are not theme parks.