We may earn money or products from the companies mentioned in this post. At no extra cost to you, I only recommend products I have experience with. As an Amazon Associate, I earn from qualifying purchases.
I was incredibly excited to find a stand up paddleboarding rental in Central Florida, and I immediately emailed Adventure Outdoor Paddle and booked a Mother's Day package. I couldn't think of a better way to spend Mother's Day than on the water, even if it meant getting up early!
Adventure Outdoor Paddle is another of these wonderful places that you can find throughout Central Florida outside of Walt Disney World. I am pleased they are near my hometown and in Lake County. For visitors to Disney that want authentic outdoor adventure, AOP is about 45 minutes away and well worth the drive.
If you've never been paddleboarding before, I couldn't recommend a better way to try it out.
We met Katrina and Travis, the owners of Adventure Outdoor Paddle near Lake Dora where they took us to the Dora Canal for guided a 2-hour trip. They are based in Lake County and do guided small group tours and rentals around the area.
The Dora Canal was smooth as glass the day we paddled.
Adventure Outdoor Paddle does have an age restriction on paddleboarding of 12 and up. This is mostly due to the size of the child and ability to control the board should she get away. They also have single and double kayaks for rent, so my husband and daughter did those.
Our trip was a peaceful glide down the river.  Katrina is extraordinarily knowledgeable about the area. She filled us with history of the canal. The canal has been around since the 1830's and connects 2 of the larger lakes in Lake County. It's been used for a few Tarzan film locations as well.
Once on the canal it was as if we entered another time. The 50 foot grand bald cypress trees created magnificent archways, mingled with the southern oaks.
[clickToTweet tweet="Stand Up Paddleboarding is a great way to see Authentic Florida – and close to Disney!" quote="Stand Up Paddleboarding is a great way to see Authentic Florida – and close to Disney!"]
We spotted egrets, anhingas, cormorants, great blue heron, limpkins among other birds. We also saw turtles and an alligator, though he was tucked away in a corner avoiding people. Katrina mentioned they don't often see gators and this one was small.
As the day wore on, more boats found their way into the canal. There was never a problem with crowding, but I would recommend getting an early start so you have the canal to yourselves for a while. This should assure you, however, that the gators won't be swimming near you as they won't get near the boats.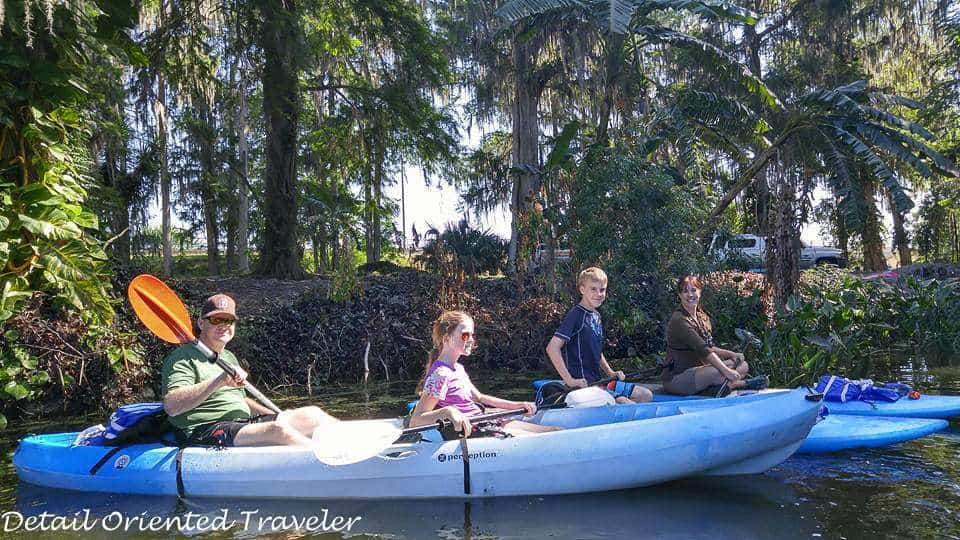 The nice added bonus… Travis took pictures from his kayak of our family. I had my GoPro with me, but it's so nice to have pictures of myself!
Guided tours start at $35 per person and rentals start at $30 an hour. I noticed they also have a 24 hour rental for a an incredibly reasonable $60, which is great for vacationers in the area.
Adventure Outdoor Paddle provided us with the tour of Dora Canal, however all opinions are my own.