We may earn money or products from the companies mentioned in this post. At no extra cost to you, I only recommend products I have experience with. As an Amazon Associate, I earn from qualifying purchases.
Are you struggling to come up with the best spring break destinations for your family? I do every year! We try to avoid the crowds at the popular spring break destination, Orlando (also, we live there.) When you have only a week to get away, and everyone else is getting away that same week, you want to get out of town, avoid crowds, but also not have it take forever to get there.
These spring break destinations for families are all in the United States, making it easy for you to fly or drive. These spring break ideas are all family-friendly, mostly avoid the crowds, and are a mix of warmth, adventure, outdoor activities, or skiing.
Ocala, Florida
If you're not yet familiar with Ocala, Florida, make it a part of your vacation next time you're on your way to Walt Disney World. Even if you opt for a Disney vacation with the family for spring break, take a few days and get away from the crowds in the small town of Ocala. We had the fortune to visit here last summer, and I do wish it was cooler when we visited. Spring break makes it a perfect time of year to visit. Plus, it's only a short drive away from the Orlando area.
Read about our Ocala Vacation here.
One of the best things I love about Ocala is the horse trails. It is the horse capital of the world after all. We were able to take a horseback ride through Ocala at the Canyon Zip Line Adventure Park. This landscape is so different than the rest of Florida. You will be surprised by the steep cliffs, salty ravines, and tall trees. I felt as if we were horseback riding through Tennessee only with palm trees. Other great highlights in Ocala include Rainbow Springs where you'll find crystal clear waters, waterfalls, and authentic Florida nature. Also, make time to take a glass-bottom boat in Silver Springs.
Savannah, Georgia
Savannah Georgia is one of my favorite places to visit. It has that all Southern Charm, amazing food, interesting history, and museums, and it's easy to get around. This is one of those vacations I would recommend for families with teenagers. You can easily let the teens loose wandering the downtown area. Plus in Savannah, the weather is warm, making it a perfect spring break destination. And you're not too far away from the beaches if you want to visit Tybee Island.
I do think Savannah has something for everyone, but may not be as enjoyable for families with young children. Save this destination when your children are older. They will enjoy the food, they will enjoy the history, and they will enjoy the kooky things such as a ghost tour.
Favorites in Savannah include The Pirates House, the Riverwalk along the Savannah River, Mrs. Wilkes Dining Room, and the Prohibition Museum.
Pensacola Beach, Florida
I like the Pensacola Beach area as one of the spring break destinations for families because it's relatively accessible without having to drive so far into Florida. Located on the Gulf in the panhandle, Pensacola has incredibly beautiful beaches and emerald green waters. You may find this is a more popular destination, but you can make it an uncrowded one by renting a vacation home on the beach, rather than stay with the rest of the spring breakers.
In addition to the white sand beaches, Pensacola has some incredible aviation history. In fact, you may even catch a Blue Angels practice while in Pensacola. Favorite places include the Naval Aviation Museum, the Pensacola Lighthouse, which you can climb, and exploring the Gulf Islands National Seashore.
Park City, Utah
If you're looking to still get in some last bits of skiing for spring break, Park City has you covered.
Utah is high on my bucket list and definitely an exciting vacation for the whole family for spring break. There is still plenty of time to go skiing during spring break. However, even if you are not a skier, you can still enjoy winter activities in Park City. Because this was an Olympic Destination there are family activities such as the bobsled experience (age 16 and up) at Olympic Park. If your kids are too young to take a bobsled then perhaps a family sleigh ride, dog sledding, or even snowshoeing in Park City should be on your agenda. Of course, there's ice-skating and winter tubing as well. Don't just think of winter for skiing only. Plus, who doesn't love some hot chocolate at the ski resorts after a long day in the great outdoors.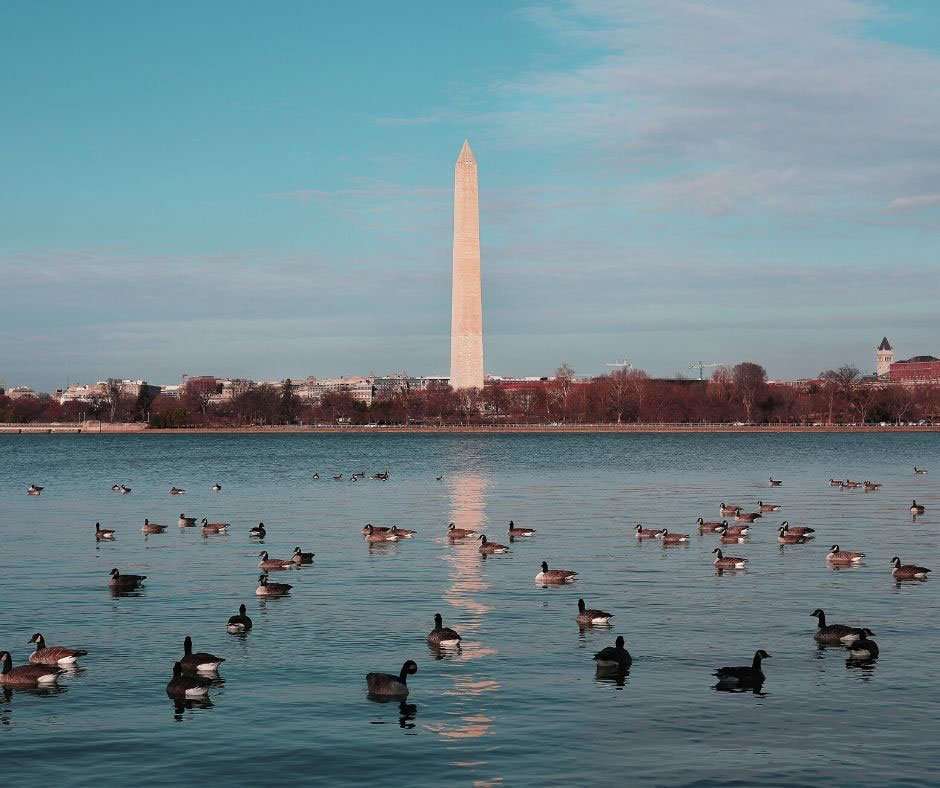 Washington, DC
Washington DC is one of my favorite places for the entire family. So why not take the kids there for spring break? The collection of Smithsonian museums along the National Mall truly has something for everyone. Young kids will love the National Air and Space Museum and older kids will enjoy the National Museum of Natural History as well as the National Museum of American History. Pick up this book before you go to give kids things to look for in those three museums
In addition to walking the National Mall, which is quite large by the way, other things to do in Washington DC include the International Spy Museum, the National Harbor, as well as visits to Presidential homes.
The spring months are a great time to catch the cherry blossoms. They can bloom anywhere from late March to early April, so you may get lucky during your visit to the Nation's capital.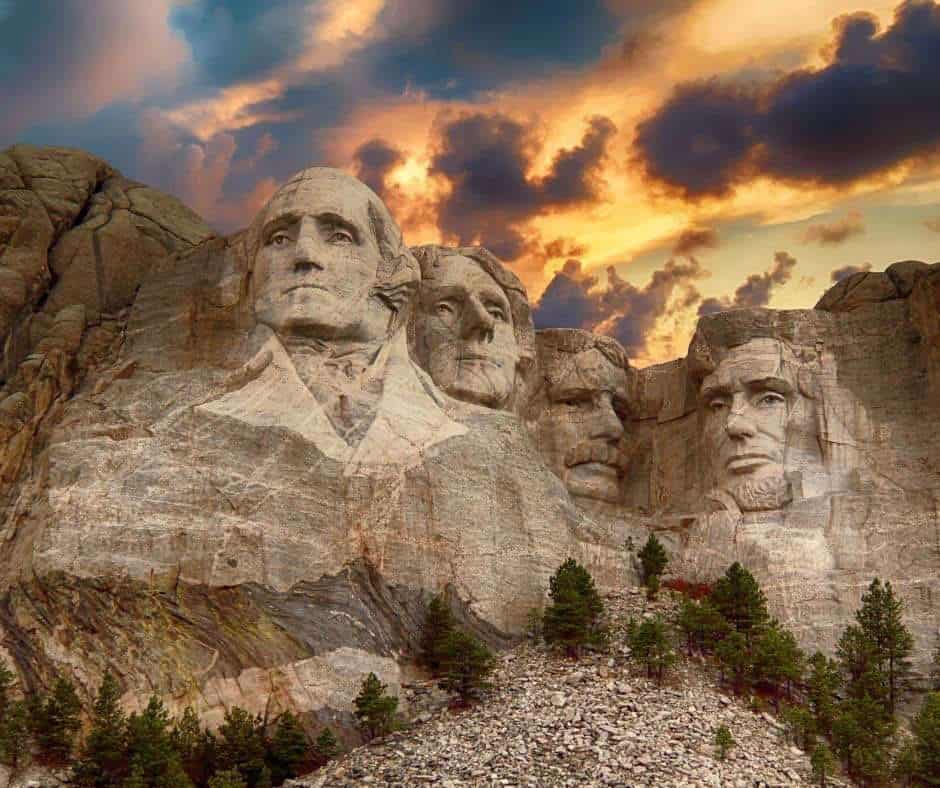 South Dakota
If South Dakota is not on your bucket list now is the time to add it. This incredible state is full of history and natural wonder, in addition to Mount Rushmore National Memorial.
And while most people only think of Mount Rushmore in South Dakota here you can visit what they call the Great Eight. That includes Custer State Park where are you will find bison wandering along with elk, mountain goats, and more. Also, head over to historic Deadwood and walk the Wild, Wild West and learn about the 1870s gold rush town. That's just some of the things you can experience through South Dakota.
For a family spring break in South Dakota, I'd recommend driving or renting a car to cover as much ground as you can. Better yet rent an RV and stay near the Missouri River or Badlands National Park.
Gatlinburg
Gatlinburg is a popular year-round destination thanks to the Smoky Mountains National Park. And while it's popular, spring break is not as crowded as summer or even fall when the leaves turn colors.
I love this park because it's free. There are plenty of great hiking trails. But even if hiking isn't your thing, the Smoky Mountain National park guides will tell you all about scenic drives. Spring Break should just start seeing the leaves peep. You'll also find lots of wildflowers and animals this time of year.
The surrounding area in Gatlinburg can be a bit touristy, but that just means you'll find some great prices on hotels and vacation rentals.
Ripley's Aquarium is an excellent attraction. We also love eating at one of the various pancake houses in Gatlinburg.
San Diego
Have you thought of San Diego as a spring break destination? Perfect – it's spring break right now and you can take advantage of low spring break prices and (relatively) uncrowded spring break destinations.
Sightseeing: There is a wide variety of things to do in San Diego, from the world-famous San Diego Zoo Safari Park, to Seaworld, to the Maritime Museum of San Diego, to the Whaley House (listed in several top ten ghost stories).
But why go spring break when you could go year-round? San Diego is beautiful year-round with its beaches, climate, and attractions. If you prefer warm weather during spring break or another time of year, San Diego has that too.
Accommodations: spring break hotels in San Diego start as low as $50 per person. San Diego has spring break deals year-round–the weather is nearly always spring break perfect and the prices are spring break cheap.
Now you may think, "Yeah but it's spring break right now so everything will be crowded."
Not so!
South Carolina
Myrtle Beach may be a popular choice for spring break in South Carolina, but I encourage you to visit there, plus, Congaree National Park and Charleston.
Highlights of spring biking at Congaree National Park include spring wildflowers and wetland forests. The spring is an excellent time for canoeing as the weather starts to heat up and the rivers' water levels tend to be higher.
The spring is also a great time to visit Charleston, where you can enjoy beautiful flowers throughout the spring season. Spring is also a great time for bike tours in Charleston, as the spring flowers start to bloom and roads are relatively clear.
San Antonio
I recommend visiting San Antonio in the springtime because there is no spring break crowd and it's awesome year-round! The spring weather is perfect for exploring outdoor activities at local attractions such as SeaWorld, Six Flags Fiesta Texas, The Alamo and Natural Bridge Caverns.
Puerto Rico
I highly recommend spring break travel to Puerto Rico because the spring weather is beautiful! Take advantage of spring temperatures by doing some scuba diving or snorkeling at the coral reefs surrounding the Caribbean island. Or, visit Old San Juan for shopping, dining and historic sightseeing.
Lake Tahoe
Lake Tahoe in spring offers a great spring break getaway with fun ski and snowboard conditions in the morning and excellent spring biking weather in the afternoon. Besides winter activities, spring is an awesome time of year to hike around Lake Tahoe, take scenic drives along Highway 88 or ski at Heavenly Mountain Resort.
Florida Keys
I recommend spring break travel to the Florida Keys because spring is a great time to explore Florida's Everglades National Park. The spring weather provides the perfect opportunity for wildlife viewing and dolphin watching, which are both major attractions in springtime at Everglades National Park. In addition, spring marks the start of snapper season in the spring, so spring breakers who do a little deep-sea fishing can enjoy fresh snapper for dinner.
South Padre Island
I highly recommend spring break travel to South Padre Island. You'll find beautiful spring weather throughout March and April – which is also great beach weather because the water levels are rising! Plus, spring is not as crowded as high season in the spring.
New Orleans
You may not think of New Orleans as an uncrowded spring break destination, but it can be depending on the time of year. If you're not visiting during Mardi Gras or St. Patrick's day, spring is a lovely time to visit the Big Easy. New Orleans offers ample spring vacation activities, from sightseeing and history tours to visits to the zoo or parks, as well as spring break nightlife, if you're interested. Venture off the main street
in the French Quarter area. The best times of year for spring break in New Orleans are March and April. In springtime, the weather is mild and there is less of a spring break crowd.
Outer Banks
If you're looking to get away from spring breakers, head to the Outer Banks of North Carolina in springtime. It's between spring breaks in the northern and southern US schools, so it's not too crowded. The spring season begins with the flowers in bloom, and it's a lovely time to visit the OBX.
You'll find spring break nightlife in springtime – but not too much spring break nightlife, and the same goes for spring break crowds. It's still winter in spring on the Outer Banks, but it is not cold and there are plenty of activities to enjoy during spring break.
Pigeon Point Lighthouse near Manteo is a spring break destination in North Carolina if you're looking for spring break places to go.
---
Just looking for some cool places to stay during Spring Break? Check out. these epic Spring Break Vacation Rentals here.
Do you have favorite spring break destinations for your family? I'd love to hear about them. Leave me a comment to be included in a future article.