We may earn money or products from the companies mentioned in this post. At no extra cost to you, I only recommend products I have experience with. As an Amazon Associate, I earn from qualifying purchases.
Have you ever heard of the Christmas town in Georgia? Located in the Northern Georgia Blue Ridge Mountains, Helen is known for its German Alpine charm. A visit to Helen Ga for Christmas is a must to add to your travel calendar.
Helen is well-known for its rich history and quaint German town tourism. Of course, they do it up large for one of the longest-running Oktoberfest. But their German Christmas is not to be missed.
The heart of Helen is like walking into a fairy tale. Nestled in the beautiful North Georgia Mountains, it is a stunning replica of a Bavarian Alpine town. The mountain town was specifically designed to look like a German village.
Last year we talked about going to visit Helen, Georgia for Christmas. This year, we made it happen. We packed up our camper and took to the road leading to Northeast Georgia.
The following will take a look at what is there to do in Helen, GA at Christmas.
Helen Georgia Christmas Lights
If you go by the traditional "save the best for last" philosophy, this should be last. But I am putting it first because everything else I have to say revolves around this one topic when you visit Helen, Georgia at Christmas.
Helen Georgia's Christmas lights are an annual event and one of the top things to do in the area.
The lights in downtown Helen at Christmas are enchanting. You get sucked into this magical landscape of twinkle and charm. At the town center, they have Santa and Mrs. Clause light the lights and you will find local musical groups performing.
Down the main road, every tiny little piece of the city's cobblestone alleys, in all the nooks and crannies are bathed in Christmas lights. The Christmas spirit just washes all over you leaving you with that North Pole Christmas feel.
Helen Georgia Mountain Coaster
Helen is not just a tourist town full of shops and restaurants. The Georgia Mountain Coaster is a newly added experience right in town. It is the first alpine coaster in the area. If you have that thirst for the thrill, look no further. But I make mention of this here because we were told by the locals to ride this at night for the mere fact that it is a great place that overlooks the lights!
The ride is so fast and it feels like you are going to fly off the rails but the thrill is insane. And the view. I don't think I could do it justice. I couldn't get any pictures for fear of losing my phone off the mountain. All 5 of us went including our 7-year-old. The kids rode a second time for half price.
Hardman Farm – Victorian Christmas
Hardman Farm is a gorgeous 173-acre farm. During a visit, you can experience:
"Historic Estate" Guided Tour — on the hour
Self-Guided Tour — does not include mansion entry
Gazebo-Topped Indian Mound
Dairy Barn
But at Christmas, they set up each room in the house with Christmas trees decorated by locals for the Victorian Christmas. You can vote on which tree you like the best and they give a gift card to the winner.
Related: Can You Homeschool and Travel at the Same Time?
The historians that guide you through the house dress up in authentic clothes and offer so much information about the home's history. Each room has a history. There is also the history of Anna Ruby who has a portrait hanging in the front sitting room. The area is well-known for Anna Ruby Falls. This leads me to my next reason.
Book an Anna Ruby Falls to Hardman Farm Tour – This all-inclusive tour includes admission to all sites along the tour and historical narrative throughout the journey.
Anna Ruby Falls Trail
Anna Ruby is the sole daughter of Captain Nichols from the Civil War. They had purchased a lot of land in the area including these falls. Anna Ruby Falls Trail in the Chattahoochee National Forest was named after her, although they were known about 50 years prior. They are one of 4 very popular waterfall visits in this area.
The hike is approximately 2 miles roundtrip. The path is paved and not too difficult. The entire walk follows the river coming from the falls and full of some incredible photo opportunities. It was one of our favorite things to do on our trip.
There are normally picnic areas in the park but right now, due to Covid, the area is closed. We drove just outside the entrance into Unicoi State Park and they were full of picnic stops. We sat on the river and had our lunch. It was relaxing and beautiful.
Christmas in the Mountains Festival and Lighted Christmas Parade
We were staying in Cleveland which is the next town over. If you're visiting Helen Georgia at Christmas, consider popping over to Cleveland as well.
Their parade was a great time and incredibly charming. They have a cute town center with a huge tree lighting ceremony followed by a hometown Christmas parade.
There is also live music, a street market with vendors and local crafters and artists. A lot of the stores stay open. But my favorite place was Nora Mills General Store. It was the perfect depiction of small-town general store.
Helen, GA Christmas Market Chriskindlmarkt
This annual event is held on the first 2 weekends in December. This event offers a traditional German experience with booths for gifts, specialty shops, decorations, and treats of all kinds. You will find things at this event that you will not see at any other time of the year.
Helen Georgia Christmas Parade
Helen also offers a Christmas parade where you can see Santa coming to town! This, combined with Alpine Helen's spectacular lights, kicks off an enchanting Christmas. The parade is followed by a bonfire and s'mores.
Dining
A stop to King Ludwig's Biergarten s a great way to enjoy German music and golden German brews.
Before your visit
Be sure to check Helenga.org before your visit for a calendar of events. each weekend looks a little different, but no matter which time you choose to visit, it will, without a doubt, spread the Christmas spirit.
Helen is gorgeous and charming year-round and Christmas is no different. With a touch of magic and a splash of adventure, you can't go wrong with a visit to Helen, Georgia for Christmas.
Other things to do in and around Helen Georgia at Christmas time:
Visit Charlemagne's Kingdom Alpine Railroad museum
Do some cool river tubing on the Chattahoochee River.
Watch Cabbage Patch kids at the Babyland General Hospital.
Home Rentals in Helen, Georgia for Christmas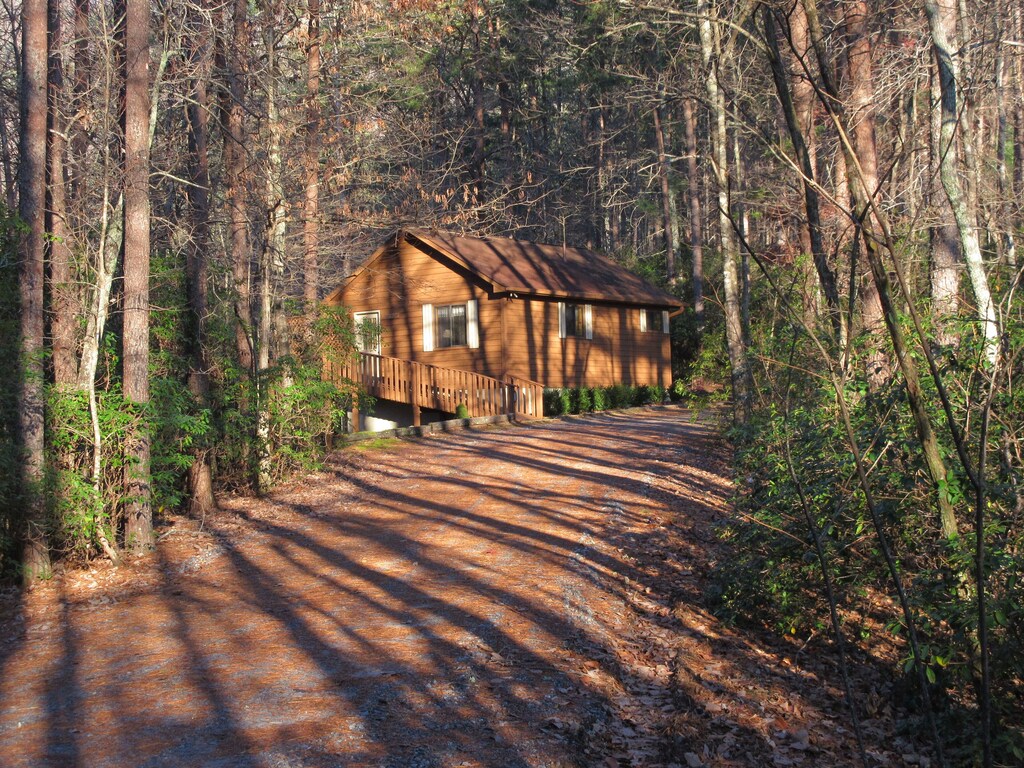 Hotels in Helen, Georgia
Looking for other Christmas Towns in America? Check out my list of favorites here.