We may earn money or products from the companies mentioned in this post. At no extra cost to you, I only recommend products I have experience with. As an Amazon Associate, I earn from qualifying purchases.
You know the saying the "Left Coast is the Best Coast"? I know it normally relates to California, but here in Florida, it also relates to the Suncoast along the Gulf of Mexico. Suncoast refers to the area just north of Tampa down to Sarasota. This area is turning into my favorite part of Florida.
I'm definitely more of a sunset kinda gal… who isn't really? While I do enjoy my morning coffee overlooking the ocean, I still prefer my cocktail at sunset. Staying in the Suncoast certainly offers the best sunsets around.
Another prerequisite for staying in the Suncoast? Staying on the beach. Steps to the beach in fact.
I did a little research and found a few Sunny Family Friendly hotels along Florida's Suncoast.
Pin for later!
Cay Pointe Villa
It's no secret I love Cay Pointe Villa. The location is pure perfection for me. Steps to the beach, the location offers large suites with full kitchens and patios. Plus there's a larger gathering patio overlooking the white sands. This area is a bit removed from the crowds in Indian Rocks Beach, but there's still plenty to do within walking distance.
Click the photo for my review.
Palm Pavilion Inn
Palm Pavilion Inn is right in the heart of Clearwater Beach and right on the beach! The Art Deco style Inn offers hotel rooms and efficiencies, but my favorite for families is the 1 bedroom apartments. Located ground floor, near the pool and steps to the beach, what else would a family need? Oh yeah, that sunset. Head to the roof top terrace to get their spectacular 360 degree sunset views.
Photo Courtesy of Palm Pavilion Inn
Beach Side Palms
Beach Side Palms offers quaint old Florida charm with every villa, save one, an ocean front view. If you're looking for a simple, beachside getaway, with a full kitchen, beach chairs and toys for the kids, this is your place. The Beach Trolley stops in front for easy transport to other area attractions. Beach Side Palms is in the Treasure Island part of the Suncoast.
Photo Courtesy of Beach Side Palms
Tradewinds
The Tradewinds Island Grand Resort is perfect for families looking for that big resort adventure.  20 acres of beachfront property and an offshore waterpark make this the place where every family member is never bored. The St. Pete Beach resort offers standard hotel rooms, suites with kitchenettes and pet-friendly accommodations. Between the Tradewinds Island Grand and Guy Harvey Outpost, you're sure to find a room that meets your needs.
Sirata Beach Resort
When you stay at Sirata Beach Resort, you have everything you need all in one place. Also located in St. Pete Beach, Sirata Beach Resort has 3 beachfront pols, a beachfront kids playground and on-site dining. If you prefer to have a kitchenette, go for the Executive Suite. Also available are one-bedroom suites with bunk beds. Located on the beach, Sirata also offers beach cabana rentals. This Suncoast hotel is also pet-friendly.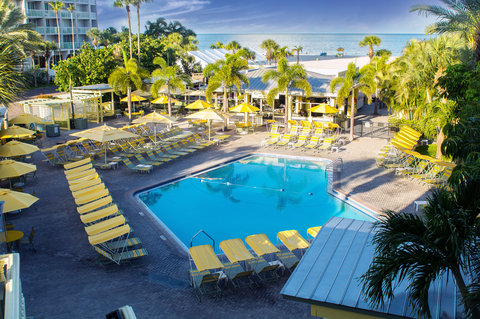 Photo Courtesy of Sirata Beach Resort
Plaza Beach Resorts
The Plaza Beach Resort is part of a family of three resorts, with Plaza Beachfront located on the Gulf of Mexico side of St Pete Beach. This stunning resort offers a private beach along with resort amenities such as beach cabanas, kayaks, paddleboards, shuffleboards, and so much more. When you stay here, you also have the option of playing at the other 2 resorts in the family. I highly recommend checking out their interactive virtual tour!
Want a crash course on the beaches along the Suncoast, read What to Expect for a Great Day at Tampa Area Beaches.
If you're looking for something unique to do in the area, visit the Grand Central District of St. Petersburg.