We may earn money or products from the companies mentioned in this post. At no extra cost to you, I only recommend products I have experience with. As an Amazon Associate, I earn from qualifying purchases.
Likely, if you're planning a trip to Universal Studios Orlando, you're there for one of two reasons. One, you're a coaster fan. Two, as it is in our case, you want to visit the Wizarding World of Harry Potter. I've pulled together all my best resources and then some to give you the inside scoop and everything about the Wizarding World of Harry Potter that you need to know before visiting.
Note that this guide is for the Universal Studios Orlando resort only. While many similarities exist between Orlando, Hollywood, and Japan, slight arrangement differences exist.
2 Parks 2 Worlds
The Wizarding World of Harry Potter first opened at Universal Studios' Islands of Adventures theme park in 2010. This area includes Hogsmeade, which I will go into more detail below. At the nearby Universal Studios park, Diagon Alley exists.
You will need a park to park pass (also called a PTP) in order to enjoy both areas. More on that in the tickets below.
Attractions
While the themed areas are attractions themselves, and the theming is the best anywhere, the rides are also top of the line. At Hogsmeade, you'll find Harry Potter and the Forbidden Journey, which takes place inside of Hogwarts castle. Even the queue line is part of the attraction as you see many places inside the castle. Flight of the Hippogriff is also located at Hogsmeade.
New in 2019 is Hagrid's Magical Creatures Motorbike Adventure. This is definitely a thrill ride, roller coaster. It seats two across, one on the motorbike and one in the sidecar. Expect to wait an hour or more because this is a newer ride.
At Diagon Alley is Harry Potter and the Escape from Gringotts. This is a 3D roller coaster thrill ride. Child swap is available if you're children don't want to ride. And while it is fast paced, my son who doesn't like roller coasters will do this one, likely because it's indoors.
Related: 32 Things You Can Not Miss at The Wizarding World of Harry Potter
Shows and Characters
(Note that enhanced safety measures in 2020, all shows may not always be available.)
You will not find many of the characters from the movies in the parks. However, that doesn't mean that the roaming witches and wizards, and even the train conductors don't get in on the fun.
One character you can see is Stan and his talking head friend of the Knight Bus. They are situated right outside of Diagon Alley at Universal Studios.
At each location, you'll also find someone related to Olivander at the Ollivander's Wand Shop. Here you'll see a wand choose a wizard.
Shows, however, are a different story. Everything about the Wizarding World of Harry Potter shows is magical. Each park has 2 shows. the Hogsmeade/Islands of Adventure side has the Frog Choir and the Triwizard Tournament demonstration. At Diagon Alley, you'll find Celestina Warbeck and the Banshees as well as The Tales of Beedle the Bard.
Where to eat
When you want to know everything about The Wizarding World of Harry Potter, you need to know about food. Two of the primary features of the movies are here, The Leaky Cauldron in Diagon Alley and Three Broomsticks in Hogsmeade. Both offer some of the same dishes such as fish and chips, with a few variations. You can get a Great Feast at The Leaky Cauldron which has rotisserie chicken, spare ribs, corn and more for a family of four.
The below image may change, but this is an example menu you may find.
There are a few other places you can grab snacks and drinks. You won't want to miss the Ice Cream in Diagon Alley or Honeydukes in Hogsmeade. Stop into Hog's Head for adult beverages and to get a look at the snorting hog behind the bar.
Related: 24 Sweets You can only eat at the Wizarding World
Drink Butterbeer
It wouldn't be the Harry Potter stories we know and love if you couldn't get Butterbeer. Nearly as iconic as the boy who lived, this sweet drink is available in many different places around both parks. It can be found cold, frozen and in the colder months, hot. There are also two ways you can eat butterbeer.
Butterbeer is served in the restaurants mentioned above, as well as various carts in Hogsmeade and beverage locations in Diagon Alley.
For the full list, read Where to Find Butterbeer at the Wizarding World of Harry Potter.
Souvenirs
There are too many incredible souvenirs to list here. If you see something, buy it here as most of it is not available elsewhere. The shops up front do carry some Harry Potter merchandise, but not some of the specifics. Want a pygmy puff, buy it. Want a golden snitch, find it. In addition to themed clothing, you'll find several items mentioned in the movies, including all of Fred and George's creations and shop on Diagon Alley.
If you want a magical reminder of your visit, get your very own moving pictures at Shutterbuttons in Diagon Alley. This is an incredibly fun photo opportunity that you can't get anywhere else.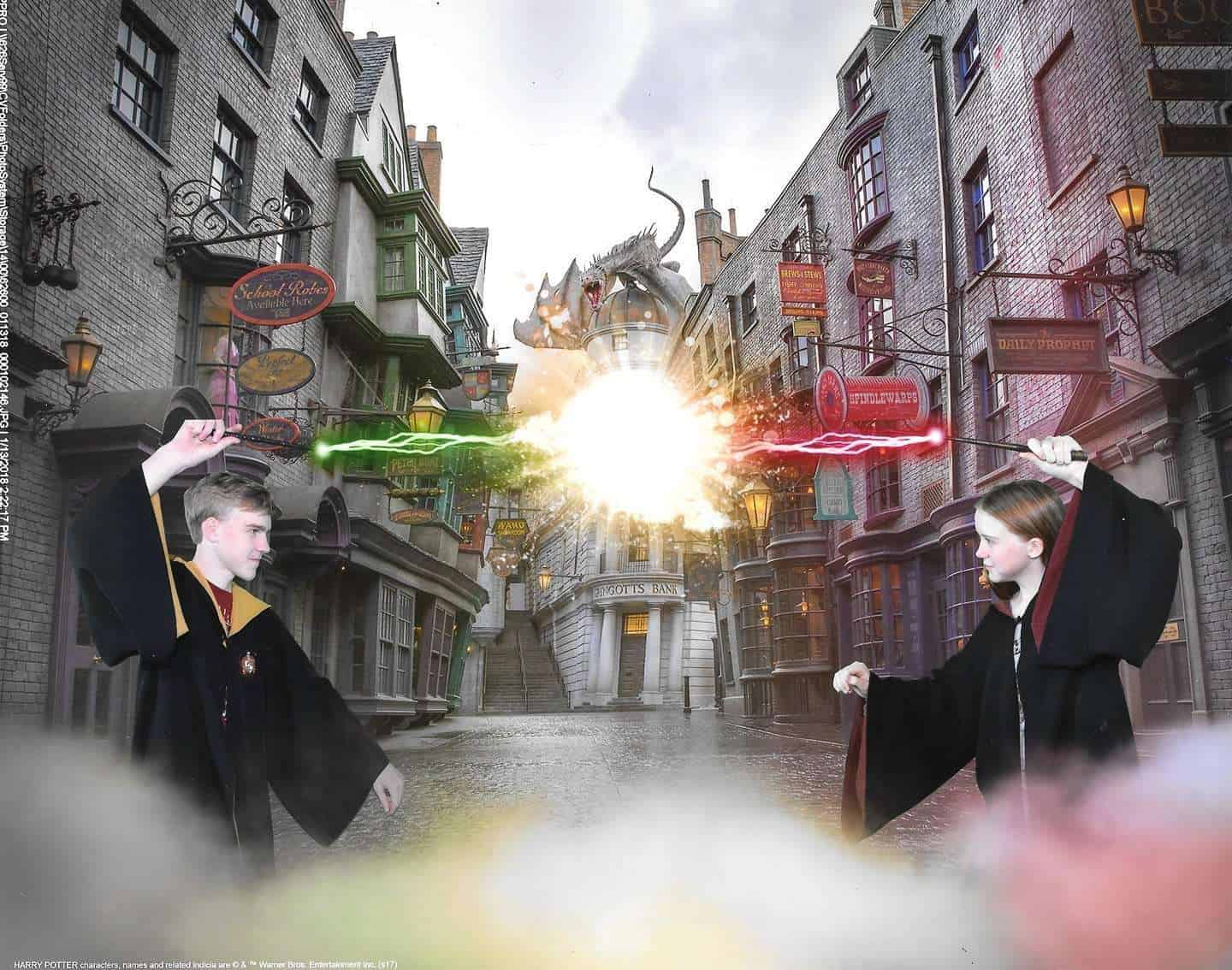 The most interactive souvenir, however, is the interactive wands. They work in both parks. With these wands, you can create your very own magic throughout the Wizarding World.
Head on over to the Complete Guide to the Interactive Wands of Harry Potter for more details.
Holidays at WWOHP
If you can visit during the Winter Holidays, it's worth the trip. Not too much is different, but the areas are decorated with wizardly themed holiday decor. However, the projection-mapped light show on the Hogwarts Castle shows scenes and music reminiscent of the movies. It is a magical sight to behold.
Where to stay
When you stay any of the Universal Resorts, you'll get one-hour early park access to Universal Studios and the Hogsmeade area of the Wizarding World of Harry Potter. Stay at one of the premier resorts and you'll also get a Universal Express Pass to enjoy throughout your stay.
Note that some hotels are not operating due to limiting crowds and safety measures in 2020.
The Premier Resorts following offer the express pass when you stay on site:
Cabana Bay, Aventura,  Sapphire Falls, Endless Summer Dockside, and Endless Summer Surfside do not offer the Express Pass. However, you can get early entry which helps with some wait times.
Quickly check Universal Studios Orlando and other nearby hotels' pricing and availability easily here.
Tickets
Have you learned everything about the Wizarding World of Harry Potter? Ready to go? Here's what you need to know about tickets.
First off, you need a park to park if you're going to ride the Hogwarts Express in either direction. If you're just planning on Harry Potter, a one day may be enough. But you're at Universal Studios! Get at least a 2-day park to park so you can enjoy all of the things the parks have to offer. You can also do 3 parks and add in Volcano Bay.
Viator has great deals on Universal Tickets and more. Right now you can reserve your tickets and pay later. Plus Viator has free cancellation up to 24 hours in advance.
Don't be fooled by the initial price however. You must do the search to see all the pricing and savings options.
The below screenshots are accurate as of October 1, 2020. Prices listed are as follows:
3 park – 5 Day Park to Park (PTP) $462.20 per adult / $451.55 per child
1 Day 1 Park Base Ticket $164.99 per adult/ $158.99 per child
3 Park 5 Day Base Ticket $387.65 per adult / $377 per child
2 park 2 Day PTP + 3 Days free $ $323.99 per adult / $312.99 per child BEST VALUE
2 park 2 day Base + 3 days free $259.99 per adult / $249.99 per child
1 Day Park to Park $211.99 per adult / $205.99 Best if You only want to do the Wizarding World of Harry Potter.
Everything about the Wizarding World
Pin it for later!