We may earn money or products from the companies mentioned in this post. At no extra cost to you, I only recommend products I have experience with. As an Amazon Associate, I earn from qualifying purchases.
Despite the obsessive amounts of planning I do (see all my Travel Planning posts!) I've never been very good at packing. Yes, I can fit everything into the car or the suitcase. Inevitably, though, I always pack more than I need.  Before I embark on my next trip, I reached out to fellow travel bloggers to pick their brains (and blogs) for the best packing lists for families.
Here's The Top 6+  Best Family Packing Lists:
This post contains affiliate links, which means I receive a teeny tiny commision if you make a purchase using this link.
1. Minimize
Marta at Learning Escapes writes "I usually pack clothes for a maximum of one week, no matter how long we are travelling for. And make a point of washing stains off as soon as they happen – avoid jeans to shorten drying times." This is one of my favorite pieces of advice.  She writes how to pack light when traveling with kids.
2. Organize
Keri at Babyglobetrotters says its not what you pack but how you do it. She states, "if you're ready to lighten the load but can't quite imagine yourself as 'that carry-on only family' yet," then this is the list for you.
3. Checklists
3A. If you're a checklist kind of person, and like crossing things off a list, you'll love Karen at Mini Travellers Ultimate Packing Lists. She has two, one for Disney World with toddlers and one for traveling abroad. With a few exceptions these lists really work for everyone.
Be sure to go over to her site to download the PDFs. They are seriously awesome!
3B. For another comprehensive checklist, Marianne at Mum on the Move has a handy PDF download and this one has room to check it off or makes notes to the side.
I'm such a huge fan of checklists, and I make them all the time. But I must split mine up because they never look this big!
4. Outfit Planning
Even if you're not going to Hawaii, Kiralee at Escape with Kids puts together a beautiful outfit by outfit guide. this is great if you're a visual person and like to see what mixes and matches.
5. Babies
Are you flying with a baby? There's a whole load of things you could bring with you. And if you're going to trust any site with a comprehensive list of what to bring with baby, trust none other than Carrie at Flying with Baby.  While I'm no longer in the baby stage, there's still some good reminders in here about plane restrictions.
6. Carry on Only?
The next question is, can you do carry-on only? If you're on an airline that charges for checked luggage (almost all of them) it's certainly attractive to pack only a carry on and go. Plus, there's the added benefit of stepping off the plane with everything you need and just go! Shobha at Just Go Places did just that, and created a packing list for her kids smaller carry-ons too.
Carry-on only is certainly my preferred way to fly. Now if I can just pair everything down, I'll be good!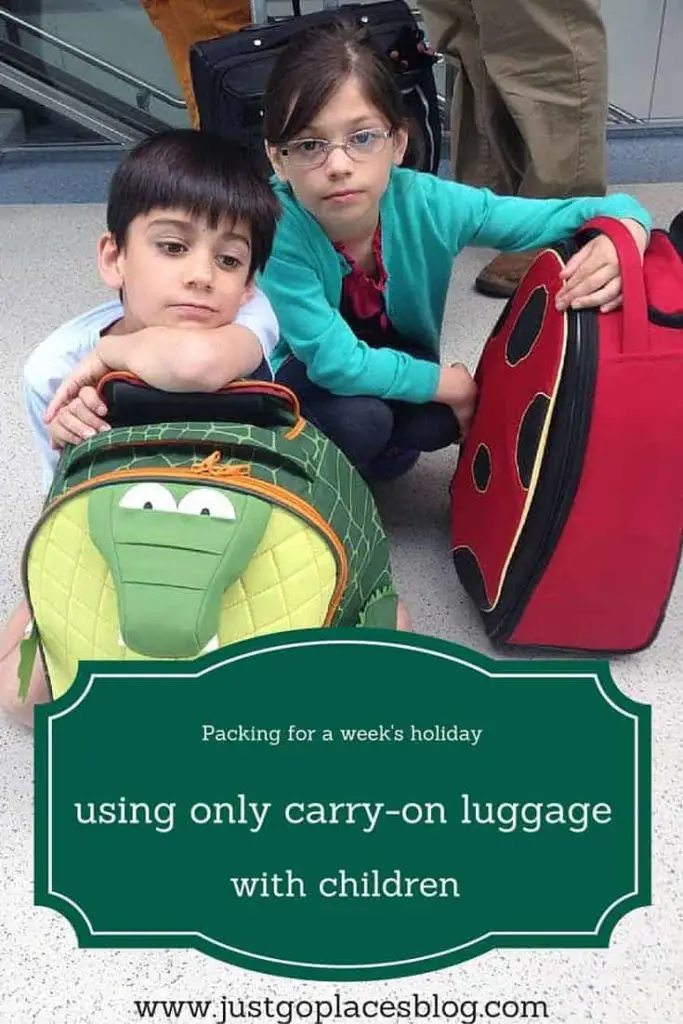 Armed with these lists, I hope to do better on my next trip. While none of the travelers mentioned travel cubes, I'm quite intrigued by trying these. I'm loving these teal bags at Amazon, and considering them for my next trip. Then again, I may also use gallon ziplocs to organize. I'd love to hear if you have any experience with these.

What are your favorite packing tips? Comment below to share.
Save them all!